Automated breast ultrasound system (ABUS) market has completely revolutionized the diagnostic approach of breast cancer. Increasing incidence of breast cancer across the world in the recent past has indeed propelled the market growth. ABUS has now become a full-fledged diagnostic approach adopted worldwide for the preoperative evaluation of breast tumors. Speaking of technology, subsequent intervention of advanced technologies has only enhanced its pivotal clinical role in the oncology department. A recent technological breakthrough, Invenia ABUS, is anticipated to shift the overall ABUS market dynamics to a new hike, grounding on its credibility of obtaining adjunctive breast images from different angles. Statistics depict that the usage of this system improves cancer diagnosis almost by 55% than mammography. Furthermore, regulatory approval from FDA for deploying automated breast ultrasound systems for supplement screening as an assistive method with mammography is expected to augment the market growth. As per a report by Global Market Insights, Inc., "Automated Breast Ultrasound System Market will witness a giant leap in terms of revenue from USD 285 million to USD 2 billion over a period of 2015-2024. It is also projected to record lucrative annual growth rate of 21% over the forecast span."
U.S. Automated Breast Ultrasound System Market size, by Product, 2012 – 2024 (USD Mn)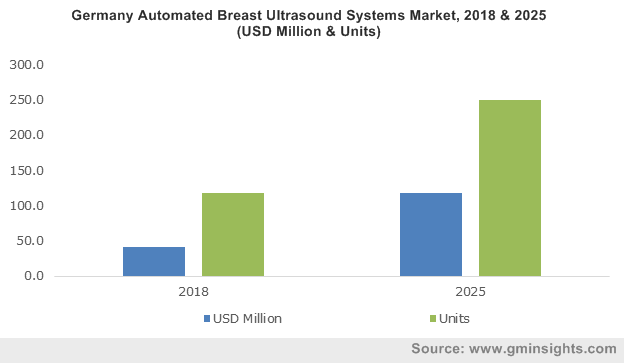 U.S. prominently observes an increasing prevalence of breast cancer, which is why the market growth prospect in this region is huge.  It dominated the North America ABUS market in 2015 by contributing maximum share toward the regional industry in that particular year. Implementation of hi-tech breast screening methods, supportive government's initiatives, reimbursement scenarios, and concentration of leading players are some of the factors that have complemented the business landscape of the country. China ABUS market is anticipated to mark a billion-dollar business landscape by 2024, by collecting USD 1 billion within next seven years. Amenability toward novel technology and spreading awareness about breast cancer treatment among the common folks is changing the market outlook in China. It covered almost 60% of the Asia Pacific ABUS market in 2015, and is likely to remain one of the major contributors also in the years ahead.
Get a Sample Copy of this Report @ https://www.gminsights.com/request-sample/detail/728
Based on the product front, automated breast ultrasound system market is bifurcated into ABVS (Automated breast volume scanner) and ABUS. ABVS market is expected to witness maximum gains in the coming years. Since together ABVS in adjunct with mammography enables superior detection and evaluation of breast cancer, automated breast ultrasound system market growth from this product segment is expected to experience a surge in the years ahead. As per estimates, ABVS based market will exceed a revenue of USD 950 million by the end of 2024. Automated breast ultrasound systems held the largest share in 2015, by consuming 48% of the overall volume.  Quick turnaround time, accurate diagnostic results, cost affordability are some of the factors that will allow the market to record a revenue of USD 1.1 billion by 2024. Since these advanced systems are widely employed in hospitals, overall ABUS market from hospitals applications accounted for more than 60% of the overall volume in 2015. With the increasing availability of skilled professionals and improved funding in the hospitals, this sector is projected to chart a profitable roadmap in the years ahead at a CAGR of 21.2% over 2016-2024.
The business landscape of automated breast ultrasound system market has remarkably evolved in the past few years with technological involvements that have brought advanced innovative systems in the industry. Though high capital investment, unattractive reimbursement policies, and lack of proper awareness are hampering the market penetration in some of the nations, yet key market players' continuous involvement in research activities will thrive the expansion in the years ahead. Some of the prominent ABUS industry participants include Siemens, SonoCine, General Electric Company, Toshiba, Hitachi, and Koninklijke Philips.
Author Name : Satarupa De