Fluorotelomers Market is projected to sketch a profitable roadmap over the coming years, subject to the growing concerns regarding fire safety, especially across the oil & gas and chemical sectors. Regulatory bodies such as the EPA & the EU have enforced legislations to discourage the consumption of PFOS (perfluorooctyl sulfonate) derived items to prevent the ecological damage. Escalated product demand across the semiconductor, magazine paper, photography, and metal plating sectors due to its eco-friendly features are expected to boost the market trends. Technological breakthroughs along with growing application of the product in optics, surfactants & repellants, electronics, and liquid crystal additives is forecast to generate lucrative avenues for the expansion. Global Market Insights, Inc., reports that fluorotelomers industry is projected to reach USD 700 million by 2023.
MEA fluorotelomers market size, by application, 2015 (USD Million)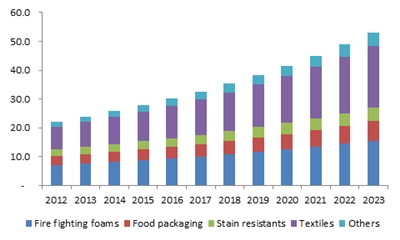 Fluorotelomers find wide applications across firefighting foams, textiles, food packaging, and stain resistants. Textile applications, which collected a revenue of USD 125 million in 2015, are expected to make notable contributions toward fluorotelomers market share in future. The growth can be attributed to the product's ability to offer stain resistance, wetting, & impregnation features to textiles. In addition, it also provides protection to healthcare employees and patients against fluid based microorganisms through its extensive usage in the protective surface finishing of surgical drapes and gowns. Fluorotelomers industry size in the food packaging sector is predicted to register substantial gains of more than 11% over 2016-2023, owing to the high product requirement in the food & beverages packaging industry to impart an aesthetic appearance.
Considering the topographical trends, Europe fluorotelomers market size is projected to record a CAGR of 12% over 2016-2023, favorably impacted by the escalated expansion of the textile sector across France, UK, Germany, and Italy. Firefighting foam applications, which contributed USD 15 million to Europe industry, are expected to significantly push the regional revenue. Fluorotelomers iodide products in Europe are expected to accrue a revenue of USD 19.5 million by 2023, growing at a rate of 9.1% over the coming six years and thereby substantially contributing toward the regional growth.
Get a Sample Copy of this Report @ https://www.gminsights.com/request-sample/detail/407
Asia Pacific fluorotelomers industry, which produced a revenue of more than USD 157 million in 2015, is predicted to witness a robust growth over the coming years. The growth can be credited to the high demand for telomers across the booming textile sector in India, Pakistan, Bangladesh, and China. Tax benefits and increase in the foreign direct investments will boost the growth of the textile sector, which will further contribute toward fluorotelomers market growth in the region.
North America fluorotelomers market size from the food packaging sector, which is expected to record at a CAGR of 7.5% over the coming timeline, will attain USD 17 million by 2023. U.S. fluorotelomers industry is likely to dominate the regional share. MEA fluorotelomers industry, which is projected to record notable gains of more than 8.2% over the coming six years, is forecast to accrue a revenue of more than USD 50 million by 2023. The growth can be attributed to the rapid expansion of the petrochemical sector across the region. UAE, Turkey, Qatar, Egypt, and Saudi Arabia are anticipated to be the key regional revenue pockets.
Latin America fluorotelomers industry in the textile sector, which is likely to grow at an annual rate of 8.5% over the coming years, is expected to accumulate an income of USD 26 million by 2023. The flourishing construction sector in Brazil is predicted to provide huge growth opportunities for the industry.
Fluorotelomer alcohols, fluorotelomer iodide, and fluorotelomer acrylate are the major fluorotelomer products. Fluorotelomer alcohols, which accrued USD 111 million in 2015, is expected to make notable contributions toward fluorotelomers market size in the near future. The growth can be accredited to its extensive use as an intermediate in the production of fluoro-organic chemicals that are used across surfactants, firefighting foams, paper coatings, and fabric stains repellants.
Fluorotelomer iodide is expected to record a CAGR of 13% over the next few years, driven by its mounting popularity across the electronics and construction sectors. Beneficial product characteristics such as chemical stability, high surface lubricity, and low surface energy are expected to further boost fluorotelomers industry growth.
Daikin America Incorporation, Fluoryx Incorporation, Indofine Chemical Company Incorporation, Sigma-Aldrich Corporation, AGC Chemicals, Archroma Company, TCI Chemicals Private Limited, The Chemours Company, and Dynax Corporation are the key participants of fluorotelomers industry.
Author Name :Dhananjay Punekar