The rapid development in the global construction industry is likely to stimulate Methyl Ethyl Ketone Market dynamics. Increasing constructional spending, especially across the emerging nations such as China and India, coupled with growing consumer inclination toward supreme quality paints and coatings is increasing the product demand globally. Owing to some of the attributing features of the product such as strong solvency, high evaporation rate, and low viscosity, the application landscape of methyl ethyl ketone market encompasses the pharmaceutical and healthcare industry as well. These solvents are extensively used in the manufacturing of anesthetics, antiseptics, and other drug formulations. The recent years witnessed a slight slump in global crude oil industry, which has positively influenced the price trends of MEK market. However, the sector has also experienced a recovery, which is likely to add a little pressure on the MEK industry investors. Nevertheless, a report by Global Market Insights, Inc., states that methyl ethyl ketone market will record a valuation of USD 3.64 billion by 2022, with a projected CAGR of 4.8%over 2015-2022.
(Methyl Ethyl Ketone) MEK market size, by application, 2012-2022 (Kilo Tons)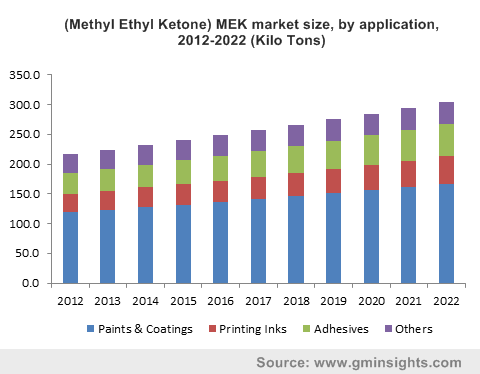 Paints and coatings dominated the application forum in 2014, by accounting for over USD 1.2 billion. Construction and automobile sectors can be majorly given the credits for the remarkable expansion of MEK market from this domain. This principal application segment encompasses specialty coatings, powder coatings, water-borne coatings, solvent borne technologies, etc. Growing trend of powder coatings in electronic devices and modern automobiles is expected to complement the business landscape. However, regulatory mandates related to the reduction of VOC emission via green solvents is likely to bring the market players under pressure. Nonetheless, the escalating demand curve of the product will allow paints and coatings application to hold 50% of the overall industry share in the coming five years. Printing inks is another application domain of MEK market, which is witnessing a remarkable growth. Since resins and paint thinners are widely deployed in the pharmaceutical sector as solvents, MEK market size from printing inks applications currently account for a volume coverage of 200 kilo tons.
Get a Sample Copy of this Report @ https://www.gminsights.com/request-sample/detail/180
Regionally, Asia Pacific has a stronghold over global methyl ethyl ketone market. The expanding infrastructure and constructional base and the increasing spending in these fields are considered to be the driving factors stimulating the regional market outlook. Statistics depict that APAC construction spending market was largest in 2014, with a market coverage of 40% of the total volume. China, Indonesia, and India back then, were the three major countries that had driven the revenue. China had the largest market with an investment of USD 1.78 trillion in 2014, followed by India and Indonesia, which recorded revenues of USD 425 billion and USD 265 billion respectively. The other two geographies that will account for a prominent share in the global MEK industry are Europe and North America. With U.S at the helm, North America represented 18% of the overall market in 2014 and is anticipated to experience substantial growth in the years ahead. However, strict impositions by the U.S. government on MEK manufacturers regarding the product's toxicity level are likely to hamper the growth path of the regional market. Europe MEK market is estimated to witness a valuation of USD 600 million by the end of 2022.
Despite the stringent environmental norms initiated by various Governments over VOC emissions, the increasing deployment of the product in the polymerization of polyester resins is expected to push MEK market demand high. Global methyl ethyl ketone market is highly consolidated with top four players covering 50% of the overall industry share. Maruzen Petrochemical, Zibo Qixiang, Sasol Solvents, ExxonMobil Chemical, and S K energy.
Author Name :Satarupa De