U.S. commercial boiler market is on the verge of touching the billion-dollar benchmark in the coming seven years. Shifting preference toward energy efficient boilers for carbon footprints abatement is providing a significant impetus to the market outlook.  Along with it, mandatory roll outs in the country for the reduction of these hazardous gas emission is further encouraging the end use industries to rapidly deploy these energy efficient commercial boilers. EPA, for instance, has recently initiated NESHAP (National Emission Standards for Hazardous Air Pollutants) to combat the environmental issue. Technological interference has also played a major role in influencing the overall U.S. commercial boiler market dynamics. Building automation systems, boiler to boiler communication, and remote diagnostics are some of the novel technologies that have immensely complemented the business landscape. As per a report by Global Market Insights, Inc., "U.S. Commercial boiler Market is slated to exceed a revenue of USD 1 billion by the end of 2024, with a projected annual installation of over 80000 units over the coming seven-year period."
  East South Central Commercial Boiler Market size, By Capacity, 2016 & 2024 (USD Million)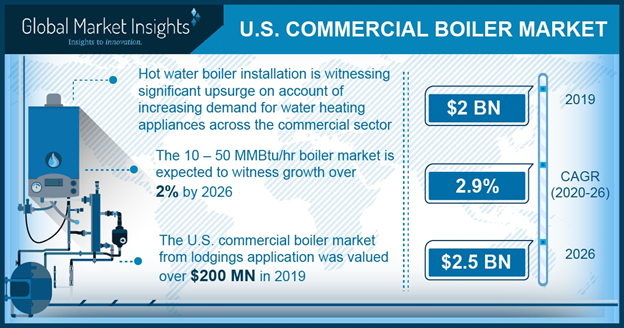 The remarkable expansion of U.S. commercial boiler market can be majorly credited to the country's growing investment in healthcare and educational sectors. In 2015, U.S. spent almost USD 1 trillion on hospital expenditure. According to a report by the Center for Medicare and Medicaid Services, this amount will rise to almost USD 3 trillion by 2024. The widening scope of potential healthcare applications ranging from space and water heating in hospitals to equipment sterilization indeed has increased the U.S. commercial boiler market demand. The overall healthcare expenditure in the U.S. accounted for around 17% of the GDP in the year 2016. This number is expected to increase over the coming seven years, on the grounds of the increasing proliferation of modern Medicare facilities. U.S. commercial boiler market from office application is also witnessing a steady growth in terms of revenue. In 2016, this segment collected a revenue of USD 200 million. Increasing constructional spending of the country toward smart buildings that are environmentally viable is accelerating the product demand.
Get a Sample Copy of this Report @ https://www.gminsights.com/request-sample/detail/1564
U.S. commercial boiler market is highly influenced by advancing technology. Based on the two types of techniques that are implemented in the boiler design, the market is bifurcated into condensing and non-condensing systems. Federal and state government's initiation in terms of norms and standardization pertaining to the reduction of carbon emission have augmented overall U.S. commercial boiler market growth from condensing systems. Retrofitting and replacement of existing heating furnace with energy efficient boilers have fueled the product demand. Non-condensing commercial boilers are observing an advantage in fluctuating climate zones, owing to their ability to operate in extreme weather conditions and ease of installation.
Natural gas, oil, and coal are the basic three fuels that are extensively used in U.S commercial boilers. Natural gas based U.S. commercial boiler market will chart a profitable road map in the years ahead. As per estimates, natural gas based market is expected to install 60000 units by 2024. High efficiency, low emission rate, and easy access are some of the factors accelerating the fuel adoption. Though oil accounted for more than 10% of the U.S. commercial boiler industry in yesteryear, the high carbon emission in the process may limit the product demand.
Regionally, Florida, Virginia, Texas, and Delaware are the four major significant geographies that cover the U.S. commercial boiler market. Florida had a notable contribution toward the overall industry share in 2016. Robust development in the medical and tourism sectors, as well as increasing spending in their upgradation, is stimulating the regional growth. Texas commercial boiler market is projected to install more than 4000 boilers per year by 2024. Delaware will also witness a strong foothold in U.S. commercial boiler market with an annual growth rate of 4% over 2016-2024.
The U.S. commercial boiler market has been undergoing a radical transformation over the recent years. Resurgence of commercial sector, increasing adoption of condensing systems, and growing need for remote access are some of the emerging factors that have offered lucrative growth opportunities to the U.S. commercial boiler market. Some of the key players actively participating in U.S. commercial boiler industry include Weil-McLain, Cleaver Brooks, Superior Boiler Works, A.O. Smith, and Clayton.
Author Name :Satarupa De