A prominent factor facilitating the commercialization of Dimethyl Ether Market is the increasing proliferation of the product as an alternative transportation fuel. With the growing concerns over energy security, environmental pollution, and future oil supplies, the global population is seeking for non-petroleum-based alternative fuels that would optimize the energy consumption. Owing to its ability to considerably reduce SOx, C0x, and other particulate matter emissions, the potential impact of DME as an alternative high-efficiency ignition fuel is huge compared to other fuel counterparts. These fuels' amenability of easily blending with LPG without hampering the resultant byproduct is escalating dimethyl ether market demand. The LPG-DME blend makes it one of the most attractive options of transportation fuel both for petrol as well as diesel engines. As per a report by Global Market Insights, Inc., "Dimethyl ether market is projected to almost double its revenue share from its base valuation of USD 5 billion in 2016, with an estimated CAGR of 9.9% over 2016-2024."
U.S. Dimethyl Ether Market size, by application, 2013-2024 (USD Million)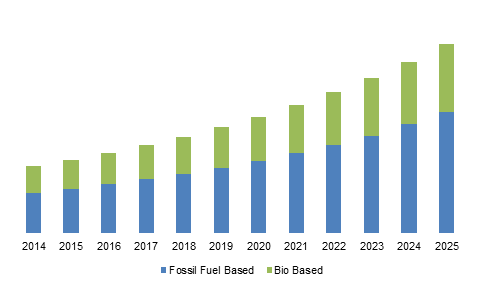 The eco-friendliness of dimethyl ethers can be majorly given the credit for the market's remarkable expansion across automotive as well as domestic sectors. Regulatory norms initiated by the government pertaining to minimization of carbon emission has significantly complemented the business landscape in this domain. The overall growth of dimethyl ether market from transportation fuel is expected to witness maximum growth with 14% CAGR over 2016-2024. However, in comparison to diesel fuel, DME has a lower viscosity level which may act as a roadblock in the growth path of the market. Regionally, Europe dimethyl ether market is highly influenced from this application domain with expectations to grow over 10% CAGR over 2016-2024. Growing investments by the automakers in low emission vehicles are favoring the business landscape. Ford Motors, for instance, is noticeably investing significant capital in the research activities pertaining to advanced internal combustion engines.
Get a Sample Copy of this Report @ https://www.gminsights.com/request-sample/detail/852
Aerosol propellants is another niche application domain contributing significantly toward the global dimethyl ether industry share. This application domain already held a billion-dollar business in 2015. Relatively low cost, low toxicity, high efficiency, and extensive boiling point and vapor pressure range are some of the characteristics of DME that allows the products' widespread adoption in aerosol propellants.
Bio based and fossil fuels are the two major bifurcations of dimethyl ether market based on the raw materials used. Increasing demand for cleaner fuel both for domestic as well as industrial purposes is fueling bio-based dimethyl ether market demand. Furthermore, increasing penetration of this product in aerosol propellant applications is leaving a proportional impact on the market dynamics. As per estimates, the biobased market is slated to grow substantially at an annual rate of 11% over the coming seven years. Volatile crude oil price trends along with easy availability of natural gas are the two major factors propelling the market growth. With a projected CAGR of 8% over2016-2024, fossil fuel based dimethyl ether market is expected to witness steady gains in the years ahead.
Asia Pacific market led by China and India holds a prominent position in the global dimethyl ether industry, subject to its major revenue contribution toward the overall share in 2015. The growing population of China and the extensive product usage for domestic purposes are the two major grounds influencing the regional market growth prospect.  In addition to this, the expanding production base with extensive capacities is also allowing  Japan to stand as a strong contender in the APAC dimethyl ether market.
Dimethyl ether is a fuel with minimum lubrication property. Due to this, traditional injection systems and fuel delivery cannot be used in conjunction with it. Though this compatibility issue is acting as a major hindrance to growth trajectory of the market, however, oscillating crude oil price trends which is pushing the consumers to opt for a substitute, is providing lucrative business opportunities for dimethyl ether market. Some of the prominent industry players include Akzo Nobel NV., China Energy Ltd, Korea Gas Corporation, Mitsubishi Corporation, and Royal Dutch Shell PLC.
Author Name : Satarupa De