Silver Nanoparticles Market is capitalizing on its core product properties to gain a remarkable impetus in F&B, healthcare & life sciences, electronics & IT, and textiles industries. The silver nanoparticles are one of the most commercialized nanoparticles, which occupied half of the global nanomaterials landscape in 2015. The industry players are constantly focusing on innovating technologies toward advancements of nano products. Many industry experts are seen investing more in R&D to facilitate biosynthetic processes pertaining to its environment friendly and cost-effective properties.
U.S. Silver Nanoparticles Market size, by application, 2013-2024 (USD Million)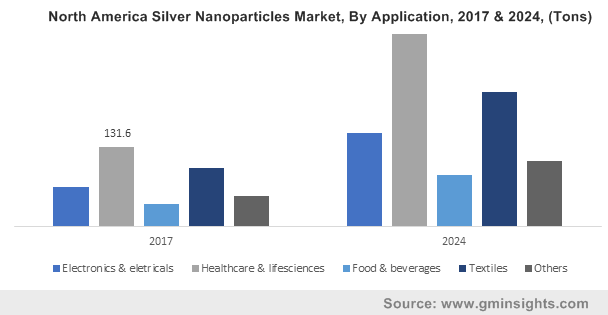 In order to gain a competitive edge over the co-industry players, top-notch companies such as Dior and Chi are adding a point of difference in their product values. For instance, the Chi company recently launched a hair straightener which contains silver nanoparticles to guard against infections. Another top beauty product company Dior, has introduced a nano-based cosmetic product 'Diorskin Forever' for better skin.
These silver nanoparticles possess distinct optical, thermal, and electrical properties which make it suitable for electronics and textiles applications. These products offer UV protection, resistance to fungi or stains, water repellence, and breathability. The product is also used in upholstery fabrics, bed & table linen, floor covering, geotextiles and car seats. Silver nanoparticles market share from textile application was more than 20% of overall industry stake in 2015. The product also has a huge growth potential in smart textiles, which are equipped with electronics and sensors for safety and fitness purpose.
Get a Sample Copy of this Report @ https://www.gminsights.com/request-sample/detail/1118
The surging electronics & IT sector in Asia Pacific is also set to stimulate the regional silver nanoparticles industry share. High demand for electronic products and mass production units in this region have significantly propelled silver nanoparticles industry to expand.  For instance, Samsung has incorporated silver nanoparticles in its washers to provide it with antibacterial effect.
Silver nanoparticles industry is further witnessing a rising application scope in food & beverages sector, owing to its ability to prevent pathogens and improving the product shelf life. In 2015, silver nanoparticles market from F&B generated revenue worth over USD 70 million. Reportedly, the product has a Food Contact Substance approval from FDA. Making best of the opportunity, Nanox, a Brazilian company doubled the shelf life of pasteurized fresh milk from seven to fifteen days. The company was able to achieve this feat by including silver microparticles with antimicrobial, bactericidal, and self-sterilizing properties into the plastic bottles that are used for packaging of the milk.
Stringent food safety standards and growing food & beverage industry in the U.S. have positively influenced the regional silver nanoparticles market growth. Moreover, the region is also witnessing high demand for clothes sterilizing, owing to rising health and safety concerns among workers. U.S. silver nanoparticles industry share was worth UDS 300 million in 2015, and is expected to attain lucrative growth over the coming years.
The escalating developments in the healthcare industry have provided a substantial push to Europe silver nanoparticles market. The healthcare & life science application in Europe accounted over 30% of the regional market, owing to rising consumer spending in medical services and the growing health concerns. Silver-based nanoparticles are used in wound healing processes and sterilizing medical equipment. The soaring healthcare industry in UK has also provided a significant impetus to the regional silver nanoparticles industry share, which stood at USD 40 million in 2015.
Industry players are seeking technological progressions pertaining to biological route with an aim to make the products environmental friendly. Many competitors are also working on using alternative nanomaterials to combat high market price associated with silver. However, the exceptional incorporation of silver nanoparticles by various companies in their product portfolios demonstrates that this market is certain to attain a remarkable valuation over the coming years. As per a report by Global Market Insights, the global silver nanoparticles market is estimated to record a CAGR of 13% over 2016-2024.
Key silver nanoparticles industry players include Emfutur Technologies, American Elements, Nanoshel, Nanocs, Cima Nanotech, Cline Scientific, Bayer, Meliorum Technologies.
Author Name : Ojaswita Kutepatil