The widening application landscape of TCD alcohol DM market is shedding a positive light on its lucrative growth prospects in near future. Heavy demand for UV cured coatings across a variety of utility sectors including automobiles, telecommunications, electric gadgets, and graphic arts has substantially fueled the industry trends. The world is witnessing a shifting trend toward flexible packaging, which is likely to leave a parallel impact on the market dynamics. On account of its high bond strength and less VOC emission rate, the product observes a high demand in packaging sectors.  Global flexible packaging industry which is projected to exceed USD 250 billion by 2024, will undoubtedly remain one of the prominent sectors influencing the TCD alcohol DM market valuation.
U.S. TCD Alcohol DM Market size, by application, 2013 – 2024 (USD Million)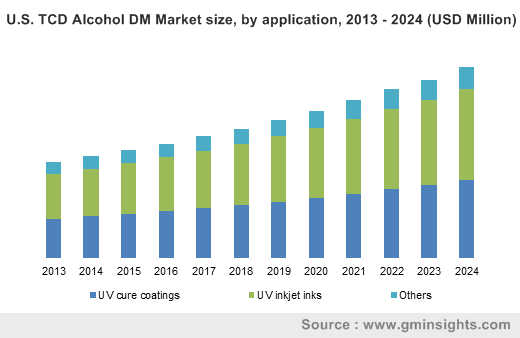 Of late, the extensive research undergoing in optoelectronics is likely to offer new opportunities for the market in the coming years. Subject to the product's increasing proliferation in synthesizing methacrylate monomers that are widely used in the manufacturing of optical fibers, LCDs, and photoresists, TCD alcohol DM market demand is expected to surge. With the increasing technological integration, it is no more a supposition that optoelectronic devices will soon outpace conventional electronic devices, which in a way is indicating a positive impact on TCD alcohol DM market dynamics as well. As per Global Market Insights, Inc., "TCD alcohol DM industry is poised to exceed a revenue of USD 20 million by the end of 2024, with a projected CAGR of 7% over 2016-2024."
Get a Sample Copy of this Report @ https://www.gminsights.com/request-sample/detail/1116

Taking into consideration the application domain, UV cured coatings held a major share of the global industry in 2015, accounting for more than 40% of the overall volume. Growing demand for ingenious electronic gadgets and automobiles and a notable increase in the technically aware population is catapulting the market demand from this application. As per estimates, TCD alcohol DM market from UV cured coatings is slated to grow substantially at a CAGR of 7% over 2016-2024. Driven by the spreading awareness related to environmental issues, U.S. inkjet inks application will also witness considerable gains over the coming seven years. Rising consumer preference toward environmentally viable inks is providing a lucrative ground to the TCD alcohol DM market in terms of revenue collection.
Regionally, Asia Pacific is considered the most lucrative region for the TCD alcohol DM industry growth, subject to the increasing awareness and immense technical access in countries like South Korea, China, Japan, and India. Another profound factor which will prove to be favorable for the market demand from UV inkjet inks is the growing juvenile population of China and India which is currently estimated to be 600 million. Though Europe market is now experiencing a fairly steady pace, an appreciable upswing is expected in the next seven years. Driven by the upgraded living standards and the consequent demand for optoelectronics, Europe TCD alcohol DM industry is slated to witness a CAGR of 6.5% over 2016-2024.
The global industry by nature is highly monopolistic, which somehow acts as a road block in the business expansion. Possession of exclusive rights by some of the manufacturing companies hinders the entry of new companies in the business. Oxea Corporation remains the sole owner of the market, having acquired patents from several offices. All new entrants wanting to venture into TCD alcohol DM market will initially have to purchase patents from Oxea Corporation.
Despite the complex manufacturing technology, product exclusiveness, TCD alcohol DM market will always witness a competitive edge over the other counterparts, subject to its unique characteristics. Lucrative application scope of UV cure adhesives in flexible packaging is expected to remain a dependable outlet for the market growth in future.
Author Name : Satarupa De