The exponentially surging packaging and food & beverage industries have provided a significant impetus to
Biaxially Oriented Polypropylene Market
dynamics. Polypropylene is one of the key polymers used in the manufacturing of BOPP films and finds extensive application in packaging industry. The high barrier properties, durability, and cost-effectiveness associated with the biaxially oriented polypropylene films has provided a substantial spur to the global BOPP market demand. Moreover, high strength and superior clarity of these films have increased its adoption rate in printing, packaging, labeling, and coating sectors.
According to a report by Global Market Insights, Inc., biaxially oriented polypropylene market is projected to register an annual growth rate of 5% over the period of 2016-2024 and is likely to surpass USD 20 billion by 2024.
U.S. Biaxially Oriented Polypropylene (BOPP) Market size, by application, 2013-2024 (USD Million)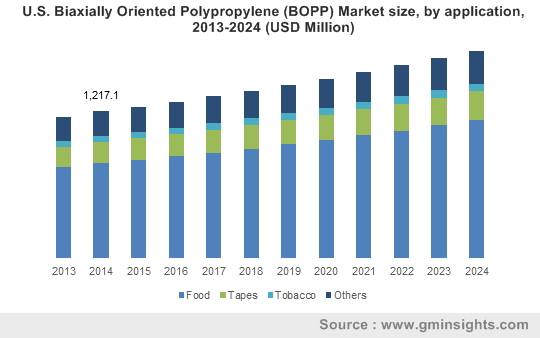 Food applications segment accounted for over 50% of the overall BOPP industry share and thus held the largest market chunk in 2015. BOPP is extensively used in food and beverage sector in packaging film dies, owing to its benefits of moisture protection and food & aroma preservation. The escalating food & beverage industry across the globe is one of the most prominent drivers fueling the BOPP industry trends. Furthermore, the soaring pharmaceutical and cosmetics industries have significantly propelled the overall BOPP industry share. These films are used in cosmetics and medical product packaging as they help in retaining the original substance properties. Thriving pharmaceutical and food packaging sectors across the North America along with changing consumer lifestyles are expected to drive the business trends in the region. North America BOPP market value, worth USD 1.5 billion in 2015, is predicted to witness a lucrative growth over the years ahead.
Get a Sample Copy of this Report @ https://www.gminsights.com/request-sample/detail/1117
Of the key application segments including tobacco, food, and tapes, tobacco packaging segment is anticipated to witness a CAGR of 4.5% over 2016-2024 as the BOPP films offer differential slip & high speed wrapping properties. The packaging tapes made from thermoplastic biaxially oriented polypropylene are also used in several industrial applications as they provide ease of labeling and can also be used in various temperature ranges. Thus, immense scope of BOPP films in aforementioned applications will lead to a strong growth curve for the overall development of biaxially oriented polypropylene industry.
Europe BOPP industry size is expected to expand significantly over the next few years, subject to escalating product popularity across the cosmetic packaging sector. France, Germany, and UK are likely to make significant contributions towards the regional share.
Asia Pacific BOPP market is projected to register substantial gains of over 6.5% during the period from 2016 to 2024, driven by rise in the purchasing capacity of the consumer.  Flourishing E-commerce sector across the region is also expected to contribute remarkably towards the business expansion. India and China are forecast to be the key regional growth drivers.
Market players will try to increase their ROI through product differentiation, pricing, and competitive benchmarking. Biaxplen Limited, Rowad Global Packaging Company Limited, Tempo Group, Oben Holding Group, Zubairi Plastic Bags Industry LLC, Jindal Poly Films, Vibac Group S.p.a., Chemosvit A.S., Kopafilm Elektrofolien GmbH, Innovia Films, Futamura Chemical Company, Taghleef Industries, Manucor S.p.A., Cosmos Films Limited, and Uflex Limited are the major participants of BOPP industry.
Author Name : Ojaswita Kutepatil