The global
Bitumen Market
is expected to show an exponential growth curve with the rising road construction, maintenance, and repair activities. Bitumen, also known as asphalt is a necessary binder used in the road construction activities as the product offers high stickiness, viscosity, and superior water resistance properties. Bitumen is also utilized as a sealant and adhesive and finds huge demand in the construction of damns, water tanks, and bridges. The growing construction spending which is likely to touch USD 13 trillion over the coming seven years has in turn accelerated the growth of bitumen industry across the globe. Bitumen market is also witnessing lucrative growth avenues, owing to exclusive product demand from tire, paints & coatings, battery manufacturing, thermal & acoustic insulation sectors
. Global Market Insights, Inc., estimates the global bitumen industry to register a y-o-y growth of 4.2% over the period of 2016-2024.
U.S. Bitumen Market size, by application, 2013 – 2024 (USD Billion)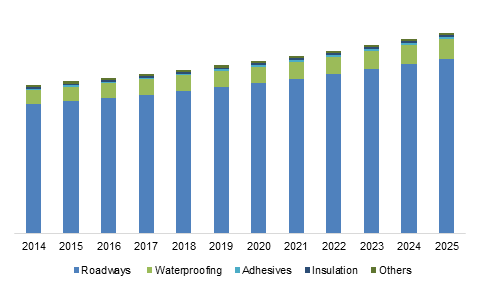 The growing trend of constructing wider roads and flyovers, owing to rising city traffic and population has impelled the growth of global bitumen market share in roadways application. Polymer modified bitumen is a majorly used product in road surfacing and helps in maintaining the right consistency and strength, thus making the mixture more sustainable to various stresses. The global polymer modified bitumen market is projected to witness lucrative gains over the coming years, subject to its enhanced elasticity and viscosity properties. Paving bitumen is another type of product used in roads and highways construction. This product is specifically used in the construction of barn floors, running tracks, railway beds, bicycle paths, and tennis courts. As per estimates, the global paving bitumen market is projected to expand at 2.5% per year between 2016-2024.
Get a Sample Copy of this Report @ https://www.gminsights.com/request-sample/detail/1100
Rising government spending and initiatives for redevelopment and repair of roads and highways in North America have set the regional bitumen market in motion. The region will witness a substantial rise in product demand especially in the waterproofing application, owing to growing residential remodeling projects. The global bitumen market for waterproofing application collected revenue over USD 9 billion in 2015, subject to increasing piping & roofing activities in the construction and remodeling projects.  Primarily driven by the strong growth in the United States, North America dominated the global landscape in 2015.
A significant rise in the construction projects and infrastructural developments in Asia Pacific have further propelled growth of bitumen market in the region. India, China, and Japan are likely to observe lucrative growth prospects, owing to robust development projects and upsurge in consumer disposable income. Moreover, the market is likely to experience high product demand as a considerable rise is witnessed in the number of construction projects including airports, runways, road & highways, flyovers, and railway beds constructions. Asia Pacific bitumen market is anticipated to record a CAGR of 5% over 2016-2024.
Prominent industry players contributing to bitumen market expansion are Chevron Texaco, Exxon Mobil Bouygues S.A, British Petroleum, Petroleos Mexicanos, Indian Oil Corporation, Marathon Oil, NuStar Energy, Nynas AB, JX Nippon Oil & Energy, Villas Austria GmbH, and Total S.A.
Author Name : Ojaswita Kutepatil