Recognizing the rising demand for peroxyacetic acid across myriad end-use sectors, renowned Peracetic Acid Market players have taken the onus upon themselves to develop innovative products. A recent instance of this factor would be Biosan's relocation to a new production center in 2016. For the record, Biosan, LLC, based in New York, is a key player in global peracetic acid industry, famous for manufacturing high-grade peracetic acid products for numerous sectors such as industrial laundry, sanitization, F&B, horticulture, wastewater treatment, and pulp & paper. Approved by both, the FDA and EPA, Biosan's products are used as antimicrobials, disinfectants, and sanitizers, thereby increasing the business scope of peracetic acid market.
Europe peracetic acid market size, by end-user, 2013 – 2024 (USD Million)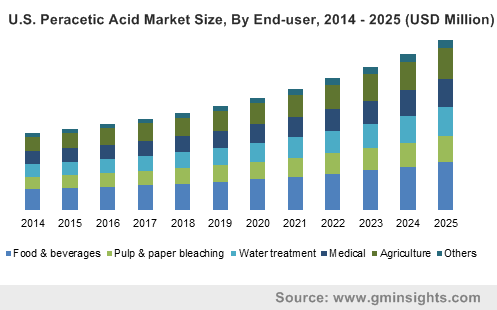 Overall, judging by the statistics, it would be fair to say that peracetic acid industry is heavily consolidated. This is evident from the fact that the top manufacturers cover more than 94% of the overall revenue, which is a commendable contribution, as per experts. However, peracetic acid market also involves the presence of numerous SMBs in addition to large corporations. Some of key product manufacturers partaking in this business sphere include Evonik Industries, PeroxyChem LLC, Ecolab, Inc., Mitsubishi Gas Chemical Company, Inc., Hydrite Chemical Co., Enviro Tech Chemical Services, Inc., Thai Peroxide Ltd., Airedale Chemical Company Ltd., Kemira Oyj, and Loeffler Chemical Corporation. Most of the aforementioned companies have been involved in undertaking strategic growth tactics for the development of peracetic acid industry, which, as per a reliable forecast, is projected to cross USD 850 million, with a CAGR estimation of 7.7% over 2017-2024.
Get a Sample Copy of this Report@ https://www.gminsights.com/request-sample/detail/1524
Peracetic products are basically classified as distilled grade and solution grade products, based on the type and number of catalysts used. While solution grade products dominated peracetic acid market in 2016, distilled grade products are also on their way to experience a renewed traction over 2017-2024. These products are used heavily across the F&B, wastewater treatment, medical, paper & pulp, and agricultural sectors.
Speaking along similar lines, the F&B sector exerted its dominance on the overall peracetic acid industry in 2016, and is expected to grow at a remarkable rate over the years ahead. This growth can be credited to a plethora of factors, including the massive growth of the F&B sector, changing consumer preferences, and the rising consumer consciousness regarding hygiene and sanitization. Peracetic acid products act as a highly effective sterilant against viruses, bacteria, yeasts, and fungi. The brewing industry is also a primary business sphere incorporating the usage of peracetic acid products, owing to the fact they ensure protection against microbial contamination.
The escalating F&B and paper & pulp sectors will be the key driving forces behind the development of North America peracetic acid market. Estimates claim this regional market to grow at a substantial rate over 2017-2024, having held a valuation of USD 176.3 million in 2016. The region has been experiencing an appreciative growth in the water treatment equipment industry, which will majorly stimulate North America peracetic acid market.
A vital instance of the wastewater treatment sector development in North America is the recent inauguration of a wastewater treatment facility that is supposed to be constructed in Sunland Park, about five miles away from the Mexican border. The facility, inaugurated by CRRUA (Camino Real Rural Utility Authority), is an extended aeration wastewater treatment plant that is projected to provide services to around 2,000 homes. An increase in the number of such initiatives is likely to provide a positive impetus to the regional peracetic acid industry.
Peracetic acid products are infamous for causing irritation on the skin, in the eyes, and even in the respiratory system. Recognizing the potential hazards from long-term product usage, including permanent lung damage, the EPA has published the required product exposure guidelines that have to be mandatorily followed. Manufacturers have been striving to develop sustainable products to avoid long-term health hazards, thereby augmenting the scope of peracetic acid market in the future.
Author Name : Saipriya Iyer