The benefits provided by plastic based medical devices over metallic equipment have influenced Medical Styrenic Polymer Market considerably. Most of the hospitals have been giving preference to light weight product, better aesthetics, easy disposability, and cost-effective equipment lately, which is making them one of the prominent end use segments of medical styrenic devices market. The world is trending toward the adoption of eco-friendly products which is further encouraging the use of disposable equipment. According to Global Market Insights, Inc., "Worldwide medical styrenic polymer market was worth USD 2.5 billion in 2016 and will record a CAGR of 7% over 2017-2024."
U.S. medical styrenic polymer market size, by application, 2013 – 2024 (USD Million)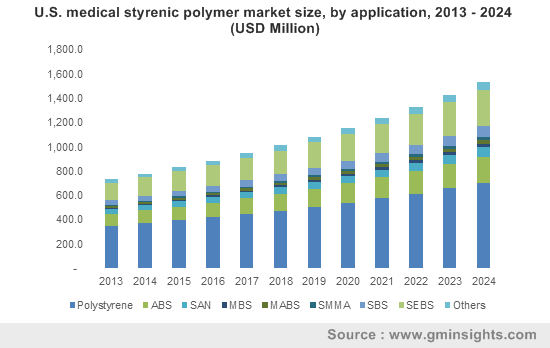 Industry giants are investing significantly in research and development activities to enhance the ease of usability as well as to reduce complexity of the medical devices. To develop highly precise and accurate products, manufacturers are giving preference to plastics, pertaining to its easy micro-molding ability, which will lead medical styrenic polymer industry to generate substantial revenue by the end of 2024. Key participants in medical styrenic polymer market are Styron LLC, Saudi Basic Industries Corp., Styrolution Group GmbH, Chevron Phillips Chemical Company LLC., Kraton Polymers LLC, INEOS ABS (USA) Corporation, Chi Mei Corporation, and Americas Styrenics LLC.
Considering the environmental aspect, manufacturers are using thermoplastic elastomers like polystyrene, MBS (methyl-methacrylate butadiene styrene), and styrene methyl–methacrylate instead of PVC. Polystyrene based products contributed majorly toward medical styrenic polymer market by accounting for more than 50% of the revenue in 2016. This product is mainly used to manufacture packaging and medical devices, owing to the ease of availability, cost-effectiveness, and superior transparency, which will lead the segment to generate a sizable revenue by 2024.
Get a Sample Copy of this Report@ https://www.gminsights.com/request-sample/detail/1821
Protective and hygienic packaging solutions are not only safe for patients, but also a better option to challenge fossil based solutions. Renewable packaging also offers cost-effectiveness and consistent quality to the consumers. To provide safety to patients and avoid transmissible disease agents, medical service providers are treading toward the usage of medical packaging for various instruments, drugs, and syringes. Medical packaging application of medical styrenic polymer market will exhibit substantial CAGR over the coming seven years. The deployment of strict rules and regulations to sustain health and hygiene across the medical sector will also fuel the product demand.
North America has witnessed lucrative development in the healthcare and medical sector pertaining to implementation of favorable regulatory norms and enhancements in healthcare infrastructure. Taking into account the hazardous impact of metallic devices and equipment on environment and human health, market players across North America are shifting their focus toward the use of thermoplastic elastomers, which will favorably influence medical styrenic polymer market growth. North America medical styrenic polymer industry covered 40% of the overall share in 2016 and will collect considerable revenue by 2024, owing to the rise in spending on healthcare and medical sector.
The emergence of technologically advanced procedures such as 3D printing is likely to generate lucrative opportunities for medical styrenic polymer industry giants over the years ahead. Manufacturers have also been working toward developing high-grade products to sustain their business position.
Author Name : Sunil Hebbalkar