Polyalkylene Glycol Market is expected to demonstrate a phenomenal growth over the coming years, subject to the widespread usage of the product in polyurethane foams, functional fluids, surface active agents, lubricants, pharmaceuticals, refrigeration, aerospace, and personal care items. Key manufacturers are trying to expand their product portfolio and acquire a competitive edge through the implementation of business growth strategies such as product differentiation, technological innovations, and strategic partnerships, which will subsequently fuel the market trends.  Global Market Insights, Inc., states that polyalkylene glycol industry value, which was assessed at USD 8 billion in 2016, is set to hit USD 18 billion by 2024.
U.S. Polyalkylene Glycol Market Size, By Application, 2013 – 2024 (USD Million)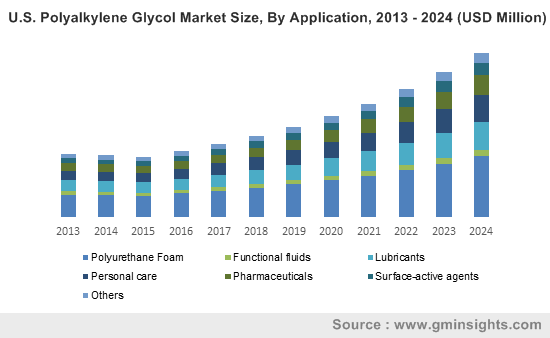 Asia Pacific industry, which accounted for more than 40% of polyalkylene glycol market share in 2016, is slated to experience a remarkable surge over the years ahead. Rise in the number of construction projects along with escalating demand for personal care items & medicines will favorably leverage the business sphere. India and China are likely to drive the regional share.
North America polyalkylene glycol industry is slated to expand at a rate of over 11% during the period from 2017 to 2024, subject to high PU foam and lubricant sales witnessed in the countries such as the U.S. Large presence of major players across the pharmaceuticals sector in the U.S. will further boost the industry growth.
Get a Sample Copy of this Report@ https://www.gminsights.com/request-sample/detail/1752
Polyurethane foam sector, which dominated the overall polyalkylene glycol industry share in 2016, is anticipated to positively affect the business trends over the coming years. The segment marked a contribution of more than USD 3 billion toward the overall polyalkylene glycol industry revenue in 2016. Mounting PU foam sales across aerospace, construction, automobile, and refrigeration sectors will accelerate the business progression.
Polyalkylene glycol market size in the lubricants sector is slated to expand at a cumulative rate of more than 10.5% over the coming timeframe, subject to the growing use of the product in car engines, aircrafts, vehicle parts, and marine applications for enhancing their performance. Surging product demand subject to its beneficial characteristics such as eco-friendliness and oxidation stability is certain to impel the regional growth.
The personal care sector is expected to prominently influence the growth of polyalkylene glycol market, as the product is extensively used to manufacture hair items, toothpastes, and shampoos. Growing consumer consciousness about maintaining cleanliness coupled with the rise in their incomes will drive the business growth.
Polypropylene glycol (PPG) and polyethylene glycol (PEG) are the key products of polyalkylene glycol industry. PPG, which made major contributions toward the overall polyalkylene glycol revenue in 2016, is likely to have a major impact on the industry growth over the coming years. PPG is widely used in the production of PU foams, which finds major applications across automotive and aviation sectors.
Polyethylene glycol (PEG) is projected to witness an impressive growth over the next few years and will further drive the business space, subject to the massive product applications as functional fluids and lubricant agents in the automobile, plastics, pharmaceuticals, and chemical sectors.
LyondellBasell Industries N.V., Royal Dutch Shell plc, Idemitsu Kosan Company Limited, Repsol S.A., Clariant International LLC, The Dow Chemical Company, Saudi Basic Industries Corporation (SABIC), Bayer AG, E. I. du Pont de Nemours and Company, BASF SE, Croda International plc, Huntsman Corporation, Exxon Mobil Corporation are the major participants of Polyalkylene glycol industry.
Author Name : Dhananjay Punekar