Electric household appliances market is witnessing a substantial influx of high-priced appliances with advanced features that are designed to reduce human work and provide superior home care. The worldwide electric household appliances industry players are emphasizing on developing smart and automatic devices by integrating electronics with intelligent sensors and machine programming. Smart electric household appliances have already become a necessity for most of the households and can aptly be termed under the common saying "Home is where the smart is". The global Electric Household Appliances Market is forecast to show strong growth prospects, as consumers have become more affluent and their choice of appliances have also become more sophisticated.
India Electric Household Appliances Market Size, By Product, 2016 & 2024 (USD Million)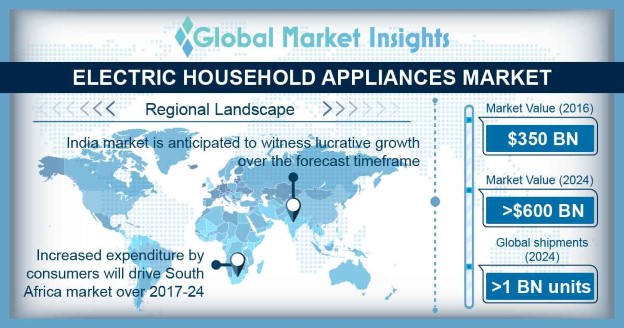 Electric household appliances industry is poised to witness increasing demand for energy efficient products, especially against a backdrop of escalating electricity charges worldwide and growing government emphasis on minimizing energy consumption. The magnitude of growth across each product market such as air conditioners, kitchen appliances, dishwashers, washing machines, refrigerators, freezers, and dryers are prominently based on its technology, functionality, aesthetics, and energy efficiency. Of these, the cooking appliances are gaining renewed traction with specialty purpose products such as food processors, coffeemakers, blenders, and ovenware.
Electric household appliances market is witnessing a popular trend of multifunctional homewares, that offers added convenience and occupy a little space in houses. Today busy working schedule and smaller living spaces have created an understandable surge in the demand for automatic and space-conscious goods. For instance, Oxo, a Helen of Troy Ltd brand, launched innovative set of mixing bowls that come with silicon lids, which can also be easily converted into food storage containers.
Get a Sample Copy of this Report@ https://www.gminsights.com/request-sample/detail/214
Another example is of Le Creuset, a renowned kitchen essentials brand which has introduced its new oval-shaped Dutch oven which has a reversible lid that can be used as a grill pan. Such product innovations have undoubtedly created huge scope for the growth of electric household appliances market over the coming seven years. Automatic washing machines, smart grid-connected dish washers, water heaters, and air conditioners, are among the others, that are gaining huge market potential with growing trend of home automation.
Prominent electric household appliances industry players are actively investing in the R&D activities to develop advanced appliances with more smart features, by connecting to sensors and home computer networks. Whirlpool Corporation, for instance, has showcased its most impressive food preparation appliance called the Whirlpool Front-Control Range with Scan-to-Cook Technology.  With the help of a smartphone and the Whirlpool mobile app, users can now scan the UPC barcode of packaged food and transmit the recommended temperature, directions, and cooking time via Wi-Fi. This appliance will then set itself to the pre-programmed specifications and automatically prepare the food. Such advancements brought by electric household appliances industry giants have effectively showed what the power of the Internet of Things can really do in kitchen. With the introduction of such products, electric household appliances industry players are vigorously attempting to gain competitive edge in the growing 'smart' era.
As per estimates, Asia Pacific electric household appliances market is anticipated to witness huge demand for home appliances due to rising spending capacity and rapid urbanization in the emerging regions. Consumers are progressively seeking value added products that can reduce their efforts & time and are affordable at the same time. This has resulted into a robust demand for appliances including washing machines, air conditioners, and cooking appliances in the region which in turn have accelerated the growth of electric household appliances industry.
With the growing prevalence of smart technologies, the prominent electric household appliances market players including Electrolux, Siemens AG, Samsung, Walton Group, and LG are undertaking numerous growth strategies which boosts innovation and product development. A recent report on electric household appliances market put forth by Global Market Insights, Inc., has estimated the market valuation to surpass USD 600 billion, with global shipments exceeding 1 billion units by 2024.
Author Name : Ojaswita Kutepatil