Strategic partnerships and regional expansions have played a significant role in influencing Lyocell Fiber Market trends over the recent years. For instance, Santoni, a leading Italian firm producing circular knitting machines, has collaborated with Lenzing AG, to produce tencel branded fibers in its new denim undertaking. In a potential bid to raise the overall revenue of its specialty fibers sector, Lenzing AG, one of the key manufacturers in the cellulose fiber industry, is expected to establish a lyocell fiber manufacturing unit in Thailand by 2020, a factor which is forecast to bring about a plethora of changing dynamics in global lyocell fiber market.
U.S. Lyocell Fiber Market Size, by Application, 2013 – 2024 (USD Million)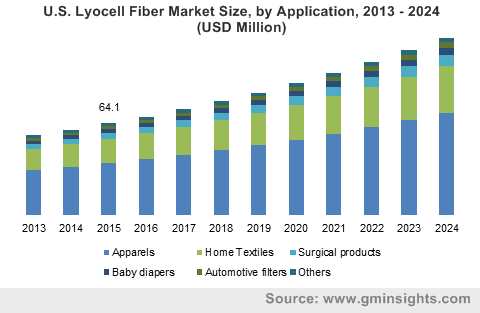 The advent of technology, having already influenced a slew of industries since its inception, will also mark its impact on lyocell fiber industry. Technological innovations have lowered the cost of fiber production and have helped in enhancing the production as well as the quality of fibers. Today, many of the fiber manufacturing firms are focusing on reprocessing and reusing the fibers after the completion of their shelf life, which is expected to offer novel growth opportunities for lyocell fiber market.
Substantial knowledge regarding pediatric sanitation accompanied by an increase in the spending capacity of the consumers have resulted in high demand for baby diapers across the Asia Pacific region. This is one of the key factors which has resulted in the escalating growth of Asia Pacific lyocell fiber industry, which is expected to record a CAGR of 8% over 2017-2024, having attained a revenue of more than USD 550 million in 2015. China, Indonesia, and India are predicted to be the major revenue pockets of APAC. While the decline in infant mortality rates is also predicted to influence the regional share, the thriving non-woven materials sector in Indonesia is expected to spur the product demand over the years to come.
Get a Sample Copy of this Report@ https://www.gminsights.com/request-sample/detail/1822
The textile and apparel sectors across Europe have witnessed a slew of technological innovations of late. Surging production of non-woven fabrics for medical and automobile industries along with the presence of big manufacturing giants across the region has augmented the product demand. Europe is expected to contribute more than 12% toward lyocell fiber market share by 2024, with UK, France, and Germany being the major revenue contributors.
U.S. lyocell fiber industry is predicted to experience a notable growth over the next few years with the rise in the apparel exports. The presence of multinational brands in the textile sector across Mexico will spur the product popularity.
Lyocell fibers find extensive applications in automotive filters, cigarette filters, apparels, baby diapers, surgical items, vehicle carpets, and home textiles. Apparels sector, which accounted for over 50% of lyocell fiber industry share in 2016, is predicted to contribute extensively toward lyocell fiber market share over the next few years. Eco-friendly nature of the product along with its beneficial characteristics such as softness & porousness will favorably affect the business revenue.
Home textiles, which contributed over 20% of the global lyocell finer market size in 2016, are expected to boost the business sphere over the next few years. The growth can be attributed to escalating product demand for manufacturing carpets, bed sheets, curtains, and drapes. Mounting product use in battery separators and seat covers in vehicles is expected to boost the product popularity across the automotive sector.
Qingdao Textile Group Fiber Technology Company Limited, Lenzing AG, Zhejiang Yaojiang Industrial Group Company Limited, Acegreen Eco-Material Technology Company Limited, Zhejiang Yaojiang Industrial Group Company Limited, Baoding Swan Fiber Group Company Limited, Nien Foun Fiber Company Limited, Smartfiber AG, and Acelon Chemicals & Fiber Corporation are the major players of lyocell fiber market.
Lyocell fiber market is expected to carve out a lucrative growth map ahead, subject to its extensive application spectrum. According to a recent report compiled by Global Market Insights, Inc., lyocell fiber industry is set to hit a revenue of over USD 1.5 billion by 2024, registering a CAGR of nearly 8% over the coming seven years.
Author Name : Dhananjay Punekar