IDbyDNA's recent collaboration with Arup Laboratories marks the continuity of the successful growth path carved out by esoteric testing market over the last few years. With this partnership, both the companies aim to collectively develop and commercialize next-generation sequencing infectious disease tests that are relatively more accurate and comprehensive than their conventional counterparts. The initiative is also expected to combine laboratory medication with sophisticated science and genomics and bring forth the advantages of precision medicine to infectious diseases, thereby eventually strengthening the position of both companies in global esoteric testing industry.
Germany Esoteric Testing Market Size, By Test Type, 2013-2024 (USD Million)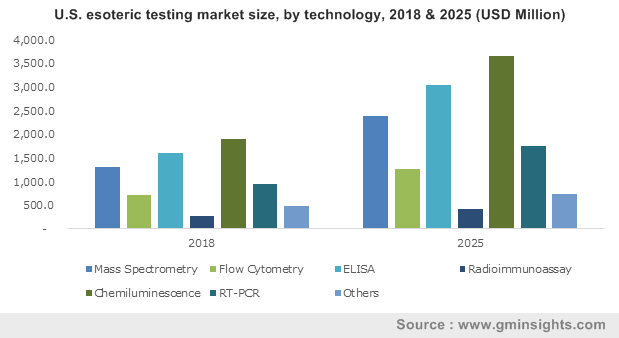 A vital sub-sphere of the clinical testing spectrum, esoteric testing market has been gaining massive prominence of late. This is evidenced by the valuation of this business space in 2017 – the industry stood at an appreciable USD 19 billion then. Basically inclusive of molecular analysis that is not carried out in routine clinical testing, esoteric tests are often outsourced by large commercial labs to reference labs, for the sake of clarity and convenience. Lately, a massive surge has been observed in the outsourcing framework, which is a positive indicator of esoteric testing industry expansion.
It needs to be noted that these tests are customized and are ordered only in the event when a patient or the physician feels the requirement of additional information related to the disease, perhaps to diagnose a disease, decide the course of treatment, monitor a therapeutic regime, or decide a prognosis. Esoteric testing market is characterized by the requirement of a highly skilled workforce and sophisticated instruments, owing to which these tests are outsourced to specialized laboratories. With the increased prevalence of diseases related to the fields of immunology, genetics, oncology, toxicology, endocrinology, microbiology, serology, and molecular diagnostics, the demand for esoteric testing has shot up by quite a few notches lately.
Get a Sample Copy of this Report@ https://www.gminsights.com/request-sample/detail/1922
Recently, Roche partnered with the LabCorp Center for Esoteric Testing, to establish the first U.S. site that offered commercial testing services. The testing is expected to be carried out with Roche's new cobas® 8800 system, which has been designed to automate the overall molecular diagnostics testing process with PCR (polymerase chain reaction) detection. This high-throughput molecular system has already been approved by the FDA and other regulatory bodies, and will stand to offer substantial benefits to both companies, augmenting their position in global esoteric testing market.
It is noteworthy to mention that esoteric testing industry is highly controlled by regulatory bodies, owing to the delicate, sensitive nature of the tests. One of the key medical disciplines for which esoteric testing market is experiencing profound demand is that of infectious diseases and immunology. As per estimates, this segment accounted for 28% of the industry share in 2017, primarily on account of the high prevalence of infectious diseases coupled with high demand for advanced molecular tests. As the demand and availability of immunology laboratory services for every medical specialty increases, esoteric testing industry size will observe a positive growth from the infectious diseases and immunology segment over 2018-2024.
Genomics is forecast to be a prominent segment of esoteric testing market demonstrating heavy growth potential over 2018-2024 and is heavily dependent on regulatory approval. Recently, the FDA approved Merck's Keytruda drug to treat gene-based cancer, which has been possible only due to esoteric tests.
Another recent instance demonstrating the importance of approval norms in esoteric testing industry is that of Strand Life Sciences receiving regulatory sanction. The genomic profiling company's Next-Generation Sequencing laboratory, called the Strand Center for Genomics & Personalized Medicine, has received accreditation certificates from the National Accreditation Board for Testing & Calibration Laboratories (NABL) and the College of American Pathologists (CAP). The regulatory approval will strengthen the position of the firm in global esoteric testing market, given that this facility is the first and only one of its kind in India that can boast of receiving two prestigious approvals.
In the future, the rapid rise in the demand for esoteric tests may lead to the requirement of qualified staff. This may act as a possible hindrance for the growth of esoteric testing industry, as experts predict that the total number of available clinical laboratory technicians may not be able to fulfill the demand for skilled staff. However, the restraint may be overcome with regulatory bodies and educational institutions taking initiatives to train the required employee pool.
All in all, two prime factors that can be considered as major drivers of esoteric testing market are the growing trends toward personalized medicine and the plethora of norms enforced by governmental bodies. The former especially, has penetrated across major geographies, especially the United States, and is expected to substantially influence the dynamics of esoteric testing industry. Additionally, huge investments are being made across the globe in the proteomics and genomics sectors to conduct high-tech research & development activities, which will eventually accelerate the business growth. As per Global Market Insights, Inc., esoteric testing market size will cross USD 35 billion by 2024.
Author Name : Saipriya Iyer