The proliferation of technology across major end-use sectors across the globe has a major role to play in the growth of Gas Insulated Switchgear Market. Major firms have undertaken the tactics of technological innovations to steer the growth path of this industry toward a positive axis. For instance, in August 2015, ABB, a Swiss-Swedish multinational firm functioning in the areas of power, robotics, and automation, had developed the world's first environment friendly gas mixture to be used across high & medium voltage GIS bays, which was expected to replace the toxic & hazardous SF₆ gas. The global warming potential of the new eco-friendly gas is lesser than that of SF₆, which will substantially reduce the greenhouse emissions of gas insulated switchgears by 50%. The initiative will also minimize the costs incurred due to phasing out old substations through their disengagement, which will lead to their upgradation and eventually provide a positive impetus to gas insulated switchgear market.
Europe Gas Insulated Switchgear Market Size, By Capacity, 2016 & 2024 (USD Billion)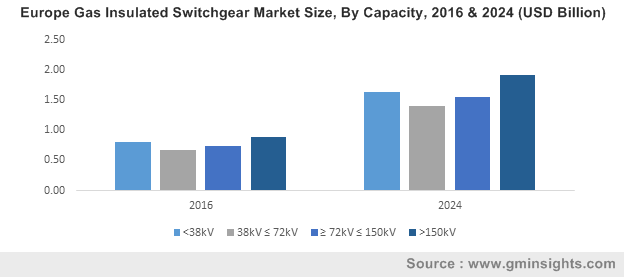 Regulatory norms might hinder the growth of gas insulated switchgear market:
Strict penalties imposed by the European Union on the industry giants such as Toshiba Corporation, Siemens AG, and Mitsubishi Electric Corporation can adversely impact the revenue of gas insulated switchgear industry. In January 2016, the European Union court defended the verdict of lower courts to impose fines totaling USD 148 million on both the Toshiba Corporation and Mitsubishi Electric Corporation for partnering to manufacture the gas insulated switchgears to be extensively used across various electric substations.  Siemens AG was also fined EUR 397 million for merely being a part of the alliance, while ABB was lucky to evade the fine with just a warning from the jury.
The growing significance of gas insulated switchgears can be attributed to its high demand across energy generation, transmission & distribution, and infrastructure & transportation sectors. The product also finds wide applications across the residential, utility, and industrial sectors. Gas insulated switchgear industry size in the infrastructure & transportation sector is projected to experience an optimal growth over the coming years, subject to the rapid improvement in infrastructure facilities. Global Market Insights, Inc., forecasts that gas insulated switchgear industry will collect a revenue of over USD 29 billion by 2024, growing at a rate of more than 8% over 2017-2024.
Get a Sample Copy of this Report@ https://www.gminsights.com/request-sample/detail/1929
An insight into the regional landscape of gas insulated switchgear market:
APAC gas insulated switchgear industry is expected to observe a massive expansion over the years ahead with high government funding to efficiently carry out transmission & distribution activities for producing sustainable power. Countries across this region are focusing on the installation of more substations for high voltage power transmission and are promoting the use of green technologies, thereby boosting gas insulated switchgear market demand. For instance, in 2016, the Chinese government had declared to allocate funds worth USD 87.37 billion for constructing new ultra high voltage transmission lines for transmitting excess power supply to the distant regions and rural areas (including the hilly areas).
U.S. gas insulated switchgear industry, which accounted for more than 65% of North America gas insulated switchgear market size in 2016, is slated to witness a widespread expansion over the years to come. Tremendous efforts made by the U.S. government to modernize the electrical infrastructure system are expected to result in successful outcome, thereby leading to large-scale business expansion. For instance, in 2017, the U.S. federal transit administration has declared to make investments worth USD 647 million in the Peninsula Corridor Electrification Undertaking across the region ranging from San Francisco to Tamien.
Siemens AG, General Electric Corporation, Larsen & Toubro, Alstom, Schneider Electric SE, Hyundai Heavy Industries Company Limited, Meidensha Corporation, Xi'an XD Switchgear Electric Company Limited, Nissin Electric Company Limited, and Hitachi Limited are some of the major participants expected to beneficially influence gas insulated switchgear industry revenue.
Author Name : Dhananjay Punekar