Organic ice cream market has recently gained a renewed traction with the latest buzz created by the Japanese scientists with regards to introducing the ice cream that "doesn't melt". As per sources, this ice cream can retain its original shape and taste even at a temperature of 28°C (82.4 F). In the making of this product, the Japanese scientists used a natural strawberry extract called polyphenol liquid that stops the water and oil from separating quickly, which enables the ice-creams to stay frozen. This ice-cream with all-natural extract was introduced to the people in Kanazawa, and then in Osaka and Tokyo, which in turn has propelled the regional organic ice-cream industry growth. This example sheds light on the fact that the companies operating in organic ice cream market, need to be innovative with their ingredients and flavors to uphold their sales in the fiercely competitive landscape.
U.S. Organic Ice Cream Market Size, By Product, 2016-2024 (Kilo Tons)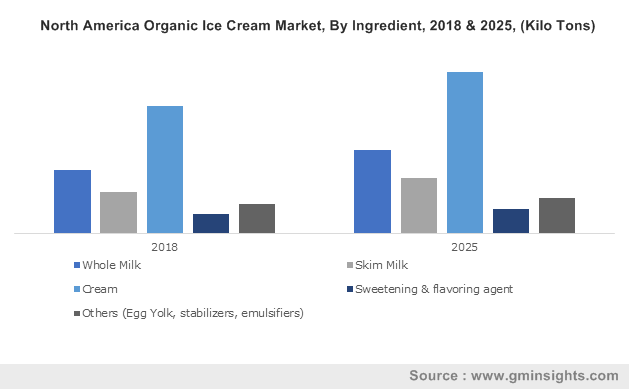 Rising health consciousness among the consumers has created higher demand for natural low-fat or fat-free ice creams that has indeed secured lucrative avenues for organic ice cream market. In 2016, the global ice cream spending, was recorded worth USD 55 billion and ice cream consumption surpassed 23 billion liters. U.S. and China represented the major regions in the organic ice cream market with the largest consumer base and the trend is likely to continue with both these regions foreseen to be major stakeholders in this fraternity. Sweden, Australia, Italy, New Zealand, U.S., and Denmark are the major countries consuming the highest per capita/liter of ice cream.
The trend of maximizing the nutritional credentials in ice cream by increasing the content of organic ingredients, has significantly driven organic ice cream industry share. Moreover, various advancements in the field of cold chain infrastructure, storage facilities, and refrigerated transport systems have fostered the growing trend of low fat and organic ice creams across the globe. Valued at USD 850 million in 2016, Organic Ice Cream Market is further expected to reach USD 1.2 billion by 2024. Global Market Insights, Inc., also predicts the organic ice cream consumption to go beyond 245 kilotons by 2024.
Get a Sample Copy of this Report@ https://www.gminsights.com/request-sample/detail/1522
In this to-be billion-dollar industry, vanilla continues to be the flavor of choice in both, take home and artisanal ice cream product types. This flavor is the most versatile and exhibits profound blending with bakery desserts, drinks, and toppings. Consumers demand for vanilla ice creams has risen, owing to its all-natural and pure ingredients. Basically, organic ice-cream is made up of concentrated flavor of organic ingredients such as organic cream, organic milk, low/whole milk, and organic egg yolks, which is mixed with stabilizers, flavors, emulsifiers, and sweetening agents. In 2016, vanilla organic ice cream market accounted for more than 29% of the total demand. Growing demand from families for multi-serving desserts in gatherings and special occasions have augmented the demand for take home ice-cream products. Having contributed to over 50% of the organic ice cream industry share in 2016, take home is likely to dominate the overall product demand.
Organic chocolate flavor is also gaining popularity, on account of rising consumer awareness toward health benefits of natural cocoa. Moreover, the proven benefits of dark chocolate in preventing cardiac diseases and improving the skin texture have profoundly attracted consumers to pick organic chocolate flavors in their ice cream scoops. Butter pecan, strawberry, mint chocolate, and black raspberry are among the other key flavors contributing to organic ice cream market revenue.
Growth Strategies | Nestlé simplifies its ingredients as consumer demands for organic products
Nestlé has featured a new ice cream recipe branded as Slow Churned Simple Recipes, where they have reduced from average of 22 ingredients to mere 7 to 8 ingredients. It has also removed all the artificial colors, flavors, high fructose, corn syrup, and GMO ingredients to enhance its nutritional value. In addition to this, it is using fresh milk from cows not treated with rBST. The roll-out of the new product had begun in 2016 and has substantially influenced the organic ice cream industry. Weight Watchers International, Blue Bell, Dean Foods, So Delicious Dairy Free, Mikawaya, Lotte Confectionary, Unilever, and Amul are key organic ice cream market players. These companies are highly seen responding to shifting consumer trends toward natural and nutritious ice cream flavors and are also offering a wide range of premium products in innovative flavors. With consumers persistently appreciating the value of simple and organic ingredients particularly in the F&B sector, it is certain for organic ice cream market to chart a profitable roadmap over the years ahead.
Author Name : Ojaswita Kutepatil