Glass packaging market outlook has been undergoing a plethora of changes over the recent years with regards to innovations, enhanced branding, and unconventional packaging formats. Glass being 100% recyclable, is one of the most trusted and proven packaging solutions related to health, taste, and sustainability. In fact, statistics claim that glass is the only extensively used food packaging material that have been granted with the highest standard certification, 'GRAS' (as a recognized safe material) by the Food and Drug Administration.
U.S. Glass Packaging Market Share, By Application, 2017 – 2024 (USD Billion)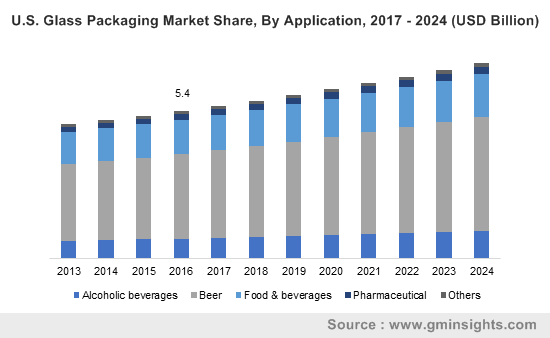 The impermeable and chemically unreactive characteristics of glass materials is further enhancing the application scope of glass material packaging industry across various domains, pharmaceutical and alcoholic beverages being at the pinnacle.  As per a recent market speculation put forward by Global Market Insights, Inc., global glass packaging industry size will surpass USD 65 billion by the end of 2024.
The competitive landscape of worldwide glass packaging industry is rather fragmented. In this competitive scenario, it has been observed that industry biggies are adopting mergers and acquisitions and strategic collaborations to sustain their geographical presence.  Companies are continuously trying to expand their production capacities by incorporating innovative products that are highly customized.
Some of the renowned names augmenting glass packaging market outlook are Saint-Gobain, Owens-Illinois Inc, Gerresheimer AG, Vetropack Holding AG, Hindustan National Glass (HNG), Ardagh Group S.A., Piramal, Stölzle-Oberglas GmbH and Nihon Yamamura Glass Co., Ltd.
Glass packaging market Trends | Pharmaceutical sector
Pharmaceutical sector is one of the most outpacing domains actively driving glass packaging industry commercialization. The prime factor that can be credited for the market proliferation is the unprecedented rate of innovations outlining the business landscape. One such breakthrough is the revolutionary pharmaceutical glass packaging solution, Valor Glass.
Get a Sample Copy of this Report@ https://www.gminsights.com/request-sample/detail/1988
As is proclaimed, Valor Glass offers superior strength, enhanced chemical durability, chemical resistance, assuring better protection of the drugs. Recently the maker of Valor Glass entered a strategic partnership with another firm to merchandize Corning's Valor Glass to the glass packaging market.
Another instance of a major collaboration which is expected to be a potential boost for the overall industry dynamics from pharmaceutical applications is the business alliance between Merck, Pfizer, and the maker of Valor Glass. Considering the chain of positive disruptive trends, it is certain that pharmaceutical sector will contribute a significant portion toward the global glass packaging industry in the coming years.
Glass packaging market trends | Alcoholic beverage & beer sector
Having acquired a major portion of the glass packaging market share in past years, alcoholic beverage and beer sector emerged to be another profitable domain thriving the business landscape. The rising consumption of beer especially across Europe belt can be primarily attributed for the market revenue.
In this regard, it is prudent to note that Europe will account for almost 30% of glass packaging industry share by 2024. Increasing disposable incomes and reduced cost of beers across some of the regions have acted in favor of the market growth. Glass packaging is widely adopted for alcoholic beverages and beers, subject to its sustainability, non-permeability, and negligible chemical reaction rate which allows it to be best fit for long term preservation.
The industry is faced by several challenges, the prime being the rising popularity of plastic packaging which has observed rapid advancements in recent years. The linear growth curve of plastic packaging market can be attributed to some of its adhered benefits like easy transportation, cost effectiveness, durability, and aesthetic features.
However, with increasing consumer preference for sustainable packaging materials having a high grade environmental viability, glass packing market is forecast to witness an appreciable growth in the years ahead.
Author Name : Saipriya Iyer