The presence of a stringent regulatory landscape is undeniably one of the pivotal factors driving alpha hydroxy acid (AHA) market. Strategic initiatives undertaken by authorized bodies form an essential crux of AHA industry growth, given that the product may have adverse effects when deployed in excess. The U.S. Food and Drug Administration (FDA), for instance, in 2005, circulated essential guidelines for cosmetic producers using alpha hydroxy acids in their products as a main ingredient. FDA's intent behind drafting these directives was to spread awareness among consumers regarding the potentially harmful impact of cosmetics containing excess AHAs on the skin and to instruct manufacturers about incorrect product labelling. Considering the benefits of AHA for cosmetics and skin care products however, the FDA has also conducted research programs regarding their safety, thus validating that the initiatives undertaken by pivotal regulatory bodies do have an impact on AHA market. For instance, the organization has collaborated with the NTP (National Toxicology Program) to the evaluate the safety of long-term AHA usage, the results of which would substantially impact product sales, thereby augmenting alpha hydroxy acid industry share positively over the years ahead.
U.S. Alpha Hydroxy Acid Market, By Product, 2013-2024, (Kilo Tons)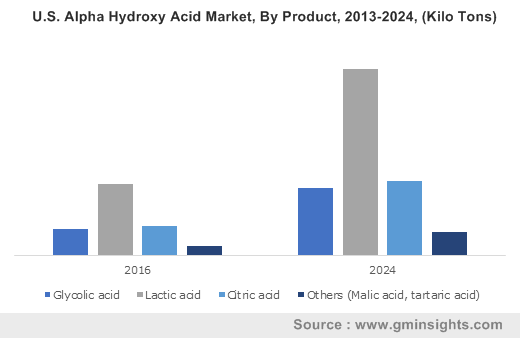 In a bid to promote safe usage of cosmetic products, the FDA has also recommended few guidelines for consumers and manufacturers as follows,
The PH of final product should be greater than or equal to 3.5
The final product must be formulated to protect the skin from sun sensitivity.
The concentration of AHA must be equal to or less than 10%
The deployment of abovementioned directives has positively impacted the alpha hydroxy acid industry share. As per estimates, in 2016, alpha hydroxy acid (AHA) market generated a revenue of USD 1.5 billion.
Get a Sample Copy of this Report @ https://www.gminsights.com/request-sample/detail/1792
The popularity of AHA-based skin creams has been increasing tremendously of late, owing to their benefits of wrinkle and photoaging effect reduction. It has been observed that alpha hydroxy acids are also being used as common additives in various skin care products such as toners, cleansers, moisturizers, and masks. Additionally, the growing prevalence of dry skin diseases such as xerosis and pregnancy scars has fueled the product demand, thereby impelling AHA market size from skin applications, pegged at USD 400 million in 2016.
The robust demand for AHA cosmetics can be principally credited to its noteworthy benefits, which have a key role to play in impelling alpha hydroxy acid market outlook. Some of these transformative benefits have been outlined below:
Skin Lightening Effects: Alpha hydroxy acids help reduce skin discoloration and hyperpigmentation generated on face due to scars, sun damage, and other health issues, thereby improving facial appearance. The rising awareness among consumers regarding their personal looks will consequently stimulate alpha hydroxy acid industry trends in the ensuing years.
Fewer Wrinkles: The University of Maryland Medical Center has discovered that AHA is endowed with the capability to minimize wrinkles and surface lines on face, in addition to removing the damaged skin layer of skin and allowing cell regrowth. This would substantially augment product demand and sales, thereby stimulating AHA market size.
Considering the rapidly increasing demand for skin care and cosmetic products, the renowned giants in alpha hydroxy acid (AHA) market such as Mehul Dye Chem Industries, Airedale Chemical Company, Dupont, Dow chemical, H Plus Ltd., Crosschem, Parchem, and Ava Chemicals are focusing on the development of a rather novel product range. Several players across U.S. AHA industry, it is observed, are heavily investing in research and development activities with regards to the same. The involvement of regulatory bodies in addition to the initiatives by industry participants is thus likely to augment alpha hydroxy acid market size, slated to cross USD 3 billion by 2024.
Author Name : Sunil Hebbalkar