The global
magnetic resonance imaging systems market
has lately emerged as a highly lucrative vertical of the diagnostic solutions industry. This comes as no surprise, given the incredible potential of these systems to aid healthcare professionals in diagnosing an array of medical conditions, ranging from broken ligaments to lethal cancerous tumors. The emergence of MRI technology has proved to be a boon for the medical fraternity, and magnetic resonance imaging systems are increasingly adopted for examining complex body parts like the brain and the spinal cord.
U.S. Magnetic Resonance Imaging Systems Market Size, By Architecture, 2018 & 2025 (USD Million)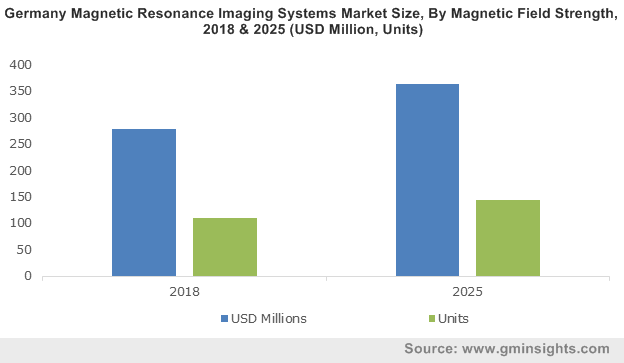 The burgeoning global geriatric population is adding significant momentum to the progression of the magnetic resonance imaging systems market, majorly due to the high susceptibility of elderly individuals to severe medical conditions. According to the United States Census Bureau, the population in the United States alone is estimated to grow to 404 million people by 2060. In fact, the population is estimated to cross the 400-million threshold in 2058. The growing worldwide population in general, is known to increase the pervasiveness of several ailments, demanding high tech gadgets such as MRI machines for body diagnosis, thereby supplementing MRI systems market size.
Highlighting the competitive environment of the magnetic resonance imaging systems market:
The ferociously competitive landscape of magnetic resonance imaging systems industry includes market behemoths like Siemens, Toshiba, Neusoft Medical Systems, Fonar Corporation, Sanrad Medical Systems, Esaote SpA, Aurora Imaging Technologies, GE Healthcare, Hitachi, and Koninklijke Philips N.V. These market majors are betting big on research and development initiatives to ideate, design, develop, and launch pioneering products that suffice medical needs in a better way. Apart from this, some players are also banking on business development tactics such as collaboration, mergers & acquisitions, portfolio enhancement, and regional expansion to enhance their global footprint. Even new entrants are also seen making their debut in this business vertical and are looking to exploit the benefits of the MRI technology.
Tata Trusts, the philanthropic vertical of Tata Group, has recently introduced India-made portable MRI scanner, to grow its stance in the healthcare diagnostic solutions industry, and to take diagnostic services to far-flung remote areas where such services are currently inaccessible predominantly due to the high costs of such machines.
Get a Sample Copy of this Report:@ https://www.gminsights.com/request-sample/detail/2140
Outlining the momentous initiatives by leading players partaking in the magnetic resonance imaging systems market share:
Toshiba introduces Vantage Titan 1.5T cS Edition MRI System for more standardized and efficient cardiac scans
In 2017, Toshiba Medical, a market leader in healthcare solutions, reportedly declared that its Vantage Titan 1.5T/cS Edition MRI system casing M-Power V3.6 software attained United States Food & Drug Administration clearance. Being a progeny of the Vantage Titan 1.5T MR, the new system retains all the patient-friendly features along with additional technology to simplify intricate cardiac examinations. The device allows the acquisition of multiple b-values in just one scan, allowing physicians to rapidly detect tissue diffusivity. Also, based on SUREVOI Cardiac anatomy detection technology, the system can automatically identify the position of the patient's heart.
Siemens Medical Solutions launches the first seven tesla magnetic resonance imaging system
The Magnetom Terra by Siemens Medical Solutions Inc. is reportedly the first 7T MRI device to attain FDA clearance for clinical use in the United States. The device nearly doubles the magnetic field strength compared to its current market counterparts, which fairly improves the overall image quality of MRI scans. Also, the enhanced field strength supports better visualization of subtle pathologies and smaller structures that can significantly advance disease diagnosis and accelerate treatment.
In line with the above instances, it will not be wrong to conclude that MRI systems market behemoths are increasingly adopting R&D strategies to revolutionize their offerings and attain an edge over their rivals. Undoubtedly, innovation is anticipated to be the mainstream trend for the magnetic resonance imaging systems market for the next few years, given the product's ability to massively improve patient outcomes.
Author Name : Nikita Chaurasia