Microirrigation system market, in recent times, has been witnessing commendable growth, the reason of which can be aptly attributed to the numerous M&As and strategic alliances prevalent across this business sphere. Given the rising shortage of water sources across the globe, optimized deployment of water for myriad purposes, especially for agriculture, has been gaining prominence lately. In this regard, microirrigation methodologies such as drip and sprinkler irrigation have scored an edge over conventional irrigation mechanisms, prompting companies in other business spaces to join forces with microirrigation system industry players. For instance, recently in September, Mexichem, SAB, a Mexico-based piping & chemical company, announced its decision of acquiring Netafim, LTD, the renowned Israel microirrigation system market giant, for a valuation of close to USD 1.5 billion.
U.S. Microirrigation System Market, By Application, 2013-2024, (USD Million)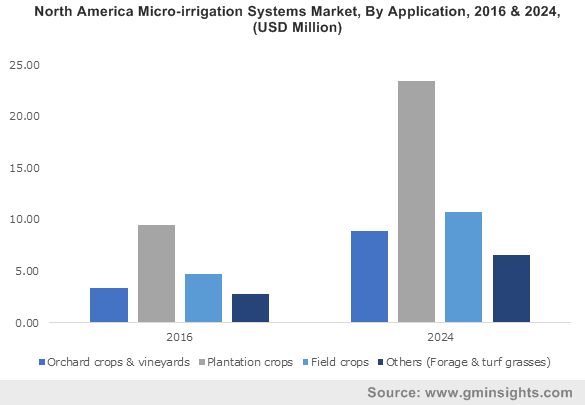 Elaborating on the aforementioned, it is prudent to state that this deal has been projected to be mutually beneficial for both the conglomerates. Authentic sources claim that Mexichem will receive an 80% stake in Netafim, as per the agreement, while the founder of the company would be retaining the remaining 20% stake in the company, currently valued at USD 1.89 billion. Furthermore, Mexichem personally believes that the deal would catapult the company to a rather high stance in global microirrigation system industry, while simultaneously enabling the firm to harness smart technology for water management, irrigation, and increased crop yield. In essence, as domain maximization stands to remain a prime goal for allied companies, their alliances with firms partaking in microirrigation system market share are likely to help them garner a significant percentage of the overall revenue of this business space, which would simultaneously help transform microirrigation system market trends. As per Global Market Insights, Inc., microirrigation system industry size was pegged at a modest USD 5 billion in 2016, and is likely to expand further in the years ahead.
Get a Sample Copy of this Report:@ https://www.gminsights.com/request-sample/detail/2075
Drip irrigation, one of the most popular methodologies of microirrigation, has been driving microirrigation system market share in recent times, for the simple reason that the mechanism is overtly efficient and versatile. Drip-based microirrigation system industry has been witnessing numerous developments lately, one of the most noteworthy ones being, the Ramthal Marol Drip Irrigation project in Hungund, Bagalkot. This project has recently been given the green signal by the regional government, post which its second phase is expected to commence. Apparently, the scheme would prove to be a godsend for the farmers in the region, given that they used to be entirely dependent on the rains. Together, the first and second phases would bring forth an area of close to 35,000 hectares of agricultural land under the drip irrigation scheme, thereby making it the largest single drip irrigation project. As per experts, this project, valued at INR 768 crore, would service close to 15,000 farmers in 30 villages, and would mark a major significance in the regional microirrigation system market.
Given the popularity of its working methodology, drip irrigation is expected to be widely deployed over the years ahead. The mechanism leads to a reduction in the population of pests and weeds, as the water is directed toward the root of the plant. Additionally, the methodology offers ease of installation, reduced soil erosion, improved fertilizer efficiency, and maximum usage of water, owing to which drip-based microirrigation system market is likely to garner substantial gains over 2017-2024. As per estimates in fact, microirrigation system industry size from drip irrigation is slated to cross more than 45 million hectares by 2024, in terms of volume.
The advent of technological innovations has had a profound impact on microirrigation system market outlook. Recently for instance, Supergeo, the globally renowned GIS software provider, made it to the headlines for having worked alongside two acclaimed organizations in the agro-tech domain, namely, the Taiwan Agricultural Irrigation Association (TAIA) and the Agricultural Engineering Research Center (AERC), in order to develop a smart irrigation GIS solution. The final module is anticipated to benefit a host of farmers and agro-based workers in terms of generating healthy yield with minimal water supply. As more and more companies begin to bring about high standard technology in manufacturing irrigation devices, microirrigation system industry size is bound to soar higher than anticipated. As per estimates, microirrigation system market size is forecast to cross a valuation of close to USD 12 billion by 2024.
Author Name : Saipriya Iyer