Owing to the broad expanse of application arenas, power electronics market, one of the most pivotal verticals of the electronics and media sphere has been estimated to garner substantial returns in the ensuing seven years. The extensive popularity of this business space can be attributed to its massive deployment across the automotive, industrial, consumer electronics, defense, aerospace, renewable energy systems, and ICT sectors. Furthermore, the competitive spectrum of power electronics market has been witnessing the unveiling of exceptional and innovative products equipped with emerging technologies, specifically developed for particular end-use disciplines. The upcoming market players have been vying with the existing leading firms to build a robust presence in the industry. For instance, Navitas Semiconductor Inc., an emerging power electronics industry player based in the U.S., has recently launched the world's first commercial Gallium Nitride (GaN) Power Integrated Circuit which enables highly energy-efficient and low-cost power converters. Such dynamic product innovations are set to significantly alter the growth landscape of power electronics industry in the forthcoming years.
U.S. power electronics market size, by product, 2016 & 2024 ($Mn)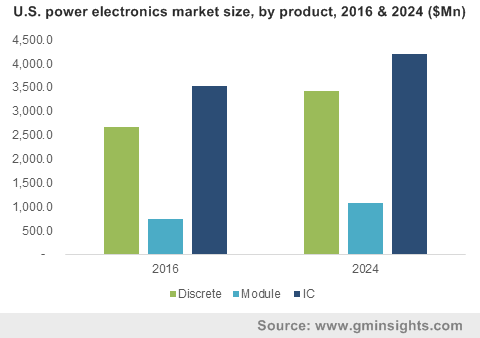 For the record, Gallium Nitride power ICs are considered as an emerging technology that has propelled the power electronics industry to enter a new era of imaginative topologies, new controllers, materials, devices, and magnetics. They have been increasingly replacing the conventional silicon devices who are comparatively slower and inefficient, consequentially, further stimulating the growth of power electronics market size which was pegged at USD 34 billion in 2016.
Concurrently, the ever-growing governmental thrust across various nations to adopt renewable power sources in residential and industrial sectors to reduce air pollution, lower particulate matter, slash CO2 emissions and suppress the fossil fuel depletion, has had a favorable impact on power electronics market growth. To cite an instance, the Indian government under its Jawaharlal Nehru National Solar Mission has resolved to attain an ambitious solar power capacity of 100 GW through rooftop and large-scale grid-connected solar power projects by 2022. Undoubtedly, these humongous projects would require AC/DC converters and switching systems to work seamlessly, which would, in turn, boost the expansion of power electronics market size.
Get a Sample Copy of this Report:@ https://www.gminsights.com/request-sample/detail/2143
Meanwhile, the escalating costs for setting up new production plants and the rising complexity of manufacturing procedures have restricted the advancement of upcoming players in the power electronics industry. Add to it, the power electronics industry is likely to face quite a few more challenges as the prominent market players have been plagued with space and security concerns which would impede the growth prospects of the industry in the immediate future.
It would be prudent to mention that the major industry players have been joining forces with other firms, universities, and research institutes to erect smart grids that would hopefully provide solutions to the aforementioned challenges. One of the foremost firm partaking in power electronics market, Enercon Canada Inc. for instance, has recently announced its collaboration with Hydro-Quebec research institute (IREQ) to interpret the impacts on grids of new electronic wind-turbine control systems. The partnership aims at blending ENERCON's mastery of energy converters with IREQ's extensive experience in simulating wide-scale wind power grid integration.
The Asia Pacific region is anticipated to be one of the most lucrative territory for power electronics market, given the wide-ranging deployment of the products across a multitude of business verticals. The economic boom in the region has resulted in increased disposable income in the middle-class households which has enabled them to purchase a greater amount of luxury electronic goods and systems. To add to it, the power losses and consistent current fluctuations, especially in manufacturing and industrial sectors of the region, have necessitated the deployment of power electronics systems such as UPS, inverters, and power regulators.
Given the wide-ranging adoption of emerging power electronics technologies on the global scale, it would be prudent to note that these systems shall acquire a prominent role in the growth of diverse industries such as heavy machinery, alternative energy, construction, oil and mining, and household equipment. According to a research report compiled by Global Market Insights, Inc., worldwide power electronics market size is slated to exceed USD 45 Billion by 2024.
Author Name : Saif Ali Bepari