The rising demand for automation has set the pace for the growth of humanoid robot market in recent times. Pertaining to the extensive requirement of computerized machines for a variety of end-use sectors, humanoid robots are being developed on a large scale to perform tasks that may perhaps be nearly impossible for humans to perform even under ordinary circumstances. Manufacturing companies have been deploying robotic arms for decades, however, in recent times, tech advancements have enabled preprogrammed robots to depict more than mere hand movements, giving rise to the widespread evolution of humanoid robot industry. Humanoid robots not only resemble the human body in structure and appearance, but they are also designed to carry out human tasks with futuristic precision combined with human intelligence, which has indeed been the driving force for humanoid robot market growth.
China Humanoid Robot Market Size, By Product, 2016 & 2024 (USD Million)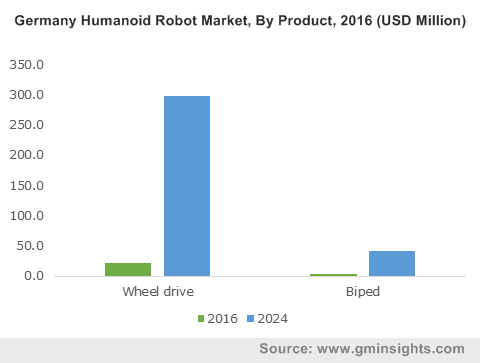 It is imperative to mention that robotic process automation has been around for decades, but these robots mainly dominated the factory floor and did not remotely resemble the intricacies of human maneuver, that has now been fulfilled with the introduction of humanoid robots. Renowned tech firms, it is observed, have also been working in the direction of efficient bot manufacturing for numerous tasks, which would eventually drive humanoid robot industry trends. A renowned start-up, Moley Robotics for instance, has created an automated robot chef that has just two arms but can cook any recipe to perfection. The cooking automaton can apparently learn and cook a recipe to the letter and even follow instructions given by chefs. Leading companies such as Samsung and Foxconn have also been replacing employees with robots for improved performance, which would undeniably have an impact on humanoid robot market size.
An outline of the latest contributions made by leading behemoths in humanoid robot market:
One of the most prominent players of humanoid robot market, Boston Dynamics, has come up with a humanoid biped robot Atlas that can walk and run like a human and can also rescue humans from disaster zones without requiring any additional rescue tools.
NASA has also developed a biped robot, Valkyrie, with a softer exterior. Valkyrie had been developed with an intention to be deployed for future NASA missions as a pre-cursor bot, undertaking essential tasks related to the mission before humans arrive. Unlike wheeled robots, these bipeds can handle stairs as well.
It is prudent to mention that wheel drive humanoid robot market has been on quite a roll in recent times. These bots are primarily used by online food delivery companies. A fleet of 10 wheeled robots manufactured by Starship Technologies, equipped with radar, cameras, sensors and GPS, have been deployed for food delivery around London. The fleet has already made 1000 deliveries around the capital city. The bots are so designed that if anyone would attempt a robbery from the machines, an alert is sent to the control center with a photograph of the thief. This exemplifies the extent of tech advancements in bot technology, which is certain to augment humanoid robot market share.
Get a Sample Copy of this Report:@ https://www.gminsights.com/request-sample/detail/2200
Humanoid robots, apart from the manufacturing sector, find crucial applications across the medical and military & defense sectors. The bots are being used to test weapons and weaponized drones are also being deployed in active war zones. They are also used to deactivate a bomb or search for hazardous objects in suspicious baggage in airports without potentially risking human lives, which would certainly impel humanoid robot industry size from military applications. According to a reliable estimate, 25% of the U.S. combat soldiers will be replaced by robots by the year 2030 to save human lives in combat and the ongoing war against terrorism. Besides, these robots are also being adopted by the Ministry of External Affairs as the government is deploying more robots for surveillance of busy areas.
Healthcare has emerged as a key arena for the expansion of humanoid robot market, as the field seen a surge of use in these machines in the form of surgical robots. Ultra-precise robot surgeons are being used for complicated surgeries like knee replacements or simple surgeries like removal of uterine fibroids with minimal blood loss and quick recovery time. Da Vinci for instance, is one of the many humanoid robot industry firms developing surgical robots that have already conducted more than two million procedures worldwide. Surgical robots however, are not here to replace human surgeons, as critical operations require the presence of a skilled medical expert. However, they would function as assistive robots, and considering the expansion in the field of healthcare, it is certain that humanoid robot market share from healthcare would soar great heights in the years ahead.
Asia Pacific is forecast to be one of the leading avenues for the growth of humanoid robot industry. Many Chinese manufacturing companies are replacing humans with robots for processes involving repetitive movements. Multilingual androids, for example, are being used to greet customers in the Bank of Tokyo-Mitsubishi, while at the Hen-na hotel in Nagasaki, robots are used to check in guests. A humanoid robot called Ri-Man has been developed in Japan to help the elderly as well – Ri-Man apparently can lift the disabled people out of wheelchairs and into beds and help in household work. China and Japan thus, have emerged as the leaders when it comes to deploying humanoids to help the elderly population, thus stimulating APAC humanoid robot market outlook.
As per estimates, humanoid robot industry size is expected to surpass USD 5 billion by 2024. The business space however, is posed with a challenge to turn research notions into a physical product that can be mass produced for profit. It is forecast that businesses in the future would increasingly be deploying humanoid technology to enhance customer experience and increase productivity, which would impel humanoid robot market trends. The entry of new industry players and the prevalence of numerous R&D activities would also boost humanoid robot market. It may cost much less to install a $35000 robotic arm to bag French fries at McDonald's than to pay an inefficient employee $15 an hour to do the same job, however, to have a personalized humanoid assistant at home is still a matter of (not too distant) fiction. Efforts are being undertaken to reduce the high cost of production and limited mobility so that these robots can be conveniently adopted by major end-use verticals, which would augment the revenue graph of humanoid robot market in the years to come.
Author Name : Paroma Bhattacharya