The robust expansion across global aviation sector can be aptly credited for the growth of aerospace maintenance chemical market. Given the extensive requirement of rigorous maintenance in commercial, military, and business aircrafts, companies have been going the whole hog to brainstorm unique chemicals that would ease the aircraft maintenance process. As the aviation sector witnesses extensive growth and the demand for maintenance, repair and overhauling of aircrafts increases with the rising volume of airline traffic, aerospace maintenance chemical industry outlook is likely to observe a dynamic transformation in the years ahead.
U.S. Aerospace Maintenance Chemicals Market, By Aircraft, 2016 & 2024, (USD Million)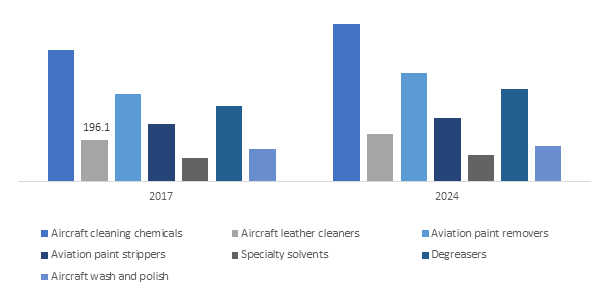 As per estimates, aerospace maintenance chemical market size stood at a modest USD 7 billion in 2017. However, increased global connectivity through airlines has raised the frequency of air travel – a trend has provided an impetus to the travel and tourism sector. Thus, with the growth of the aerospace domain, aircraft maintenance has emerged as a niche vertical, essentially propelling aerospace maintenance chemicals market.
This business space encompasses numerous products along the likes of aircraft leather cleaners, specialty solvents, aircraft cleaning chemicals, degreasers, aviation paint strippers, etc. Aircraft cleaning chemicals among these is estimated to be a major contributor toward aerospace maintenance chemical market share, given their massive demand for thoroughly disinfecting and cleaning aircrafts. Aircraft cleaning service providers are required to deal with problems like limited service time due to enhanced flight frequencies, strictly abiding by ground time schedules and errant weather conditions. In consequence, these cleaning service providers prefer aerospace maintenance chemicals that are highly efficient and can perform better in lesser amount of time, which would undeniably propel aerospace maintenance chemicals industry outlook.
Aviation paint removers also have a considerable role to play in the growth of the aerospace maintenance chemical market. It is prudent to mention that aircraft paint is removed and repainted every 5 to 6 years for elongating the shelf life of aircrafts as well as to make them more appealing. Indeed, this is certain to massively propel aerospace maintenance chemical industry size from aviation paint removers, slated to register a 3.7% CAGR over 2018-2024. The advancement of laser coating remover technology, in which an essentially gigantic robot is used to remove paint from aircrafts, will also contribute substantially to the progress of the aerospace maintenance chemicals industry.
Theoretically, aerospace maintenance chemicals can either be organic or inorganic in nature. The former is slated to account for 60% of the overall aerospace maintenance chemical market share by 2024, given that they are rather labor friendly and suitably viscous in nature. However, price competitiveness of inorganic aerospace maintenance chemical along with their easy product compatibility and availability as per customization will also make consumers lean toward these products propelling inorganic aerospace maintenance chemical industry outlook.
Get a Sample Copy of this Report:@ https://www.gminsights.com/request-sample/detail/2105
The more an aircraft is used, the more maintenance it requires. Commercial flights, the most commonly deployed flights, would thus demand the maximum utilization of maintenance products, thereby, directly stimulating the growth of the aerospace maintenance chemical market. Statistics in fact, claim that commercial flights account for 45% of the overall aerospace maintenance chemicals market share and would grow rapidly over 2018-2024. This growth can be credited to the fact that these flights make the highest number of trips and are faced with not only the largest amount of wear and tear but also necessitate robust interior cleaning and maintenance, degreasing, paint removal and application.
Commercial aviation is also one of those industries that has been depicting an irregular demand-supply graph. Commercial aircraft manufacturers such as Boeing and Airbus have also been working to enhance their manufacturing capacity, fueling the need for highly efficient commercial planes. Boeing in fact, recently in 2018, planned to increase the production of Boeing-747 by 52 aircrafts per month to cover up for the recorded backlog of 4,656 aircrafts.
The vast expanse of the aerospace industry in North America, especially in the U.S. and the formidable fleet of aircrafts that the U.S. military and defense sector encompasses, will provide a major push to North America aerospace maintenance chemical market. In fact, as per estimates, North America industry size stood at USD 2 billion in 2017, and is expected to register a CAGR of 2.5% over 2018-2024.
Reduced air travel costs, better air connectivity, greater affordability among the populace of the emerging economies and the rising popularity of the tourism sector have been the driving forces behind the growth of aerospace maintenance chemical industry in the last few decades. With greater demand for air travel, stringent governmental regulations have been placed on the importance of aircraft maintenance. For instance, the Federal Aviation Administration (FAA) and European Aviation Safety Agency (EASA) are now making extensive modifications in maintenance procedures. Driven by government-led initiatives and increasing air travel popularity, the revenue graph of aerospace maintenance chemical market would traverse a highly profitable growth path over 2018-2024.
Author Name : Paroma Bhattacharya