The last half a decade has witnessed a major ascent in the number of preterm birth incidences, which has led to neonatal ventilators market carving out a positive growth path. Despite high-grade medical intervention, there has been an increase in the number of respiratory problems in infants and the rate of infant mortality, which has undeniably contributed toward the growth of neonatal ventilators industry. According to statistics provided by WHO in 2016, roughly 4.2 million children died globally before the completion of the first year of their lives. The occurrence of deaths was highest in the WHO African region which was almost 6 times higher than the WHO European region, indicating that infants in developing countries receive lesser medical attention than those in the developed ones. In response, hospitals, clinics, and medical research institutes have been coming forth to devise proper infant care equipment, a trend that will boost neonatal ventilators industry size.
U.S. Neonatal Ventilators Market size, By Product, 2013-2024 (USD Million)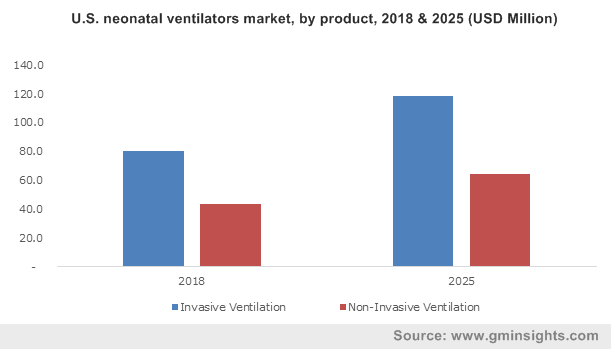 A succinct outline of the product spectrum of neonatal ventilators market
Neonates, as a matter of fact, are delicate beings, and their tiny size further adds to the challenge of how ventilation could be used for supporting their respiration process, thus expanding the scope of neonatal ventilators market. Subject to the prevalence of incredible research and development programs, in tandem with numerous technological developments that are regularly upgraded, neonatal ventilators industry has indeed been observing remarkable momentum. As per research, invasive or mechanical ventilators have exhibited a much greater rate of success than non-invasive ones. However, invasive neonatal ventilators market is more established in developed countries while in regions lacking in medical resources and advanced healthcare, continuous positive airway pressure (CPAP) and other non-invasive neonatal ventilators have observed greater sales. In consequence, this has had a commendable impact on the commercialization potential of non-invasive based neonatal ventilators market share from the emerging economies.
Get a Sample Copy of this Report:@  https://www.gminsights.com/request-sample/detail/2341
Speaking of mechanical ventilation, it has been observed that subjecting tiny preterm babies or even normal infants to the process of invasive ventilation can often turn out to be challenging due to their size and difference of organ behaviour between babies and adults. Also, research bears testimony to the fact that invasive neonatal ventilators can cause severe side effects that can last a lifetime. On the contrary, non-invasive ventilators have no such side-effects and when administered on time by medically trained professionals, it has proven to be as effective as the mechanical ventilators, which has further stimulated the sales graph of non-invasive based neonatal ventilators industry. Studies indicate that while invasive neonatal ventilators industry will capture mainstream prominence in developed countries, the non-invasive business space will witness a 6% CAGR over 2017-2024, driven by extensive product adoption in developing countries.
The United States, as on today, is one of the most developed hubs of neonatal ventilators market, driven by the nation's accelerated R&D programs and sophisticated healthcare infrastructure. Currently, the region holds the largest share of the overall neonatal ventilators market, however, pertaining to relatively low addressable needs, U.S. neonatal ventilators market size is slated to register a modest CAGR over 2017-2024.
Emerging economies like China and Brazil have been forecast to depict a rather impressive growth rate over the next six years, driven by numerous technological developments and the rapid modernization of neonatal healthcare facilities. In the last decade alone, China has witnessed a robust growth in the number of hospitals, while private clinics have apparently become popular in tier 1 cities in the country. Hospitals and clinics are lately becoming increasingly better equipped to handle neonatal emergencies – this validates that China neonatal ventilators industry share is also likely to witness massive growth from hospitals alone.
New research and development programs are continuously being undertaken by neonatal ventilators industry players such as Breas Medical, Medtronic Plc, CareFusion, Phillips Respironics, Smith Medical, Drager Medical, GE Healthcare among many others, that are delving into the depths of neonatal healthcare. With added encouragement from health organizations and governments the world over, the neonatal ventilators market size is estimated to be pegged at USD 430 million by 2024.
Author Name : Paroma Bhattacharya