In an era riddled with concerns over T&D losses and uninterrupted power supply, busbar trunking system market has indeed found a unique footing amidst a scenario where smart grid technology has pledged to transform electricity networks for the better. Busbar trunking systems, in recent times, have emerged as safe, ideal, and highly efficient distribution systems suitable for transforming current from one point to another.
Moreover, these systems are endowed with the benefits of low costs and ease of installation, and possess the ability to effectively transmit bulk power over traditional cables, which analysts project to be one of the most principal driving forces of busbar trunking system market. Another pivotal factor influencing the growth of busbar trunking system industry is the robustly expanding construction sector across the globe that is lately characterized by high-tech infrastructural projects. As the requirements of efficient electric grid systems are on the rise, the global busbar trunking system market is expected to amass significant revenue in the ensuing years.
UK Busbar Trunking System Market Size, By Power Rating, 2018 & 2025 (USD Million)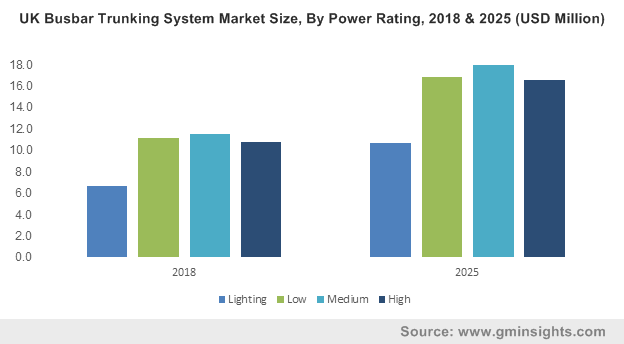 In recent times, regional governments have mandated myriad norms for electricity conservation, which are expected to significantly trigger busbar trunking system market share. Given the convenience and safety that busbars provide over traditional cables, these systems are now becoming simply irreplaceable, on the grounds of which they are being increasingly deployed across the government as well as commercial sectors across numerous geographies. For instance, recently the Iran-Syria tie-up made it to the headlines, as Iran aims to rebuild Syria's power grid completely, even as Damascus and Tehran would continue to further their political deal in energy projects. The deal would demand a plethora of electricity components, including highly powerful busbar trunking systems. This massive refurbishment alliance underlines that the rising number of electric grid network installations and investments toward renovation projects would indeed provide a notable spurt to busbar trunking system market trends.
The UAE government in 2015, sanctioned a massive investment of USD 34.6 billion to develop new manufacturing stations across the country – a factor that would significantly propel the regional busbar trunking system market size. Speaking of yet another country in the Middle East, Saudi Arabia has also emerged as a major region witnessing an extensive adoption of busbar trunking systems. Reports claim the positive outlook of the region toward industrial and infrastructure sectors to upgrade and renovate electric girds to be a major factor catalyzing busbar trunking systems industry share.
Get a Sample Copy of this Report:@ https://www.gminsights.com/request-sample/detail/2217
In addition, as per the International Trade Administration, in 2016, Saudi Arabia introduced investment plans of USD 14.7 billion to refurbish and develop electricity transmission grids, and another USD 13.7 billion for efficient distribution of electricity in the region. These investments clearly validate the extensive scope of the regional busbar trunking system industry expansion in the years ahead.
The developed economies have a significant role to play in grid modernization and the adoption of efficient T&D systems. The U.S. for instance, is attracting billions of dollar investments, which is certain to favor regional busbar trunking system industry outlook. The growing number of cable network replacement and upgradation to meet the stringent regulatory norms of low carbon emissions have paved the way for U.S. busbar trunking system market growth. The IEA bears testimony to the aforementioned statement, while stating that the U.S. contributed around 17% toward global electricity investments in 2016, with greater emphasis on replacement of conventional T&D assets. The investments amounted to around USD 277 billion, of which U.S. undeniably held a healthy share. On these grounds, industry analysts predict the U.S. busbar trunking system market size to cross a substantial valuation by 2024.
Europe is another region that is touted to make significant contributions to the global busbar trunking system industry. Driven by the rising upsurge in the adoption of energy efficient systems to reduce T&D losses, Europe busbar trunking system market is anticipated to depict a CAGR of 8% over 2019-2025. The region has also been experiencing an ever-increasing requirement of electricity. Say for example, in 2017, the power consumption in the region surged by 0.7%, marking an incline for the third consecutive year. The European Union has also set an energy saving target of 20% by 2020 to meet the rising electricity demand, which would also positively favor the Europe busbar trunking system industry trends over 2019-2025.
The presence of a strong regulatory framework is likely to open up a slew of opportunities for the leading busbar trunking system market participants. Speaking of which, Larsen & Toubro, General Electric, ARJ Group, Schneider Electric, and Godrej & Boyce are some of the prominent players of this business space that have been engaged in R&D activities and product innovation to fortify busbar trunking system industry share. The growing importance toward upgrading reliable and uninterrupted power supply systems have led experts to forecast that busbar trunking system industry would indeed chart a profitable roadmap in the ensuing years. In terms of commercialization, Global Market Insights, Inc., claims the worldwide busbar trunking system market to surpass USD 3 billion by 2025.
Author Name : Saipriya Iyer