In an era that requires industrial products to mandatorily depict the properties of flexibility, durability, and reliability, performance elastomers market has indeed traversed a profitable growth path. Mainly deployed in products that require a higher resistance to extreme temperatures and pressure, performance elastomers are liberally used across the aerospace and automobile domains, subject to the fact that these sectors demand such temperature-resistant and pressure-enduring components. In this regard, it would be fair to state that despite the end-use spectrum of performance elastomers market encompassing domains such as building & construction, electrical & electronics, industrial machinery, food & beverage, and consumer goods, the automotive & aerospace sectors are certain to be the most lucrative growth avenues for this business space.
U.S. Performance Elastomers Market, by End-user, 2013 – 2024 (USD Billion)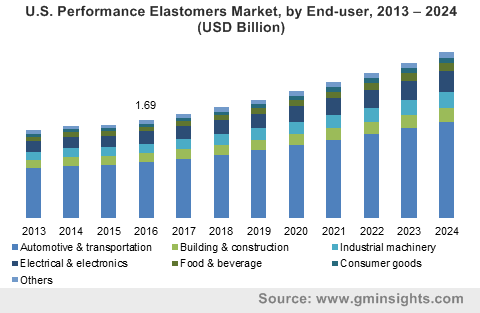 The automotive industry has indeed witnessed significant growth all over the world in the last few decades, especially across the emerging economies of the Asia Pacific. This in consequence, would majorly influence the sales graph of performance elastomers market, given that high-performance elastomers are used in various parts of automobiles such as airducts, turbocharger hoses, chassis suspension, gaskets and sealants.
In recent years, automakers have been focusing on making automobiles more fuel-efficient in accordance to the zero-emission criteria. In this regard, vehicle engines are now being developed with extremely high performance, encompassed with power involving aggressive gases and chemicals that act under high pressure and heat. Consequently, this has proved to be advantageous for performance elastomers industry, since companies now provide automakers with suitable materials to build turbo charger hoses and seals that can withstand high mechanical stress, aggressive chemical environment and remain stable in high temperatures. Performance elastomers have also proved effective in lowering weight and reducing costs of automobiles to an extent that the metal counterparts have failed to achieve, which has further stimulated performance elastomers market expansion.
Get a Sample Copy of this Report:@ https://www.gminsights.com/request-sample/detail/2264
Performance elastomers are used to manufacture parts of the aircraft that have to withstand aggressive fluids, including jet fuels, hydraulic fluids, engine lubricating oils, oxidizers and rocket propellants. Aircrafts and aerospace engines also require highly stable elastomers that can withstand the effects of aggressive aerospace fuels and oxidizers. They are also used for both static and dynamic applications, as they exhibit excellent mechanical properties and are used as sealants in aircrafts, subsequently propelling performance elastomers industry size from the aerospace sector. Speaking of harsh environments, performance elastomers market also finds wide applications in the mining, smelting, oil exploration, metalworking, and foundries machineries. In 2016 for instance, the industrial machinery sector accounted for USD 800 million of the overall performance elastomers market revenue.
Asia Pacific, with its wide manufacturing base has been projected to be the most profitable growth ground for performance elastomers market, owing to the fact that the automotive industry has been expanding heavily across the emerging economies of this geography. APAC performance elastomers industry size, worth USD 4 billion in 2016, will continue to depict an upward growth trend over 2017-2024, subject to the emergence of the evolving middle class populace and the increase in the purchase parity of consumers. The growth of the performance elastomers market in Europe and North America has been forecast to be slightly moderate as compared to its growth in Asia and Latin America, not only due to the shifting base of manufacturing units, but also due to cheaper labor and relaxed governmental restrictions on operations in Asia and South America.
Some of the major players of the performance elastomers industry include Dow Dupont Inc, Momentive Performance Materials, Exxon Mobil, The 3M Company, Solvay, Zeon Chemicals, Mitsui Chemical, and Daikin. These companies have been continually involved in extensive research and development programs in order to bring forth major innovations in product designs and development, which would eventually impact the commercialization potential of performance elastomers market. The only restrictive factors that can hinder the growth of the performance elastomers industry seems to be the high cost of the product and its manufacturing process. Since these elastomers have to be specially manufactured to withstand extreme temperatures and perform in high pressure environments, they naturally cost more than standard elastomers, hampering the market growth. Nonetheless, performance elastomers market is still liable to exhibit major growth prospects, with a target revenue estimation of USD 14 billion by 2024.
Author Name : Paroma Bhattacharya