3M, one of the most acclaimed players in pressure sensitive labels and tapes market, has officially launched 3M™ FWBT (Fire and Water Barrier Tape), specially designed for firestopping in construction.  Reportedly, FWBT is integrated with pressure sensitive adhesives, that have the credibility to stick to a wide platter of construction substrates including damp surface both at low as well as high temperatures. Claimed as a revolutionary extension of the existing products encompassing the pressure sensitive tapes and labels industry, FWBT is reported to be the first of its kind that comprise self-adhered membranes to provide an elastomeric tough seal. In fact, the product range, as per experts' opinion, is deemed to garner a mass popularity in a wide range of site applications, subject to its flexibility in the size range spanning 51 mm-303 mm in width and 22.8 m in length. Reportedly, the newly launched ASTM and NFPA approved pressure sensitive tapes, that can be utilized for a diversified range of customized applications, as per experts' opinion, in all plausibility, would bring a disruption in the entire pressure sensitive tapes and labels industry.
U.S. Pressure Sensitive Tapes & Labels Market Size, By End-user, 2013 – 2024 (USD Billion)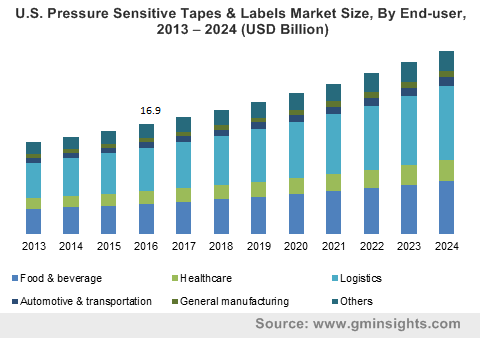 With technology making a strong footprint in packaging sector, it won't be irrefutable to declare that the development of pressure sensitive labels and tapes market is heavily influenced by the changing trends of flexible packaging industry. As per estimates, global flexible packaging industry is claimed to cross a humougous revenue of USD 250 billion by 2024, validating a slew of opportunities for pressure sensitive labels and tapes market players.  With global population treading toward sedentary lifestyle such as long working hours, packaged food consumption has not only upscaled in developed economies but also emerging countries. In consequence, this has led to an escalating demand for pressure sensitive labels and tapes market, given the fact PSA (pressure sensitive adhesives) is a one stop solution to many requirements including metalized PET or customized removable packaging.
Get a Sample Copy of this Report:@ https://www.gminsights.com/request-sample/detail/383
Regionally, Asia Pacific undoubtedly stands at the vanguard of pressure sensitive tapes and labels industry, amply evidenced from reliable statistics. According to some trusted reports- APAC flexible packaging market attained a valuation of USD 35 billion in 2015- a mammoth figure that parallelly sets the ground lucrative for the regional pressure sensitive labels and tapes market. Growing urban population level and subsequent improvements in consumer lifestyle, along with profound developments in retail infrastructure serve to support the increasing demand for packaged food across this belt, China, Indonesia, India, and Thailand in particular. In fact, statistics claim, globally, India is one of the rapidly emerging packaging markets, with a valuation of USD 40 billion in 2016. Needless to mention, with significant proliferation in food packaging sector, the demand for sealing materials with superior bonding properties has also witnessed a marked rise, which has undeniably stimulated pressure sensitive labels and tapes market. As per estimates, the regional pressure sensitive tapes and labels industry is slated to record a y-o-y growth of 7% over 2017-2024.
it is imperative to mention that one of the major restraining factors deterring pressure sensitive tapes and labels industry growth from packaging applications is the environmental concerns associated with plastic film based pressure-sensitive tapes.  Concerns related to life cycle analysis, emission level, recyclability, performance, and compatibility of these tapes are prompting the market players to come up with competitive alternatives like hot melt pressure sensitive tapes. However, in this regard, experts claim, when pressure sensitive tapes are utilized for the closure of corrugated containers, these tapes do not interfere in the recycling process, ensuring the environmental sustainability. With an escalating demand for corrugated box packaging in tandem with a strict regulatory frame of reference in place, pressure sensitive tapes and labels industry is forecast to cross a mammoth valuation of USD 150 billion by 2024.
Author Name : Satarupa De