Endorsed by plethora of technological interventions, computer engineering market has been one of the fastest developing verticals of electronics & media industry. The concept of computer engineering dates back its commercialization in the late 30s when John Vincent Atanasoff and Clifford Berry began developing the world's first electronic digital computer. Computer engineering market, since then, is on the verge of continuous developments with regards to software and semiconductors advancements & progressions. Over time, the robustly expanding demand for high computing capacity and IT centralization has significantly led the focus on enhancing the efficiency of systems, which as per analyst, brought a renewed dynamism in the computer engineering industry. In fact, according to reliable reports, the global computer engineering market size was valued to be over USD 1800 billion in 2016.
Europe Computer Engineering Market, By Product Functionality, 2016 & 2024 (USD Billion)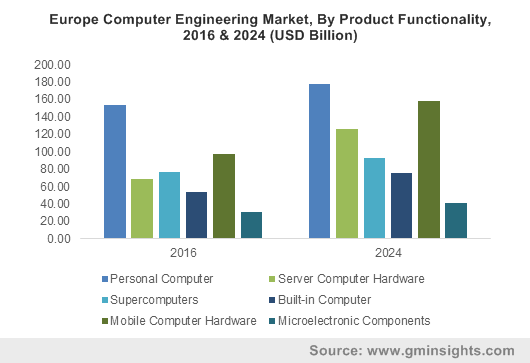 Speaking of the industry drivers, the growing appetite for upgrading present day technologies is slated to revolutionize the computer engineering market trends. IOT and connected devices, the two most buzzing trends of the technology world, are speculated to leave a humongous impact on this business fraternity. The fact can be validated from the increasing penetration of these devices in a slew of industry verticals such as automotive, healthcare, retail, manufacturing, etc. Elaborating on the growth potential of computer engineering applications in medical field, it won't be far that tomorrows digital stethoscope could function as an "intelligent thing" by collecting real-time data, treatment information, data related to diagnosis, and an AI powered physician assistance app.
Get a Sample Copy of this Report:@ https://www.gminsights.com/request-sample/detail/2384
Contemplating on these wide-ranging applications of computer engineering industry, it goes without saying that the technology is set to change the whole idea of how people live. One prominent example of how the technology will extensively penetrate people's daily life are smart vehicles – a classic explanation of computer engineering industry proliferation in automotive domain. Needless to mention, autonomous driving has quickly become a reality, thanks to software and hardware boom in computer engineering industry. In order to provide high levels of connectivity in the smart vehicles, it is a mandate for the vehicles to be equipped with significant amount of computing devices. In essence, given the rapidly-expanding demand for efficient products such as the micro controllers and connected devices, the automotive application is expected to draw lucrative profits for the computer engineering industry in the years ahead. A significant fact validating the authenticity of the aforementioned fact is of a report published by ON Semiconductors that claimed more than 34% of its revenue to be generated via automotive applications.
NVIDIA is another renowned name depicting the strong profitability potential of computer engineering industry players from automotive sector. Needless to introduce, the company has far expanded its application scope in the recent trend of driverless cars by providing AI computer systems to enable self-driving capabilities. The firm has recently hit the news headlines pertaining to its collaboration with a German automobile parts supplier Continental to build an autonomous vehicle system that is slated to tap the market by 2021. The deal is indeed a vivid instance of the conjoint efforts of automotive and computer engineering market players to bring a revolution of sorts in the automotive domain by putting the much-awaited self-driving cars on roads.
Delving deeper into the application landscape of computer engineering industry, it is undeniable that the market is expected to witness versatile growth opportunities – chiefly on the cusp of IoT technology that is practically disputing every business vertical. It has been estimated that the economic impact of the IoT is expected to reach a mammoth valuation of over USD 11 trillion by 2025. The statistic clearly depicts the vast growth potential for computer engineering market players to bring forth high-end products that would be compatible with the rising IoT influenced trends such as the smartwatches, smart homes, digital healthcare, drones, etc. Taking into consideration these technological interventions, industry experts claim computer engineering market to remain one of the most lucrative investment grounds for potential stakeholders. A presumption validating the same is of a report published by Global Market Insights, Inc., that claims computer engineering market to exceed an enormous valuation of over USD 2.5 trillion by 2024.
Author Name : Ojaswita Kutepatil