Touted as one of the most pivotal verticals of the power grid sector, distribution panel market is generating a rather substantial momentum in the overall energy sector. The rapidly increasing environmental safety concerns have led to tremendous efforts by the governments and private agencies to cutback GHG emissions and huge energy losses that occur during transmission & distribution of energy. In consequence, several regional governmental bodies have been undertaking initiatives in deploying energy efficient power grid equipment and refurbishing ageing distribution centers that would exhibit sustainable power output. Needless to mention, with governmental initiatives playing a crucial role, the growth prospects of distribution panel market in expected to traverse along a lucrative growth path in the ensuing years. As estimated by Global Market Insights, Inc., distribution panel market will surpass a global valuation of USD 7 billion by 2024.
North America Distribution Panel Market, By End Use, 2016 & 2024 (USD Billion)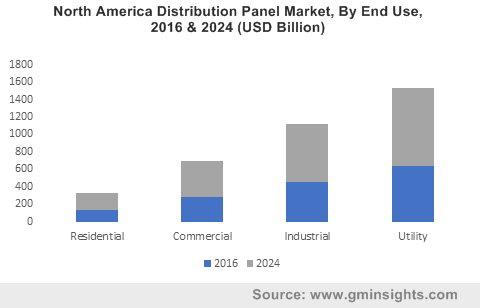 Elucidating the regional distribution panel market trends with regulatory frame of reference:
China
China distribution panel market is expected to depict remarkable growth trends in the coming years, as the country is targeting to enhance its power grid sector and considerably cut CO2 emissions. According to reliable sources, China is one of the most populous nations and accounts for 23% of world energy consumption which makes it the second largest consumer of electricity after Unites States. Contributing to such a major chunk of the power grid sector, China's stance in the regional trends of distribution panel industry has become increasingly influential. Acknowledging the region's vast energy demand, the Government of China has been introducing several electrification projects and is further focusing on revamping the existing grid network.
Citing a relevant instance, the Government of China has put forth its ambitious plan of investing USD 530 billion toward the deployment of smart grid network of which more than 18 billion US dollars will be used to improve the distribution capabilities. This, by extension, is expected to have a substantial impact on the growth of the regional distribution panel market. Besides, it is also prudent to mention that the China government is actively working toward cutting its carbon intensity to 18% below its current levels by 2020. This target would have a significant impact on distribution panel market, given the deployment of efficient power grid network for reducing transmission & distribution loss.
Get a Sample Copy of this Report @ https://www.gminsights.com/request-sample/detail/2392
France
With more than 508 million euros invested in refurbishment and smart grid deployment activities in the region, France is recently drawing a great deal of attention from distribution panel industry players. The regional energy sector is witnessing a dynamism of sorts, with stringent governmental mandates toward installation of energy efficient systems, to balance the energy consumption ratio. For instance, in a bid to support further electrification development, France's National Energy Efficiency Action Plan has laid down its ambitious efforts to reduce the overall energy consumption of existing building structures by 38% by 2020. Besides mandatory governmental rollouts, the consumer demand for smart grid-based services in the region is also expected to increase by multiple folds – according to reports, the country has over 118 smart grid projects, presently. Powered by these dynamic initiatives focused on optimized energy consumption, France distribution panel market is claimed to surpass a valuation of USD 160 million by 2024.
Egypt
Rising electricity demand and increasing funding for rural electrification projects have set lucrative grounds for Egypt distribution panel industry players. The Egyptian Electricity Holding Company, for instance, has entered into strategic agreement with the Banque Misr and National Bank of Egypt to lend EGP 19 billion for replacing and installing panels, electrical cables, and distribution boxes, in a bid to enhance energy efficiency. Another prominent name is of The South Delta Electricity Distribution Company, that topped the chart in terms of rates of implementation of its investment plan at 42%. Reportedly, the company aims to install 57 low-voltage panels, 2,685 medium-voltage towers, 322 kiosks, 104 medium-voltage panels, 126 kilometers of low-voltage connectors, and 379 transformer substations. Apparently, such combined efforts of the private & governmental bodies, in all likelihood, are expected to stimulate the regional distribution panel market size. In fact, according to estimates, Egypt distribution panel market will register an annual growth rate of 7% over 2017-2024, pertaining to the extensive measures to strengthen its power distribution infrastructure.
U.S.
Stringent regulatory norms emphasizing on lowering distribution losses has been one of the prime factors fueling the U.S. distribution panel industry. Governmental effort in adopting high end electric equipment and upgrading power grid infrastructure have, in turn, surged the demand for distribution panels in the region. A significant validation to the fact being the country's soaring expenditure on electric and gas utilities, which according to reports climbed from USD 69 billion in 2008 to USD 115 billion in 2015. Taking into account the escalating improvements in electric grid infrastructure, the regional distribution panel market as per industry analysts is expected to amass lucrative gains in the years ahead, having crossed the billion-dollar frontier in 2016.
The above-mentioned data clearly depicts that the extensive deployment of legislative programs with regard to optimal power transmission and energy utilization will augment the revenue graph of global distribution panel market. Further analyzing the aforementioned trends, it wouldn't be wrong to quote that the emerging economies are slated to be a prominent investment hub for global distribution panel market stakeholders. A major trend to watch for in this fraternity is the role of the robustly expanding real estate sector and its dynamic impact on the distribution panel industry share. All in all, with green revolution proactively penetrating the energy and infrastructure sector, distribution panel market is certain to witness remarkable proceeds in the coming years, with a target CAGR of 5% over 2017-2024.
Author Name : Ojaswita Kutepatil