The last few years have observed Europe boiler market undergoing a transformation of sorts, especially with regards to the methodology of boiler development. Emission control for example, has now evolved as a major concern in boiler production, on the grounds of which many European countries have implemented several emission control policies. In addition, the rapidly changing climatic conditions and increasing need for energy efficiency are also encouraging giants in Europe boiler industry to manufacture advanced versions of the current products. Consequently, the demand for highly developed and energy-efficient boilers is on the rise, prompting the EU to lay down an even more stringent regulatory framework with regards to energy efficiency. Regulatory bodies in fact, have even enforced norms with regards to accurate installation of boilers in new buildings. With the increasing dependency on HVAC systems, Europe boiler market is likely to witness a massive growth, having held a revenue of USD 10 billion in 2016.
France Boiler Market Size, By Fuel, 2016 & 2024 (Thousand Units)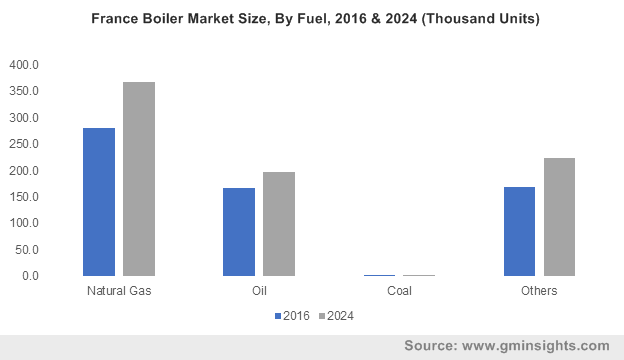 In order to expand their presence across myriad geographies, most of the companies across this space have been focusing on acquiring the business of their competitors. A few years earlier, the French major Atlantic acquired Ideal Boilers, one of the renowned British boiler manufacturers. The move prompted Atlantic group to accelerate its product diversification in Europe boiler industry. In another instance, in 2010, Thermax had bought Danstoker A/S – one of the leading players of Europe boiler market, along with its German subsidiary, Omnical Kessel. This acquisition has reportedly helped Thermax mark its presence across the untapped markets and extend its product portfolio. The aforementioned instances aptly validate how the geographical expansion strategies of leading companies will help Europe boiler market share soar in the ensuing years.
Get a Sample Copy of this Report @ https://www.gminsights.com/request-sample/detail/2459
Speaking of the competitive spectrum, it is prudent to mention that several players in Europe boiler market are looking forward to inventing new boiler solutions with the advancement of technology. Not to mention, this business space is governed by a stringent set of regulations, on account of which energy efficiency and ease of installation are now counted among the most important concerns among manufacturers. Furthermore, boiler manufacturers are focusing on a high level of customer comfort with lowest energy cost. On these grounds, it would be fair to state that Europe boiler industry is rampant with a plethora of R&D programs focusing on innovating boiler solutions that boast of energy efficiency and optimized lifecycle.
Considering the escalating demand for multiple boiler set-ups across the commercial and residential sectors, companies have been going the whole hog to cascade a fixed number of boilers to provide the required set-up. For instance, in 2017, Weil-McLain® added three new smaller sizes to its advanced condensing boiler line. With this new addition, the company has managed to produce a condensing boiler for residential applications. In addition, for attracting more customers it has also worked on the design and aesthetic features of its products, which seemingly resulted in the improved functionality of boilers. This provides further evidence to the fact that with the implementation of advanced control functions, major giants in Europe boiler industry are planning to extend their customer base across Europe.
Another renowned Europe boiler market firm, Ariston Thermo has recently developed a long range of sustainable and efficient space and water heating solutions. The move seems to have taken place on the heels of the fact that next-gen technologies are now becoming rather commonplace across the continent, thereby augmenting Europe boiler industry outlook.
The aforementioned instances validate that the development of gas-powered water heaters, ultra-efficient hybrid systems, and new heating technologies for commercial applications have generated many lucrative opportunities for players in Europe boiler market. Not to mention, the numerous initiatives taken by the regional governments to encourage the adoption of renewable, eco-friendly, and free energy sources for curbing carbon dioxide emissions will also have a favorable impact on product demand. As the popularity for sustainable product development increases across the continent, Europe boiler market size is expected to grow at a remarkable pace, with a target revenue estimation of more than USD 12 billion by the end of 2024.
Author Name : Sunil Hebbalkar