One of the most undervalued verticals of the polymers space, sandblasting media market has been gaining traction recently, pertaining to the massive demand for sandblasting machines across myriad domains. The rising need for metalworking processes, specifically in applications that require excellent finishing, has also been demanding varieties of sandblasting media. In fact, different types of blasting media are preferred for different types of applications such as strengthening, cleaning, polishing, etching, and stripping that find deployment in the automotive and metalworking industries. Indeed, it would be apt to state that sandblasting media industry will gain substantial returns over 2017-2024, primarily owing to its varied end-use spectrum.
U.S. sandblasting media market size, by product, 2013 – 2024 (USD Billion)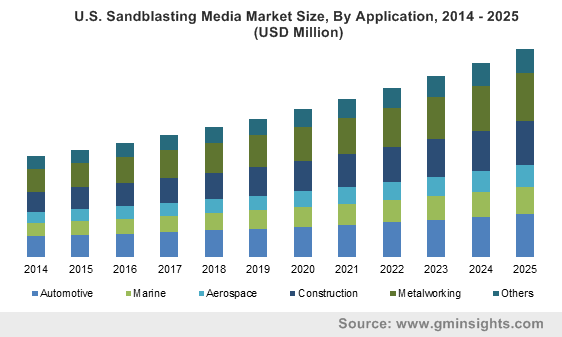 Speaking along similar lines, it is prudent to mention that the automotive, construction, and the metalworking sectors have lately witnessed a slew of investments from prominent industry stakeholders. This has consequently added momentum to sandblasting media market, the contenders of which have been working continuously to improve the ease of the sandblasting process and its affordability quotient. As per estimates, sandblasting media industry size stood at a modest USD 6 billion.
While sandblasting media market has been included among the cosmos of controversial verticals, it is pivotal to state that some of the sandblasting media may prove to be quite beneficial for the environment. For instance, crushed glass grit – one of the widely used sandblasting products can be efficiently recycled by curbing the landfills. Somewhere in 2014, the U.S. based South Central Solid Waste Authority (SCSWA) had commenced crushing glass from discarded glass bottles and jars. Since then, it has crushed 1,047,780 pounds of glass bottles and jars wasted by residents of Doña Ana County and Las Cruces in glass sand and cullet.
Get a Sample Copy of this Report @ https://www.gminsights.com/request-sample/detail/514

Back then, the glass seemed to have held no value for the local residents. Today however, a Las Cruces-based mobile sandblasting company, Clean Blast, LLC., has signed a contract with SCSWA to reuse the glass sand for numerous automotive and construction applications. Through this contract, Clean Blast, LLC is authorized to pick up 10 tons of glass sand per month from SCSWA. The incidence aptly provides testament to the fact that sandblasting media market is likely to emerge as a recipient of recycling activities for sustainability and as a lucrative growth ground for potential entrepreneurs.
The automotive sector is also a highly profitable revenue ground for sandblasting media market. Of late, the increasing popularity among the masses about automobile customization has led to consumers spending money on paint removal and polishing operations. Most of the automobile service centers in this regard have been using sandblasting media for structural and sheet metal repair work. Taking into account the effective benefits of these products, renowned automakers have been individually setting up new paint shops equipped with sandblasting media. As automotive production observes a global upsurge, the demand for polishing, finishing, and electroplating pre-treatment are likely to increase. This would, in consequence, commendably impact the commercialization potential of sandblasting media industry.
As the deployment of sandblasting media will continue to observe a rise across the automotive, construction, and metalworking sectors, regulatory organizations are likely to become all the more proactive regarding the hazardous impact of these products on human health. On these grounds, it is expected that they would strengthen the already established norms with regards to worker safety. The Occupational Safety and Health Administration (OSHA) for instance, has already mandated a set of regulations about enforcing occupational safety measures that are to be strictly adhered across sandblasting media industry. OSHA has also introduced norms that would protect workers from noise pollution and toxic particles such as lead paint and silica from blasting operations. Powered by such stringent regulatory framework and an ever-expansive application landscape, sandblasting media industry share has been forecast to register a CAGR of 6% over 2017-2024.
Author Name : Sunil Hebbalkar