Conceived in an era where electronics has liberally permeated everyday lives, electronic protection device coatings market has registered significant growth subject to the increasing demand for component protection. Electronic devices such as smartphones have fundamentally changed social interactions and have now come to replace a number of other gadgets that were very prominent merely a few decades back. Inevitably, smartphones have come to be considered as highly indispensable gadgets – indeed, consumers have shown preference to buy smartphones that have higher reliability and ruggedness against common causes of damage.
U.S. EPD Coatings Market Size, By End-User, 2014 – 2025 (USD Million)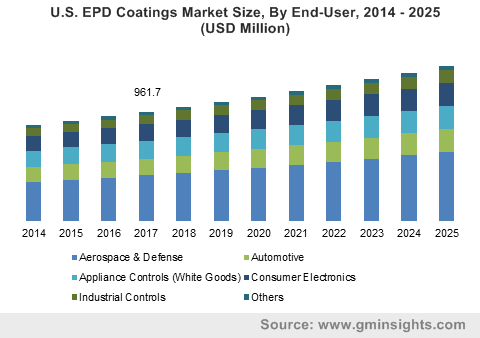 According to reliable statistics, after shattered screen, liquid damage is the second most common cause for mobile phone damage. In fact, an estimate shows that a million smartphones a day are damaged by liquids which add to cost almost $100 billion each year. Prominent smart phone makers like Samsung and Apple use O-rings and gaskets as device protections. But what has caused a major disruption in the electronic protection device coatings market is the advancement of polymer coatings.
Being hailed as a game changing innovation in electronic protection device coatings industry, nano coatings are different from more physical liquid resistant solutions like seals and gaskets, given that they cover the device entirely instead of being built into the device. Nano coatings are a low-pressure deposition of a nano scale monomer coating over the entire device rather than a mechanically engineered barrier only inside the device. This coating method chemically adheres to whatever surface it is applied to and allows greater design liberty.
Get a Sample Copy of this Report@ https://www.gminsights.com/request-sample/detail/2555
Apart from consumer electronic devices, the automotive industry is yet another sector that deploys protective coatings for devices. Automobiles have come to increasingly include greater number of electronic devices with changing consumer demands. Amenities that were previously considered luxurious have now come to be available in standard cars. Features ranging from infotainment systems and driver-assistance to rear facing cameras and automated parking – all require protection against liquid ingress and other factors like braking liquid and gasoline fumes. Considering the harsh environmental conditions that are created in an automobile, fragile electronic components like PCBs and paths between PCBs require to be protected in a manner that does not add to the weight of the vehicle. This has created a plethora of demands for protective coatings from the automotive domain, widening the scope of opportunities for electronic protection device coatings market players.
Conformal coatings have lately gained traction in electronic protection device coatings industry, given the rising demand to protect PCBs in automobiles. The polymer coating layers can be as thin as 0.002 to as thick as 0.005 inch. These coatings allow for lighter assemblies than physical enclosures or resin potting. Conformal coatings are currently paving the path for improvement in device performance while permitting significant reduction of space required to accommodate device protection.
The expansive automotive and electronics domains aside, this technology is also being applied to devices like behind-the-ear hearing instruments and receiver-in-canal hearing devices, further widening the scope of electronic protection device coatings industry. Indeed, these devices are actually being developed for the younger generation of users that are more disposed to an active outdoor lifestyle where devices are at greater risk of being damaged by liquid ingress. As these coatings find a wider spectrum of applications in the years to come, electronic protection device coatings market size is expected to register a CAGR of 4.6% over 2018-2025.
Author Name : Paroma Bhattacharya