Corresponding to the growing inclination toward including milk products in daily diet, dairy processing equipment market has experienced a significant proliferation on a global scale. According to the Food and Agriculture Organization, a population growth rate of nearly 1.2 to 1.3% per year worldwide would lead to an increase in the average per capita milk consumption of almost 7 to 9 million tons annually.  The commercialization potential of dairy processing equipment market is rather evident from past year statistic that claims the business space to have garnered nearly USD 10 billion revenue in 2017.
U.S. Dairy Processing Equipment Market Size, By Product, 2017 & 2024, (Units)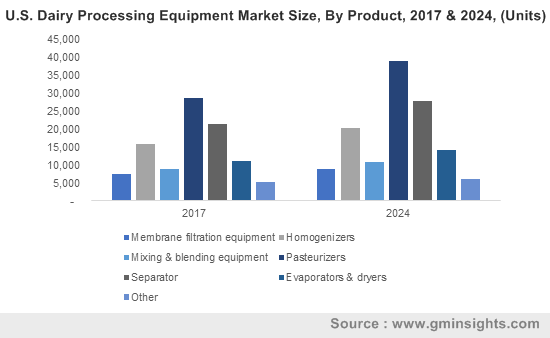 The renewed dynamism of the business space mainly grounds on two major rationales- increasing access to scientific production techniques and the rising emphasis on advanced dairy co-operation infrastructure development that has substantially boosted milk production. Companies partaking in dairy processing equipment industry have been making hefty technological investments to come up with newer innovations that could potentially disrupt the market dynamics. Quoting a recent instance, New KCC, the East African dairy processing equipment market giant, has made its way to the headlines with the announcement of investing around Sh 1 billion for equipment upgradation. Armed with an intent to regain its position in Kenya market, the firm is reportedly undertaking a modernization program at four of its major dairy processing facilities. If reports are to be relied on, this in consequence, would increase New KCC's processing capacity and payout to farmers by almost Sh 1.5 billion.
In fact, according to reports, the firm's Sotik factory at Bomet County, post these renovation activities, would be able to process almost 100,000 litres of raw milk per day from 60000 litres. Dairy processing equipment market over the recent years has been vividly affluent with numerous similar line of instances, which have substantially led to the generation of profitable growth avenue for the business space. A recent report put together by Global Market Insights, Inc. claims the overall industry to exceed a valuation of USD 13 billion by 2024, which is an appreciable rise from what it recorded in the year 2017.
Get a Sample Copy of this Report@ https://www.gminsights.com/request-sample/detail/1936
Considering the fact that dairy sector is highly consumer driven, food consumption pattern is impeccably impacting dairy processing equipment industry at almost every stage of value chain. In this regard, it is prudent to mention that a supportive regulatory frame of reference with regards to financial assistance for dairy and animal husbandry sectors speak volume and has much to contribute in dairy processing equipment industry outlook. Say for instance, removal of EU milk quotas in the year 2015 has led to a tremendous transition of sorts in European dairy sector. By virtue of this modification, milk production has not only increased across myriad smaller countries, but has also provided European dairy farmers new growth opportunities for expansion. Needless to mention, both the factors have acted in favor of the regional dairy processing equipment market share proliferation, which is forecast to register a CAGR of 3.5% over 2018-2024.
India has always been at the vanguard of dairy industry, which by extension, has made it stance stronger in the global dairy processing equipment industry. India dairy processing equipment market size is slated to exceed USD 1.96 billion by 2024. The massive scope of the regional market can be primarily credited to three major rationales- improving economic scenario, growing population, and the increasing heath awareness. India is deemed to be world's largest dairy producing and consuming country. As per estimates by NDDB (National Dairy Development Board), the demand for milk in the country is likely to touch 180 million tons by 2022. According to experts, to materialize this humongous supply, an average incremental increase of nearly 5 million tons would be required for the next 15 years. This mammoth average increment would only be made possible through launch of advanced equipment, thereby catapulting India dairy processing equipment industry.
It is prudent to mention that despite the potential opportunities, huge capital investments remain one of the pivotal concerns restraining dairy processing equipment market trends. The cost associated with installation, maintenance, integrating automation technologies and infrastructure capabilities of these equipment is relatively higher. Nonetheless, the long-term outlook of the business space is deemed to be positive with rising population and growing consumption of nutrition rich diet. In terms of consumption, the overall industry is forecast to exceed a demand of 800 thousand units by 2024.
Author Name : Satarupa De