With the onslaught of technological advancements, thermal imaging market has emerged to be one of the most rapidly evolving verticals of the dynamic electronics & media industry. In an era of connected technologies like machine learning, artificial intelligence, and IoT, the business space has been lately experiencing extensive profiling of its application terrain. The fact is quite vividly coherent from the incessant efforts undertaken by thermal imaging industry players to bring forth novelty in their product portfolio. In a recent turn of events, FLIR, one of the top-notch thermal imaging industry giants launched its free machine learning dataset which is touted to bring a revolution of sorts in the automotive or rather autonomous vehicle navigation landscape.
China thermal imaging market size, by end-use, 2017 & 2024 (USD Million)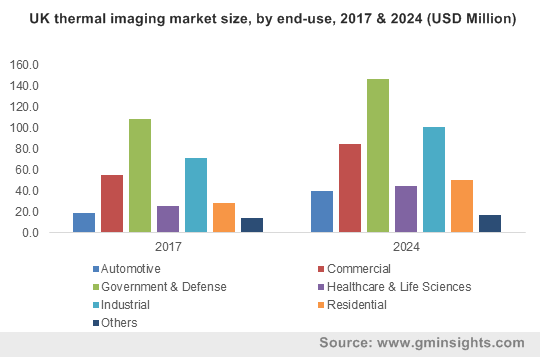 The thermal dataset designed for ADAS and self-driving vehicles features a compilation of over 10000 annotated thermal images of both the day and night scenarios. Encompassing a portfolio that is claimed to be the first of its kind in thermal imaging marketplace, the aforementioned thermal imaging dataset starter reportedly allows developers to test and evolve CNN (convolutional neural networks) with the company's patent ADK (Automotive Development Kit). The thermal dataset is claimed to commence commercialization in July this year with an anticipation of a price dip in these sensors, in a bid to expand its reach across millions of autonomous vehicles.
Speaking along similar lines, the automotive sector unquestionably is one of the lucrative end-use domains for thermal imaging market. The rising percentage of low light traffic crashes especially across developed nations is bound to generate a considerably higher demand for these advanced camera systems, subject to its ability to enable vision even during nighttime. Estimates suggest that a disproportionate number of road accidents occur during low light conditions. Despite the fact that there is 60% reduction in road traffic, 40% of the fatal road accidents happen during nighttime, cite sources. According to NHTSA (National Highway Traffic Administration System) in the year 2015, around 5376 pedestrians were reported to be have died from traffic crashes at nighttime. These estimations give a clear picture of the earnest requirement of integrating thermal imaging in modern vehicles.
Get a Sample Copy of this Report @ https://www.gminsights.com/request-sample/detail/2654
Thermal imaging market share from automotive applications, as per reports, is slated to cross USD 900 million by 2024. The escalating revenue graph of the business space can primarily be credited to the increasing penetration of self-driving cars in automotive space. With these autonomous vehicles equipped with advanced features like high-resolution cameras, LIDAR, the domain has turned out to be a viable investment avenue for thermal imaging industry players.
Recently, Seek Thermal, the U.S. based company has unveiled its latest high-resolution thermal imaging camera at the Consumer Electronics Show for automotive aftermarket. Reportedly this new camera can be seamlessly incorporated with existing infotainment systems. Equipped with thermal sensors of 320 x 240 resolution capacity, this new thermal imaging camera by the company claims to provide high image clarity. Complementing with its outstanding features, the news that the latest camera is available at quite an affordable price further adds to its positioning in thermal imaging industry.
In recent years, most of the contemporary innovations that thermal imaging market is characterized by grounds on two major rationales – cost and resolution. Most of the high resolution thermal cameras nowadays are available at comparatively reasonable price. Another anticipating trend of miniaturization of cores is also bringing a plethora of advancements in the business space particularly from industrial applications. Leonardo DRS, for example, just a few months back, grabbed the headlines with the launch of its latest 10-micron thermal camera core for OEMs. Dubbed as Tenum™ 640, this absolutely state of the art technology is ideal for surveillance and security applications, hazmat and agri-business operations, and aerial unmanned platforms. Equipped with vanadium oxide based micro-bolometer sensor, this new thermal camera is claimed to be the smallest yet most effective of its kind in thermal imaging market. Persistently being channelized by extensive technological interventions in tandem with the ever-expanding end-use landscape, thermal imaging industry is likely to augment commendably in terms of remuneration over the ensuing years. The global market share is forecast to exceed USD 10 billion by 2024.
Author Name : Satarupa De