With the surging yearly growth of air traffic and continual improvements in aircraft operating performance, aircraft soft goods market has seen a considerable progression over the past few years. Reportedly, the worldwide passenger demand for air travel has increased by more than 8% over 2016-2017. By the end of this year, the figure is projected to grow by another 7%. Estimates further indicates that global aviation industry is likely to peg a humongous valuation of more than USD 30 billion in terms of profit in 2018 – representing an escalation of nearly USD 25 billion from what it recorded in the year 2011.
U.S. Aircraft Soft Goods Market, By Aircraft, 2017 & 2024, (USD Million)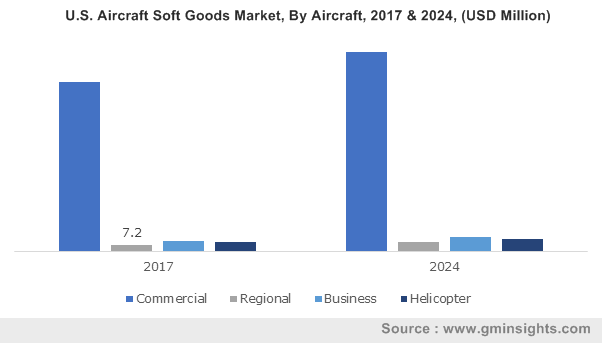 The aforementioned statistics clearly projects the considerable massive aircraft demand in the last half a decade, leading to more deployment of soft goods for seat covers, carpets, and curtains etc. In fact, as per a research report by Global Market Insights, Inc., global aircraft soft goods market share was estimated at over USD 440 million in 2017. Constant aviation refurbishment facilities and interior modifications have indeed acted as a catalyst in the expansion of aircraft soft goods market. Companies partaking in the business space have been vying with one another to bring forth a flare of novelty in their product portfolio.
Get a Sample Copy of this Report @ https://www.gminsights.com/request-sample/detail/2678
Tapis Corporation, one of the leading players in aircraft soft goods market, has recently made its way to the front page, featuring its absolutely state of the art fabric on New Emirates 777-300ER First Class Suites. Reportedly, the company's TapiSuede™ BHC-SS Flannel product has been chosen for these new suits, for the seat backshell. For the record, these premier suites were established by Emirates in collaboration with renowned seat manufacturer Rockwell Collions, industrial design firm Teague, airline manufacturer Boeing, and Jacques Pierre Jean. Tapis Corporation's advanced product line coherently validates the fierce competitive scenario in aircraft soft goods industry and the ongoing developments this particular vertical is characterized by. Some of the other potential contenders in the marketplace include Anker Company, Spectra Interior Products, Mohawk Group, RAMM Aerospace, Lantal Textile AG, and InTech Aerospace.
Regionally, North America exhibits a strong stance in the global aircraft soft goods market landscape with a recorded share of USD 250 million in 2017. The region, endorsed with presence of myriad top-notch aircraft manufacturing companies, is anticipated to surpass a revenue of USD 300 million by 2024.
Forecast to be another profitable belt in terms of investment, APAC aircraft soft goods market is slated to record a 4% CAGR over 2018-2024. Growth drivers, as stated by analysts include expanding aviation commercial market along with increasing refurbishment activities. As per reports, the air carrier demand across APAC turf increased by 9.4% over 2016-2017, subject to significant increase in travel route options and macro-economic conditions.
All in all, with the rising number of refurbishment projects aiming to upgrade the cabin interiors of economy as well as business classes, aircraft soft goods industry demand is certain to witness an uptick over the ensuing years. Manufacturers are adopting lightweight materials including blended fabric and synthetic products that offer improved surface texture at a reduced cost. Aircraft soft goods industry is certain to stand as a major beneficiary of these continuous upgradations in the modern airline vertical. In terms of commercialization portfolio, the overall business space is slated to cross USD 560 million by 2024.
Author Name : Satarupa De