Owing to a varied range of domestic, industrial and healthcare applications, the cross-linked polyethylene market has grown considerably over the past few years with products that provide improved performance and durability. Properties like better temperature strength, chemical resistance and the ability to resist slow development of cracks make cross-linked polyethylene materials ideal for public and portable water service lines, commercial plumbing distribution, auto components and light packaging. Need for highly reliable and corrosion resistant quality pipes for fire sprinkler systems has further given an up thrust to the cross-linked polyethylene industry. Making these products suitable for large scale residential or commercial projects have benefits such as low cost, flexibility, lightweight and ease of transport, all of which have influenced the shifting consumer trend towards the cross-linked polyethylene market.
North America Cross-Linked Polyethylene Market, By Application, 2013-2024, (Kilo Tons)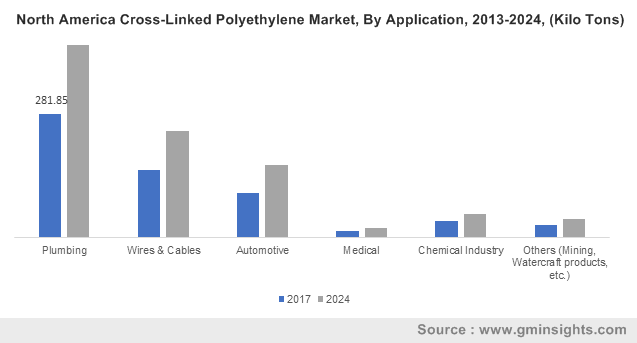 The UN estimates that by 2050, the total world population could reach 9.8 billion, with countries like China, India, Japan and Indonesia being the dominant contributors within the Asia-Pacific (APAC) region. Due to rapid urban and industrial development resulting from massive government spending in several emerging economies of the region, the cross-linked polyethylene market is slated to witness remarkable consumption rates. According to data released by Indonesia's Public Works and Housing Ministry, a total of 805,169 housing units were constructed in 2016 and further 499,702 by June 2017, as part of an ongoing scheme to provide sufficient residential facilities in the country. In 2017, the Indonesian government apparently targeted construction of 700,000 houses for low-income groups and 300,000 for those with a higher income. Reports indicate that Indonesia is looking to gather more funds to complete the ambitious five-year national development plan, which is half way through.
Generally, projects of such magnitude require huge investments in the construction sector, to build gas and sewer pipelines in order to facilitate proper utility and waste systems for communities. Electric wires and cables to support the electricity and communication needs of future residents also contribute towards strengthening the cross-linked polyethylene industry, which supplies reliable flame resistant insulation. The Indonesia project represents a huge requirement of pipes for water and gas supply, water heating, as well as insulated electrical wires that ensure a safe electricity grid, directly boosting the APAC cross-linked polyethylene market which garnered a remuneration of over USD 2 billion in 2017. Other Asian countries like India and China have also pledged to ensure adequate utility supply to citizens, creating the necessity for quality, long lasting pipes.
Get a Sample Copy of this Report:@ https://www.gminsights.com/request-sample/detail/1738
Citing another instance to demonstrate the growth potential of the cross-linked polyethylene industry, in 2017 the Indian government had launched a nation-wide initiative to build efficient water networks and other infrastructural facilities in urban areas. As of now, more than 2.4 million new residential water connections have been provided across India since the initiative started, providing water for drinking and sanitary uses to millions of people. With pipes that allow for easy installation and consistent resistance to moisture, salts and acids, the cross-linked polyethylene market will experience tremendous demand from plumbing and other utility needs. In addition, Asia-Pacific is constituted of highly-populated countries that have been observing a rise in geriatric population, along with increasing prevalence of diseases related to obesity and lack of proper nutrition in younger people.
An upcoming growth avenue for the cross-linked polyethylene market, medical surgeries for joint replacements have garnered momentum to offer a healthier and pain free living for osteoarthritis patients. Knee and hip replacement arthroplasty involves replacing a dysfunctional joint with a prosthesis, which can now be made from cross-linked polyethylene. Recently, a broad study conducted on over 240,000 hip osteoarthritis patients revealed that hip implants containing cross-linked polyethylene lower the need for a revision surgery significantly. The reduced long-term wear of implants with cross-linked polyethylene bearing surface are making them more suitable for younger patients as compared to conventional polyethylene implants, since they have a longer life and tend to be more active.
Subsequently, the APAC cross-linked polyethylene industry is expected to be promulgated extensively from medical applications, besides the prominent demand from infrastructure development activities. The DOW Chemical company, ExxonMobil, Arkema Group, Silon S.R.O, Hanwha Chemical, Vinacom Co Ltd and Borealis AG are some key global market contenders. With incredible predictions regarding population growth and utility requirements, the global cross-linked polyethylene market is anticipated to achieve a CAGR of 6% from 2018 to 2024.
Author Name : Pankaj Singh