Having gathered some considerable remuneration potential over the recent years, cosmetic contact lens market has registered itself as one of the most prominent and lucrative investment spots of the overall advanced materials industry. Historically, contact lenses were regarded as a way toward better quality of life without the need for glasses, and despite being registred as a medical device, it's use has seen immense demand from the cosmetic industry. Changing preference to enhance eye colors and overall facial look, especially among the television actors, movie stars, models as well as sports athletes have significantly impacted the growth prospectes of cosmetic contact lens market.
North America Cosmetic Contact Lens Market, By Product, 2017 & 2024 (USD Million)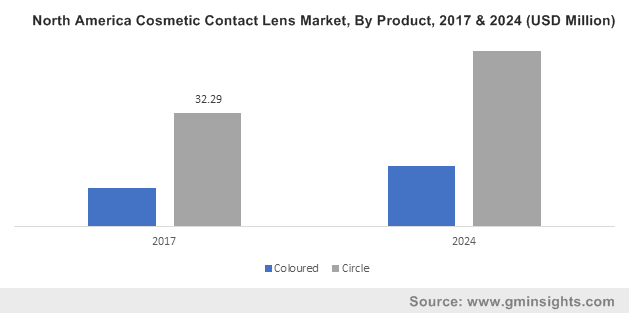 According to a report by the Centers for Disease Control & Prevention, an estimated of 45 million people in the United States wear contact lens, and two-thirds of these wearers are females who are relatively young. Colored contact lens in this regard, are by far one of the leading modalities used for daily purpose, and several companies are expected to invest in this field in the years ahead.
Alcon, for instance, an acclaimed cosmetic contact lens market player has recently introduced the AIR OPTIX® COLORS Contact Lenses Gemstone Collection, further strengthening its presence in the cosmetic contact lens market. Reportedly, its Gemstone Collection of contact lenses, including colors Amethyst, Turquoise, and True Sapphire is effectively offering consumers new color palette while also providing them with more ways to experiment and play with their eye color to enhance their look.
Get a Sample Copy of this Report:@ https://www.gminsights.com/request-sample/detail/280
Not only for the cosmetic reasons, the colored contact lenes have also gained significant traction for patients suffering from ocular trauma. These lens helps provide more natural appreance to an otherwise damaged iris. The prosthetic colored contact lenses, are available in toric and spheric models and can provide significant benefits for patients in addition to vision correction. Major brands in the industry are offering multiple choice of colors comprising green, shades of blue hues, violet, hazel, grey, and amethyst to attract the niche market. Estimates claim that with further technological advancements in textures and tiny colored dots & line products, the colored cosmetic contact lens market is projected to register a y-o-y growth of 7% over 2018-2024.
Colored contact lenses have undoubtedly emerged as the hottest trend in cosmetics, however, the fedral agencies do not consider it as cosmetic. Popularly in the United States & Canada, lenses cannot be sold over the counter without a prescription, as these are warned for excessive risk for eye infections. However, over-the-counter use of decorative lense as a cosmetic aid in beauty parlors, costume stores, party shops, and online channels is increasing at an impeccable pace. According to the CDC, between 40% to 90% of contact lens wearers do not follow the care instructions for their contact lenses and are therefore linked to outbreaks of serious eye infections.
In order to cope with the growing risks and help in alleviating the problem, several industry players are undertaking basic research efforts to develop more safer lens materials. On other hand, regional governments are further tightening laws on the over the counter supply of cosmetic contact lens. For instance, in 2015, Health Canada regulated the sale of cosmetic or decorative contact lenses in the region. According to Health Canada, the risk for severe corneal infection in lens wearers is nearly 12.5 times higher for cosmetic lenses than for the corrective contacts. Under the regulatory changes, these lenses will be treated as medical devices which in turn will bring the increasing risk factors under greater control as they will have to meet the same quality, safety, & labeling standards.
Elaborating further on the future scope, the global consumers of cosmetic contact lens market are expected to benefit from ongoing advances in contact lens materials and designs. To illustrate, Samsung in 2016 patented smart contact lenses featuring a built-in camera. With the announcement, the tech giant also joined Google in the arena, which now owns two patents for smart contact lenses. Such advancements in materials and technology are expected to further drastically reduce the high price trends and bring better convenience to the consumers.
Analyzing these trends, it is quite overt that the overall contact lens industry is on a quite progressive track, and cosmetic contact lens market is all poised to emerge as a lucrative investment hub. With technological breakthroughs opening new application verticals, cosmetic contact lens market is expected to further tread along a profitable roadmap in the ensuing years. A report by Global Market Insights, Inc., forecasts cosmetic contact lens market to surpass USD 1.3 billion by 2024.
Author Name : Ojaswita Kutepatil