The growth potential for superabsorbent polymers market is lately underlined by a spate of highly lucrative investments. For instance in 2017, the leading South Korean chemical firm LG Chem Ltd. announced that it will be investing approximately USD 278 million in the expansion of petrochemical facilities in Yeosu, South Jeolla Province in Thailand. With the investment, LG plans to increase the annual production capacity of superabsorbent polymer by 100,000 tons taking the annual production to a total of 500,000 tons. Considering that the company estimates the global super absorbent polymer demand to surpass 6.75 million tons in 2020, it is safe to presume that LG has undertaken the move to capitalize on the expanding superabsorbent polymers market which is expected to register a CAGR of 5.7% over 2018-2025.
U.S. Superabsorbent Polymer Market Size, by Application, 2014 – 2025 (USD Billion)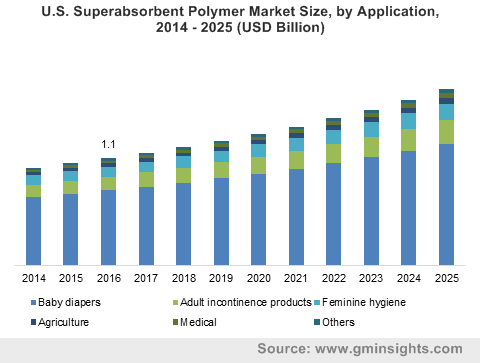 Superabsorbent polymers are popularly used in diapers, feminine hygiene products, adult incontinence products and other similar products because of their superior liquid retention properties due to which SAPs have come to replace traditional absorbent products like paper wadding, cloth, cotton and cellulose fiber. The deployment of superabsorbent polymers has indeed revolutionized the diaper industry as superabsorbent polymers absorb and retain about 30 times their weight in urine. With the incessant rise in birth rate, baby diapers accounted for nearly 70% of the total super absorbent polymers market share in 2017 as super absorbent polymer containing diapers are more efficient in holding liquid and keeping the baby effectively dry.
Apart from feminine sanitary napkins and baby diapers, super absorbent polymers market finds a wide growth avenue through its use in adult incontinence products. As the world population ages, it has been observed that sales are climbing up for absorbent hygiene products and in a drive to make them more comfortable and discreet, adult incontinence products have come to deploy super absorbent polymers for the purpose. According to the U.S. Census Bureau in 2012, there were 562 million people aged 65 and older globally, and the figure increased to nearly 10% by 2015. U.S. retail sales for adult incontinence products reached almost $2 billion in 2016 and surged by a further 9 percent in 2017 and 8 percent in 2018. The population of baby boomers is expected to surpass 1.6 billion by 2050 which will predictably add to the demand of adult incontinence products and contribute toward the overall super absorbent polymers market expansion.
Get a Sample Copy of this Report:@ https://www.gminsights.com/request-sample/detail/2879
The adoption of innovative approaches in the super absorbent polymers industry has also been contributing to its growth. For instance, a new kind of wound dressing is being used in the U.S. Army which is expected to have a potential of saving hundreds and even thousands of lives in the battlefield. It is estimated that around 80% to 90% of potentially survivable deaths among U.S. soldiers on the battlefield occur due to excessive and uncontrolled bleeding. In many cases injured soldiers die before there is a chance to take them to the hospital for properly addressing the wound to check the bleeding.
Therefore the U.S. Army has came with a new kind of wound dressing that would be able to arrest the bleeding in the field and save lives in the process. The new dressing is made of polystyrene and rubber and boasts of an amazing absorbency rate, being able to absorb up to 800% of the material's weight in liquid. It is approximately 5.7 times more absorbent than gauze-based hemostatic dressing currently used in bandaging up wounds. Super absorbent polymers play a vital role in this special dressing as acrylic acid is used in separately soaking out the water in blood making it easier to clot and promptly stopping excessive blood loss.
Lately super absorbent polymers market has faced a major hurdle due to the lack of biodegradability of super absorbent polymers which has made the product a debatable one among environmentalists who have urged the decreased use of diapers and feminine sanitary napkins. But as a counter step, manufacturing giants have been undertaking initiatives to bring forth alternative products to the market. Procter & Gamble for instance, has undertaken an initiative to separate end-of-life diapers into cellulose, plastic and super-absorbent polymers with a new facility in Netherlands that will recycle 10,000 tons of diapers every year. The rising implementation of such initiatives are expected to massively bolster the expansion of superabsorbent polymers market in the years ahead.
Author Name :Paroma Bhattacharya