Europe air source heat pump market has observed remarkable growth lately, in line with the shifting trends toward the increasing use of air as an important energy source in heat pumps that are deployed in industrial, residential, and commercial buildings. Currently, the surging use of fossil fuels for meeting energy demands has had a negative impact on the environment. Reports claim that nearly 70% of energy needs in Europe is fulfilled from fossil fuels leading to air pollution and GHG emissions that are negatively impacting human health and the ecosystem. In order to combat carbon emissions and raise awareness regarding energy efficiency, the European Commission has set a climate and energy framework that is certain to help augment Europe air source heat pump industry outlook over the years ahead.
France Air Source Heat Pump Market Size, By Application, 2017 & 2024 (USD Million)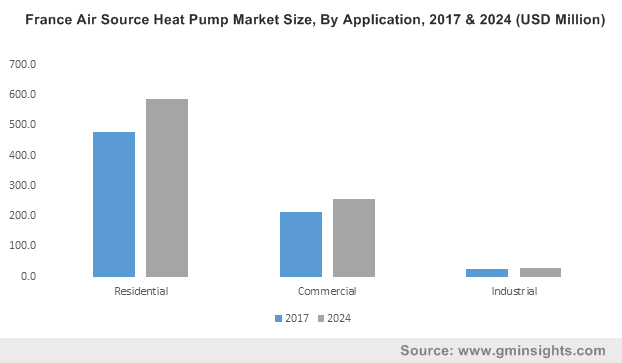 In order to comply with the EC's climate and energy framework and increase the dependency on renewables, most of the European countries have taken initiatives to use renewables in cooling and heating systems. A regional overview outlining the major economies deploying such initiatives to reduce dependency on fossil fuels has been enumerated below:
One of the member states of EU, Austria has set a target to become 100% dependent on renewables for its electricity need. In addition, it has been investing in the installation of renewable energy based cooling and heating systems. In this regard, the Austrian government has deployed supportive regulatory policies for encouraging people to use air heat pumps across residential as well as industrial sectors. Alongside the promotional activity, the government has also been providing incentives to the masses who have been deploying sustainable energy systems including air heat pumps. In addition, for improving the energy efficiency of existing heating systems, the government has been encouraging people to renovate traditional air heat pump systems. A plethora of such favorable initiatives and financial support for the enhancement of research and development activities will most certainly impel Europe air source heat pump market trends in Austria.
Get a Sample Copy of this Report:@ https://www.gminsights.com/request-sample/detail/2854
Norway is another prominent regional contender in Europe air source heat pump industry. Initially, the Norwegian government had given importance for the implementation of heat pumps mainly across industrial and commercial sectors, but later on, with the increasing need for energy efficiency, a considerable proportion of the regional populace installed air heat pumps on large scale. Reportedly, in Norway, over 30 percent of single family houses have heat pumps, owing to the surging popularity of low-temperature output technology.
In order to promote renewable energy and energy efficiency across Norway, the government had founded a public company dubbed as Enova SF in 2001. This company provides subsidies to private households that install air source heat pump systems in houses. The Norwegian government has also mandated that new buildings spanning over 500 square meters would require to generate over 60% heat from renewable heat sources. Driven by the regulatory support and shifting focus of the government toward increasing the dependency on renewables for energy requirements, Norway air source heat pump industry is slated to generate a revenue of over USD 600 million by the end of 2024.
In Germany, most of the people have been giving preference for efficient and cost-effective renewable heating systems to decrease the dependency on fossil fuels. Air-to-water heat pumps have especially become more popular to be used in new buildings across Germany, owing to their low installation costs and better energy efficiency. Every third newly developed residential building in the country deploys air source heat pump for space heating, thereby expanding the presence of Germany across Europe air source heat pump market.
The increasing awareness among the regional governments across Europe about the economic as well as environmental benefits of ground source heat pump systems will impel the product demand. The supportive initiatives taken by policy makers to encourage people to adopt renewable technology based heating systems will make it easier for homeowners and industrialists to install air source heat pump systems. All in all, with the increasing acceptance of sustainable energy systems, Europe air source heat pump market will surpass a revenue collection of more than USD 7 billion by the end of 2024.
Author Name : Sunil Hebbalkar