With the tremendous growth in the industrial, retail, and e-commerce sectors, inventory management software market has gained massive impetus over the past years. Quite undeniably, managing and tracking inventory has become an essential part of conducting business and inventory management software in this regard are efficiently solving the challenges related to vendors, inventory, orders, sale, stocks-outs and much more. This has significantly led to rapid adoption of these software programs, in turn driving inventory management software market growth which was pegged at USD 2 billion in 2017.
North America Inventory Management Software Market Share, By Type, 2017 & 2024 (USD Million)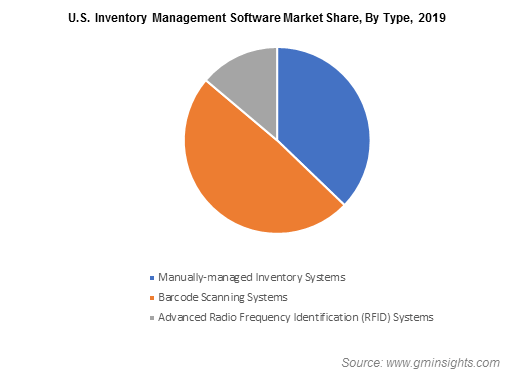 The vast expanse of omnichannel retailing and increasing penetration of smartphones have also been identified as the inherent factors impacting the revenue graph of the global inventory management software industry. If reports are to be believed, given the increasing rate of paperwork errors, supplier fraud, employee theft, and shoplifting activities SMEs, SMBs, and the retail sector are the prominent end-use segments that are rapidly adopting inventory management software systems. These activities have also been deemed as the major sources of inventory shrinkage and are therefore favoring effective implementation of IMS programs in the retail sector, which is expected to dominate the overall inventory management software industry by accounting for a 40% share over 2018-2024. It is important to mention that according to the National Retail Federation's NRSS (National Retail Security Survey) on retail theft, the retailers globally incurred inventory shrinkage losses of over USD 49 billion in 2016.
Driven by these subsequent threats leading to inefficient inventory management, the demand for robust inventory management software for optimization is expected to increase consistently in the ensuing years.  In fact, as per estimates, the global inventory management software market from inventory optimization application is expected to grow at a lucrative rate of 9% over 2018-2024.
Get a Sample Copy of this Report:@ https://www.gminsights.com/request-sample/detail/2364
The contribution of the industry participants in developing optimal inventory management systems is vast and these players are constantly looking for adopting new technologies that can improve the overall productivity. Recently for instance, HighJump, a global provider of supply chain solutions and renowned inventory management software market player has introduced HighJump Warehouse Control System integrated with the HighJump Warehouse Management System. This inventory management solution provides supply chain professionals with a comprehensive suite that can fully capitalize on the automated and connected warehouse operations the modern-day chain professionals are adapting to handle shorter delivery windows, e-commerce, and enhanced consumer expectations.
With such globally reputed players working toward introducing more technologically upgraded and value added solutions, inventory management software industry share is expected to nothing but proliferate in the ensuing years. Further endowed with the integration of recent technologies such as automation, big data analytics, RFID, cloud, Artificial Intelligence, and IoT this business sphere has become a lucrative hub for investments. Leveraging these technologies for more insightful solutions in inventory management, several industry participants are providing real-time analytics solutions and improved connectivity to supply chain and inventory management professionals. For instance, using connected networks such as computers, sensors, and smartphones, IoT can transfer the product information with the help of RFID tags/barcodes and transmit the data to the cloud-based inventory management software.
Such technological integration techniques are typically used by the large-scale organizations that move thousands of orders daily. Reports state that the barcode scanning system held more than one half of the inventory management software market share in 2017, while the RFID segment is projected to register an impressive CAGR of over 11% over 2018-2024.
Quite undeniably, these technologies have empowered the small and large-scale enterprises to grow and streamline their business models by harnessing the power of the advanced inventory solutions, in turn propelling the global inventory management software industry outlook. Lastly, it wouldn't be wrong to say that along with shrinking workforce and increasing rate of stressed logistics systems, inventory management software programs will witness massive adoption in the ensuing years. A presumption shedding light on the same is of Global Market Insights, Inc., that forecasts the overall inventory management software market share to register a CAGR of 6% over 2018-2024.
Author Name : Ojaswita Kutepatil