High purity alumina market is arguably one of the fastest growing industries of present times owing to the rising demand for HPA in manufacturing products that have come to form the very cornerstone of the present age of technology. High purity alumina is used as a critical ingredient in the production of synthetic sapphire used for manufacturing substrates for LED light, semiconductor wafers as well as scratch-resistant sapphire glass used for optical windows, wristwatch faces and smartphone components. HPA is a high-value, high margin product that finds application in separators for lithium ion batteries in the electric vehicle industry and surgical tools and instruments in the medical industry. Given the expanding application base of high purity alumina, it is rather overt that HPA market will observe a commendable growth over 2018-2025.
U.S. High Purity Alumina Market Size, By Application, 2014 – 2025 (USD Million)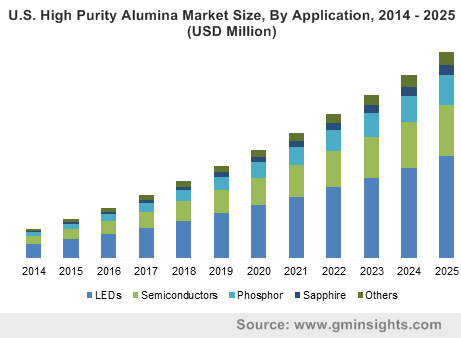 In 2017, LED applications accounted for more than 50% share of the HPA market, as incandescent light bulbs are slowly coming to be replaced with LED lights, given that many countries have began phasing out the less energy efficient incandescent lamps to fulfil energy efficiency targets to reverse the effects of climate change. Residential LED products are expected to use at least 75% less energy and last up to 25 times longer than the traditional lamps. Incandescent bulbs have become infamous for losing most of their energy as heat compared to which LEDs are much more energy efficient. The widespread use of LED lighting can potentially reduce electricity consumption.
Estimates show that by 2020 LED lights will capture approximately 60% of the global lighting market. With sapphire production being hiked in many countries, the cost of semiconductors has begun declining causing LED light prices to plummet making them more affordable and available to a larger section of the population. Compact size breakage resistance and ability to focus light which eliminated the need of reflectors and diffusors has helped in LEDs find a large application base. With the expansion of the LED industry, HPA market has witnessed rising demand, high purity alumina being one of the most important ingredients in LED manufacturing.
Get a Sample Copy of this Report:@ https://www.gminsights.com/request-sample/detail/1254
Countries around the world are concentrating their efforts in producing more high purity alumina as it is used in the development of semiconductors which has become the foundation of various technologies widely used in the present age of information. These tiny electronic devices potentially power the modern economy as they act as data-processing brains for products ranging from smartphones to automobiles to spacecraft. Notable US suppliers of semiconductors like Intel, Broadcom and Qualcomm account for a commendable portion of the semiconductors industry share and therefore are some of the largest consumers in the high purity alumina market. Intel, the microprocessor maker that dominates the computers and laptops of the world, has been valued at $241.1 billion, while Broadcom and Qualcomm, chip suppliers of smartphones, are valued at $97.4 billion and $76.2 billion respectively.
In recent times China is working hard to break free of the U.S. dominance over the semiconductor industry and build a self sufficient one. At present Chinese semiconductors are used in the low-end market for products such as bank cards and USB-keys. The Chinese government has recently laid out the blueprint for Made in China 2025 which is an ambitious effort by the government of the country to help the semiconductor industry reach a goal of $305 billion in output by 2030 and meeting more than 80% of the demand of semiconductors in China which though consumes more than half of the world's chips, cannot fulfil the domestic demands by manufacturing in China. Countries thus competing with each other to capture the dominant share in the semiconductor industry will impart a significant boost to the growth of the high purity alumina industry.
Considering the immense potential of the high purity alumina market most of the big names in the HPA industry are looking to expand their operations. For instance, Australian innovator Altech Chemicals Ltd landed a US$60 million stream finance facility from a United States investment group to support an HPA project. Such instances of massive investments by prominent companies is picking up pace adding growth impetus to the overall high purity alumina market which is expected to more than double in terms of revenue by 2025.
Author Name : Paroma Bhattacharya