Rising prevalence of chronic bone disorders such as osteoporosis and rheumatoid arthritis, especially across the geriatric population, have been identified as pivotal drivers augmenting joint reconstruction devices market. As per a report provided by the World Health Organization (2014), osteoarthritis is one among the 10 most disabling diseases across the developed countries. Reliable reports further state that presently, there are around 7 million Americans living with knee & hip replacement, accounting for 85% of the total joint replacement & reconstruction market. These statistics underscore the substantial growth potential for joint reconstruction devices industry players.
U.S. Joint Reconstruction Devices Market, By Joint, 2013 – 2024 (USD Billion)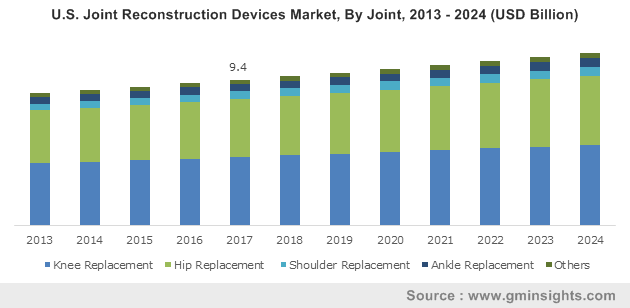 The aging population base suffering from joint pain, stiffness, inflammation, arthritis, & orthopedic diseases has profoundly remained as a crucial factor proliferating the joint reconstruction devices market share. However, the recent advancements brought forth by the industry players in this sector are also poised to leave an appreciable impact on the growth statistics. Below listed are a few examples providing insights into the competitive landscape of this business sphere and how the technological advancements debuting in this vertical will help impel the revenue graph of joint reconstruction devices industry.
CloudMedx collaborates with the UCSF Department of Orthopedic Surgery to create AI models for enhancing patient outcomes following joint replacement surgery
According to recent reports, CloudMedx, a renowned healthcare artificial intelligence company based in California, is researching on how the patient-generated healthcare data will predict clinical outcomes & recovery related to knee & hip surgery. The firm will be using machine learning, evidence-based algorithms, and natural language to analyze both structured & unstructured data related to joint replacement.
Get a Sample Copy of this Report:@ https://www.gminsights.com/request-sample/detail/2823
CloudMedx's move is expected to further develop enhanced systems for joint reconstruction that will reduce costs, enhance care delivery, increase efficiency, and optimize workflows, in turn impacting overall joint reconstruction devices industry growth. The company further plans to expand its clinical artificial intelligence platform that offers real-time clinical insights to the overall healthcare fraternity.
Robotic joint replacement at Flinders Private Hospital
As per a recent news report, an Australian healthcare clinic Flinders Private Hospital has reportedly acquired the Mako Orthopedic Robotic-Arm System, that provides the surgeons with an innovative treatment option for hip or knee replacements. This new Orthopedic system utilizes computer-assisted planning in combination with a robotic arm to insert a joint replacement prosthesis with utmost accuracy & precision.
Robotic-Arm in the global joint reconstruction devices industry has emerged as a vital technique improving alignment, prosthesis positioning, soft tissue balancing, minimum bone removal, and overall improvement in quality of measures.
According to the Australian Orthopedic Association National Joint Replacement Registry, there were more than 43,183 hip replacements and around 54,277 knee replacements registered in the year 2014. The report also claims that the regional joint replacement rate has significantly surged from the previous years, primarily on the grounds of increased rate of bone fracture and the ever-growing geriatric population base. Subject to this robust rise in joint replacement surgeries and increasing deployment of technologically advanced systems, the regional joint reconstruction devices industry is expected to grow at massive rate in the ensuing years.
Conformis announces to have performed the first 3D Total Hip Replacement Surgeries at JFK Medical Center in Florida
Conformis, Inc., claims that by leveraging the advancements in automated 3D printing & additive manufacturing, it has developed a system that will provide 3D implant design that in turn has improved the overall operational efficiencies when compared to 2D templating. The design process will produce specific individualized pre-navigated implants by converting the patient's CT scan into 3D computer model. The unique measurements will be then 3D printed and delivered to the surgeons. If experts are to be believed, with the launch of the Conformis Hip System, the company is expected to lead the way in offering innovative solutions in the joint reconstruction devices industry.
With the game-changing operative solutions, 3D printing technology has prominently made itself the most useful technology to better serve both patients and the clinicians in the global joint reconstruction device market. Huge investments  in 3D joint replacement are further expected to address the short comings of primary hip, knee, ankle, and shoulder replacement surgeries at present.
Exemplary initiatives by the leading players will undeniably have a lasting impact on the growth prospects of joint reconstruction devices market and will significantly upscale the product demand. A report by Global Market Insights, Inc., claims that the global joint reconstruction devices market will surpass USD 21.5 billion by 2024, with a CAGR projection of 3.7% over 2018-2024.
Author Name : Ojaswita Kutepatil