In recent years, electrophysiology market has emerged as one of the most lucrative revenue generating business spheres of the healthcare sector. The increasing popularity of electrophysiology for performing diagnostic studies by collecting radiologic and electrocardiographic data of patients is one of the prominent factors propelling the product demand. In addition, healthcare service providers have also been giving preference for electrophysiology for ensuring patient comfort and safety.
U.S. Electrophysiology Market, By Product, 2013 – 2024 (USD Billion)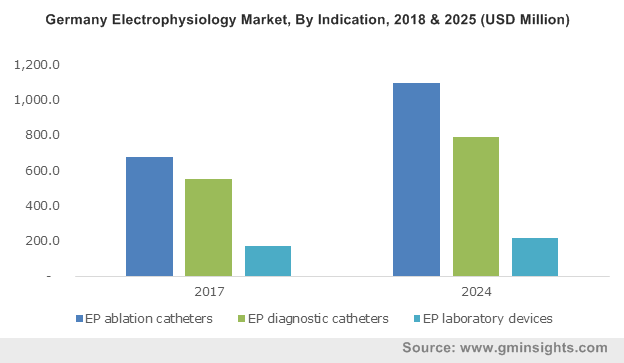 Taking into account the surging adoption of this methodology, several companies involved in the electrophysiology industry have been looking forward to expanding their product portfolio to gain competitive benefits. The regulatory bodies like FDA have also been encouraging companies to develop adequate products for troubleshooting the existing challenges regarding electrophysiology cardiovascular practices.
The prevalence of cardiac problems across the globe has been witnessing a steep rise lately. In most of the regions mainly across the African continent, due to lack of medical facilities, patients with severe cardiac conditions often succumb to the disease sooner than ever. On these grounds, renowned hospitals have been taking initiatives to deploy advanced healthcare facilities across African countries.
Get a Sample Copy of this Report @ https://www.gminsights.com/request-sample/detail/2968
Merely a few months before, in Kenya, the Agha Khan hospital located in Mombasa decided to start an cardiac electrophysiology program. With this initiative, the Agha Khan hospital has become only hospital in East and Central Africa equipped with an electrophysiology facility at affordable prices. Such initiatives taken by the healthcare service providers across African contents to enhance the livelihood of the regional masses with the deployment of advanced medical essential services are poised to propel Africa electrophysiology industry size over the years ahead.
Speaking more about the regional presence of players in the electrophysiology market, it is prudent to mention that prominent companies have been concentrating on launching a new range of products across various geographies. Recently, focusing on the increasing need of noise cancellation during the collection electrocardiographic data, BioSig Technologies Inc., has developed a non-invasive electrophysiology system that can acquire high-fidelity cardiac signals. The collection of clear cardiac signals can potentially improve the efficiency and accuracy of electrophysiology studies. For this recent launch, BioSig Technologies also received a 510 (K) clearance from U.S. Food and Drug Administration (FDA).
Prior to the clinical trials, BioSig Technologies has worked with several medical centers and clinics in the U.S., that have seemingly helped this medical device company highlight the limitations of its existing electrophysiology practices. In 2017, BioSig had also signed a 10-year partnership agreement with a non-profit academic medical center, Mayo Clinic that helped the company develop a healthcare platform and expand its facility centers across other areas of clinical importance. Powered by such collaborative deals with clinics and medical centers, companies such as BioSig Technologies have been looking forward to expanding their reach in electrophysiology market.
In the last few years, pertaining to the ease of technical operations, reliable performance, and powerful consoles, cryoablation systems have gained more popularity than ever before. Considering the growing importance for EP ablation catheters across the globe, the players in the electrophysiology market have been investing in advancement of existing cryoablation systems. Validating the aforementioned fact, in the mid of 2018, BTG plc launched an advanced version of its already existing cryoablation systems that facilitates effective and precise treatments without any need of surgery. The updated version will observe a tremendous demand as patients have been giving preference for minimally invasive treatments. For the record, in 2017, EP ablation catheters held approximately 48% share of electrophysiology market which is expected to grow over the years ahead on account of the growing involvement of companies in new product development.
Hefty investments in clinical research and new product innovations to gain long-term revenue benefits are slated to enhance future product demand. The growing popularity of minimally invasive therapies will favorably encourage industry magnates to conduct in-depth research and development activities, that will further influence the industry trends. Driven by the growing number of clinical research activities across the globe, electrophysiology market will generate a revenue of more than USD 6.5 billion by the end of 2024.
Author Name : Sunil Hebbalkar