The increasing threat of data breaches and rising proliferation of digitalization have been responsible for driving intrusion detection system market share in the recent years. The last couple of decades have witnessed the technology landscape across various end-use domains to have undergone a massive transformation. Alongside, there has been a vast upsurge in the number of computer networks as well, leading to a major surge in the demand for efficient systems and solutions to counter data threats. The implementation of IDS or IPS in the network system undeniably makes it feasible for the network administrators to assess the accurate location of the threats and then address the same. These systems also help avert further threats from those locations, thereby helping to accelerate the growth graph of IDS/IPS industry.
UK Intrusion Detection System / Intrusion Prevention System Market Revenue, By Type, 2018 & 2025 (USD Million)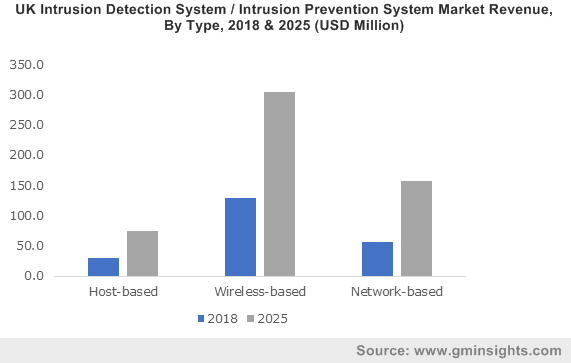 Intrusion detection system solutions are known to be rather competent in protecting the integrity of computer networks, maintaining confidentiality, and shielding against malicious attacks prevailing in an organization. IPSs are so designed that they alert administrators about attack attempts, thereby delivering valuable information to businesses about network threats, malicious attacks, devices being targeted and much more. As more and more and more number of companies integrate these systems in their infrastructure to monitor logs and effortlessly extract information to provide further security to their networks, the global IDS industry share is bound to depict an upsurge in the years to come.
For most parts, a score of businesses already boast of having incorporated intrusion prevention systems in their infrastructure. Prominent conglomerates however, thriving in an era defined by consistent digitization and network integration, have been consistently seeking novel solutions by the day to tackle advanced threats and high-level frauds, thereby providing numerous growth opportunities for IPS industry contenders.
Get a Sample Copy of this Report @ https://www.gminsights.com/request-sample/detail/3178
For instance, IBM, a significant IPS market player, boasts of an intrusion detection and prevention system that provides real time security monitoring, a robust network, and efficient analysis of network and services. IBM's Trusteer pinpoint malware detection system competently detects malware-impaired devices and also governs the type of threat and the potential risks associated with the same. A while ago, by the end of 2018, IBM had also announced its new Pinpoint Verify technology that would provide businesses with an innovative model to combat online frauds with a digital identity trust approach.
Citing an instance of yet another vital IDS market contender, Imperva, it is imperative to state that this company boasts of a suite of cloud web application firewall intrusion prevention solutions that are characterized by features such as two-factor authentication and web application firewall. While the WAF supports the existing IPS through behavioral and reputational heuristics that eradicate malicious incoming requests and other application attacks, the implementation of 2FA gateways for any URL helps choose a verification method and feasibly manage a database of approved users. With the demand for security solutions on a consistent rise, it would not be incorrect to state that IDS industry contenders can look forward to myriad growth opportunities in the years ahead.
The transportation and logistics sector has emerged as one of the most prominent application avenues for the global intrusion detection system market, fueled by the requirement of RFID tags in order to track the location of cargoes from the starting point to the destination. Not to mention, these systems have been gaining traction in this sector on account of the demand for door intrusion and tampering sensors that detect attempts of any type of intrusion in any of the boxes or containers and provide real time monitoring of vehicles and cargoes.
It has been speculated that in the years to come, next-gen IDS solutions will be designed to focus less on recognizing intruders and more toward sensing potentially apprehensive attacks or events. With the help of advanced AI algorithms, IDS market players are expected to brainstorm solutions that will be able to predict attacks beforehand and then provide an effective line of defense as opposed to the traditional approach.
Author Name : Deeksha Pant