The rising number of R&D programs on self-healing hydrogels has assisted the rapid self-healing gel market share soar to new heights. Widely applicable in drug delivery, wound dressing, tissue engineering, and surface coating, rapid self-healing gels are known to have excellent properties along the likes of hydrophilic nature, adequate flexibility, high sensitivity to the physiological environment. The ever-expanding global healthcare sector has been a significant factor in impelling the remuneration scale of rapid self-healing gel industry in the last few years.
U.S. Rapid Self-Healing Gel Market Size, By Application, 2014 – 2025 (USD Million)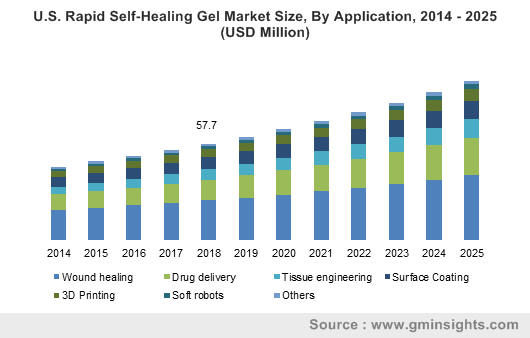 Innovative self-healing hydrogels for long-term drug delivery and wound dressing applications: A brief overview of how research activities are benefiting the rapid self-healing gel industry share
Researchers have previously developed self-healing hydrogels for biomedical usage by creating unalterable chemical linkages between polymers. Sturdy and tough, these gels have also been used to manufacture soft contact lenses but their shape cannot be altered easily after they are formed.
However, this phenomenon is likely to change in the near future as new hydrogels which can be molded into specific shapes are being developed to deliver drugs. For instance, chemical engineers from Massachusetts Institute of Technology unveiled a new type of self-healing hydrogel in 2015. Apparently, this gel can carry one or two drugs at a time and can be injected through a syringe.
Elaborating further on the applications of this gel, it can be used to deliver drugs that could repair degenerated heart tissues following a cardiac arrest. Moreover, scientists are also looking into the possibility of utilizing such self-healing hydrogels to deliver cancer drugs to eliminate tumor cells that are left behind after surgery. Needless to mention, the development of such multi-purpose and highly-effective self-healing hydrogels would assist the rapid self-healing gel market size to expand at a swift pace in the forthcoming years.
Get a Sample Copy of this Report:@ https://www.gminsights.com/request-sample/detail/3271
Apart from drug-delivery applications, the rapid self-healing hydrogels are increasingly being viewed as advanced polymers with significant potential in wound dressing applications. Though they have gained popularity across healthcare sector in the recent years, they do have a few shortcomings such as lack of antibacterial properties and inability to fit the skin.
Apparently, the aforementioned limitations are being eliminated by researchers as they have now focused on creating new self-healing hydrogels with adhesive and antibacterial properties. For instance, the researchers from Xi'an Jiaotong University recently introduced an injectable, self-healing hydrogel for effective wound healing treatment. The new hydrogel has high adhesion which helps it to seal wounds for any shape rapidly – a characteristic especially helpful in treating joint skin damage. It swiftly bonds with the edge of the wound, therefore providing a physical barrier against contaminants while simulating moist skin conditions.
Considering the aforementioned research and development efforts across various regions of the globe to create new self-healing hydrogels, it can certainly be stated that the rapid self-healing gel industry would acquire a prominent position in the overall healthcare sector in the forthcoming years.
In terms of geographical expansion of the rapid self-healing gel market, the North American region has been the leading terrain to apportion the revenue share of this industry. The presence of dominant self-healing hydrogel manufacturers such as Cytogel Pharma and Cardinal Health, increasing investment in research and development activities, launch of new products based on polymers and resins serving the wide range of applications are some of the pivotal factors to have propelled the North America rapid self-healing gel market. In fact, as per a research study by Global Market Insights, Inc., the North American rapid self-healing gel market size apportioned almost 40 percent of the overall industry share in the year 2018 and is slated to grow at an annual growth rate of about seven percent over the estimated timeframe.
Driven by growing R&D investment in the healthcare sector along with swift technological advances, the rapid self-healing gel market has been reaching a wide customer base across various geographies. As per reliable sources, the remuneration scale of the rapid self-healing gel industry is set to surpass a figure of USD 310 million by 2025.
Author Name : Saif Ali Bepari