Increasing consumption of various consumer and industrial products has led to a steady expansion of the global benzalkonium chloride market, in conjunction with the surge in disposable incomes of the working class population. The compound is effective as a disinfectant and preservative across food & beverage, pharmaceutical and chemical applications, being extensively found in nasal and ophthalmic medicines. Benzalkonium chloride is usually deployed as an antibacterial agent and surfactant in several household products like hand wash and hand wipes, along with personal care products and ointments. An augmented demand for such everyday products worldwide owing to rising population and higher consumer spending will reinforce the position of the benzalkonium chloride industry over the next few years.
U.S. Benzalkonium Chloride Market Size, By Application, 2018 & 2025, (Kilo Tons)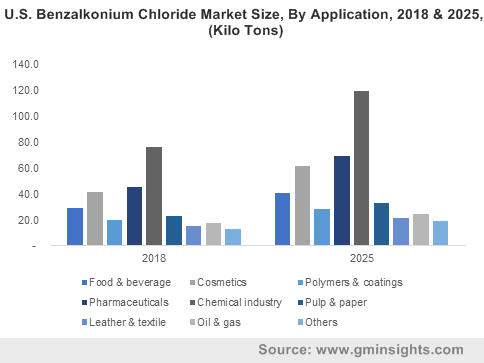 Essentially, the pharmaceutical and cosmetic segments represent two key business verticals where the compound has made a significant impact. It helps preserve the efficacy of medicines while the antimicrobial activities help protect make-up products from disintegrating and increase their quality. Subsequently, consistent consumption of cosmetics and pharmaceuticals will offer considerable momentum to the benzalkonium chloride market throughout various regions. The size of the global pharmaceutical sector is projected to reach US$1.43 trillion by 2020 itself, suggesting vast opportunities for the industry. Narrowing the market potential in terms of using benzalkonium chloride as preservative in eye drops, Bayer and Regeneron's ophthalmic drug Eylea alone had recorded sales of around US$6 billion in 2017.
Expounding the scope of the benzalkonium chloride industry in the food and beverage sector
In essence, the food and beverages industry require suitable disinfecting and sanitizing chemicals for food contact surfaces, to ensure bacteria and other microorganisms are eliminated and the product is not spoilt while in transit or before consumption. Quaternary ammonium compounds such as benzalkonium chloride can counter a wide range of microbes and are applied in appropriate quantities by food producers. The constantly growing demand for packaged food and bottled drinks has made it necessary to tackle all possible threats to health safety and food shelf life, bringing in substantial proceeds for the benzalkonium chloride market. Several reported cases of food-related diseases has notably spurred businesses, government agencies and research organizations to address likely health risks posed by various food-grade chemicals.
Get a Sample Copy of this Report:@ https://www.gminsights.com/request-sample/detail/3233
Referring to a study undertaken by the University of Veterinary Medicine, Vienna, certain strains of gram-positive Listeria seem to be resistant to quaternary ammonium compounds, including benzalkonium chloride disinfectants, and display quite low sensitivity to them. An estimated 47.8 million cases of foodborne illnesses care recorded in the U.S. every year, indicating the enormous need for enhancing food safety. Europe also witnesses nearly 23 million people suffering due to the intake of unsafe food annually, according to WHO. The benzalkonium chloride market is slated to accrue remarkable gains over the forecast timespan from accelerated efforts by food manufacturers to adopt effective sanitizing and disinfecting practices.
Within the beverage industry, compounds can be used for cleaning milking equipment, bulk tanks and other surfaces that come in contact with organic milk or similar products. Milk and other dairy offerings are witnessing consistent rise in demand and producers are required to clean and sanitize any equipment, storage tanks and packaging before utilization. Benzalkonium chloride products are also available as sanitizers for PET as well as glass bottles in which numerous beverages are sold. As evident, the beverages segment is bound to provide significant revenue prospects to the benzalkonium chloride industry.
In a nutshell, a number of critical applications in the food and beverages segment will fuel the development of the global benzalkonium chloride market, which is anticipated to surpass billion dollar valuation by 2025. Prominent companies outlining the competitive dynamics of the industry include  Dishman group, Jinshan Jingwei Chemical, Manav Aktteva Biopharma LLP, Merck Millipore and Novo Nordisk.
Author Name : Pankaj Singh