Rapid advancements in technology and evolution of various threats across the world have fueled the submarine combat system market expansion, owing to the continuous need to modernize weapon and defense systems. For instance, Russia had recently launched the longest submarine in the world, the K-139 Belgorod, a modified Oscar II-class boat which is set to become the first operational launch platform of Russia for its new nuclear-armed and nuclear-powered long-distant torpedo, Poseidon. Torpedoes are crucial weapons widely deployed in submarines, as they are usually able to travel nearly 9,000 yards and can dive and rise along the sea to pre-calculated depths.
U.S. Submarine Combat System Market, By Submarine, 2018 & 2025, (USD Million)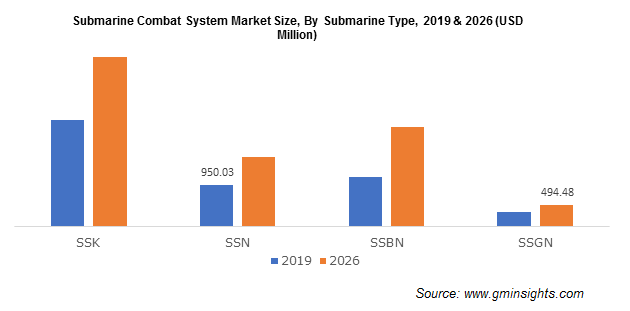 Apparently, torpedoes have become an indispensable component within the submarine combat system industry, as they are capable enough to carry 500 pounds of TNT that can explode directly upon striking the target or explode from the influence of the magnetic field of a target's hull. The demand for torpedoes has augmented gradually, as they are proficient in destroying nearby enemy submarines, representing lucrative business opportunities for defense industry players. Lately, artificial intelligence (AI) and computed automation are extensively being used for the technological advancements of combat systems which enhance remote supervisions and monitoring of the submarines to assist in several combat duties.
It is believed that submarines specifically built with artificial intelligence platforms signify a potential to efficiently deal with the sea's complex environmental issues. With the advent of various underwater drones, the defense industry will seemingly be able to carry out complex operations to clear the minefields in the sea, bringing about a radical transformation of the submarine combat system market.
Unveiling scope of the submarine combat system industry with regard to technological developments in Russia
New technologies are being utilized to build high-class submarines with advanced combat systems which help in serving the strategic naval forces of various countries. Russian submarines are considered to be one of the best in the world, and they arguably pose massive threat for any enemy surface assets. The country has developed supercavitating procedures and unveiled the VA-111 Shkval. Supposedly, Shkval is a highly classified torpedo which is powered by a rocket engine and is capable of reaching astonishing speeds of up to 200 knots an hour. It is achieved by enveloping the torpedo in a bubble for eliminating water's drag. This high-class torpedo has the potential to extirpate weapons that are extremely fast like rockets and soon will be capable of targeting laser weapons as well.
Get a Sample Copy of this Report:@ https://www.gminsights.com/request-sample/detail/3054
In 2017, Russia was reportedly developing Khishchnik, a high-speed torpedo to replace the VA-111 Shkval supercavitating torpedo. With these efforts, Russia has encouraged its competitors to come up with a slew of equally unique underwater missiles, that can strike several targets in a single action. The surge in torpedo development and emergence of more advanced techniques will further thrust the submarine combat system market potential. Over the last five years, the Russian Federation seems to have made tremendous progress in designing, testing, examining and fielding several autonomous military systems whether they are land, air or sea-based models. Russia is rapidly gaining expertise in building autonomous underwater and surface vehicles and is aiming to advance its current maritime capabilities deeper and stronger.
Elaborating further, there are various programs being implemented by the Russian government, some of which are in the development phase while others are nearing completion, such as testing of its Poseidon thermonuclear torpedo, a nuclear-powered submersible that is 80-foot long. The unmanned underwater vehicle is highly maneuverable and is capable of traveling autonomously for thousands of miles. It is basically a nuclear torpedo that has the potential of delivering both nuclear and conventional payloads and is specially designed to strike coastal cities and planned targets. In addition, the novel torpedoes are integrated with digital fusing system, digital guidance, and propulsion improvements.
All in all, development of pioneering missile technologies will undoubtedly create lucrative growth prospects for the Russian submarine combat system industry. Reports suggest that, owing to several advancements in torpedoes and key strategic tactics, the global submarine combat system market is projected to surpass a valuation of USD 9.5 billion by 2025.
Author Name : Deeksha Pant