With companies increasingly focusing on adopting enhanced packaging materials, cast polypropylene films market has gathered commendable momentum over recent years. The material is widely known for its versatility and is gaining traction across many industries. Owing to the product's higher impact and tear resistance, better cold temperature performance and heat-sealing properties, cast polypropylene films market statistics have shown quite an increase lately.
U.S. cast polypropylene (CPP) films market size, by product, 2014 – 2025 (USD Million)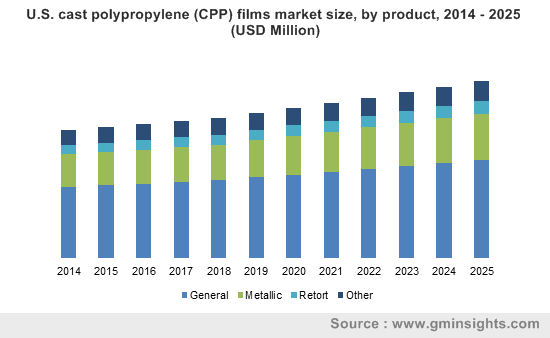 Furthermore, features like superior moisture-proof properties, excellent machine suitability, improved shock resistance & abrasion resistance and low specific weight have also led to increased impetus registered in the cast polypropylene (CPP) films market statistics.
Powered by aforementioned advanced capabilities, the product has found growing application in packaging sector for products like textile, clothing, snacks and beverage, stationary items, pharmaceutical products, fruits and vegetables. Moreover, with growing adoption, industry players are investing in the development of improved CPP films to expand product offerings and enhance cast polypropylene films market statistics.
For instance, in 2019, Cosmo Films introduced its new CPP film specifically meant for packaging applications that require high moisture and oxygen barrier and high hot tack properties, enabling packaging machines to run at higher speeds. Additionally, the company has also announced that its new CPP film is expected to contribute to 2-3% of total sales in FY20.
Given below are a list of factors that will be significant while evaluating cast polypropylene films market statistics especially in the F&B industry in the coming years:
1) Compatibility of the product with several food industries and products
In the food packaging industry, there is wide application of CPP films and specific CPP films are indeed developed for niche applications. For instance, pastorizable or sterilizable CPP films are used for dry, confectionery, bakery, fresh and processed food products.
Get a Sample Copy of this Report:@ https://www.gminsights.com/request-sample/detail/1252
Notably, CPP films are designed to perform at the highest possible speed on latest packaging lines, like flow pack wrappers, VFFS, TFFS and more, with superior heat and cold seal strengths and high transparency for thick thermoformable materials.
Presently, metallic and general CPP films are the two leading CPP film types used in the food industry. Introduction of novel CPP products has also helped businesses to improve their manufacturing productivity and speed.
For instance, in 2018, Cosmo Films launched its new CPP metalized film specially tailored to offer superior inter-layer bond strength for creating multi-layer laminate structures. These also enable FFS machines to operate on higher speed, in turn leading to improved productivity and application in packing products like bakery products, biscuits & snacks, chocolates, dairy products, spices and more.
Additionally, with growing sales and consumption of snacks and beverages, cast polypropylene film industry statistics will show a considerable rise over the coming years. For example in 2015, snack products registered a substantial increase in sales in the U.S. with a closing total of over US$ 44 billion. Furthermore, snack food item sales are expected to record a CAGR of over 2% from 2016 to 2020, claim reports from Agriculture and Agri-Food Canada.
2) Increased traction in the APAC food processing industry
While the demand for CPP is higher across developed countries like U.S., U.K., Canada and Germany, countries like India and China are increasingly emerging to play leadership roles in Asia Pacific CPP market. Statistics indicate that the Indian food industry is poised for huge growth as is expanding its contribution to world food trade each year. The country's food sector has emerged as a high-growth and high-profit sector owing to its immense potential for value addition, particularly within the food processing industry.
Citing India Brand Equity Foundation (IBEF) 2017 reports, the country's food processing industry accounts for 32% of the its total food market and ranks fifth in terms of production, consumption, export and expected growth.
Additionally, with online food delivery players like Zomato, Swiggy, FoodPanda, Zomato and TinyOwl gaining demand, increasing disposable income and changing consumer lifestyle, the food business is expected to generate huge potential and a promising future, in turn fueling the cast polypropylene films market. Experts also suggest that India's food packaging industry size will show a major incline by 2020.
3) Application in the pharmaceutical & healthcare sector
Due to features that offer enhanced protection against contaminations for longer duration, CPP films increased their foothold in medical and pharmaceutical industries for packaging of clinical products and drugs. Compared to other packaged goods, pharmaceutical items demand better reliability and speedy packaging solutions to deliver product quality, protection and offer tamper evidence, patient comfort and security.
These demands are effectively reflecting on an expanding cast polypropylene films market which is recording impressive statistics due to surging demand and consumption of medical products. Adding authenticity to the fact is a report published by the institute for Health Metrics & Evaluation (IHME), that claims global healthcare spending to most likely surpass $18 trillion by 2040.
With the rising demand of sustainability, CPP industry players are also developing products that adhere to revised sustainability guidelines that makes it easier for food and beverages industry to incorporate CPP films in their products. With growing demands, the global cast polypropylene (CPP) films market is expected to exceed USD 1.77 billion by 2025.
Author Name : Mateen Dalal