The global plastomer market is projected to amass substantial gains in the ensuing years, primarily driven by the boom in the packaging industry together with improved characteristics of plastomers compared to conventional plastics and elastomers. Plastomers are polymers which bridge the gap between elastomers and plastics. Plastomer industry thus, is known to procure substantial returns from a plethora of industries including adhesives, foams, industrial packaging, food packaging, automotives, wires & cables, and others.
U.S. Plastomer Market Size, By Application, 2014 – 2025 (USD Million)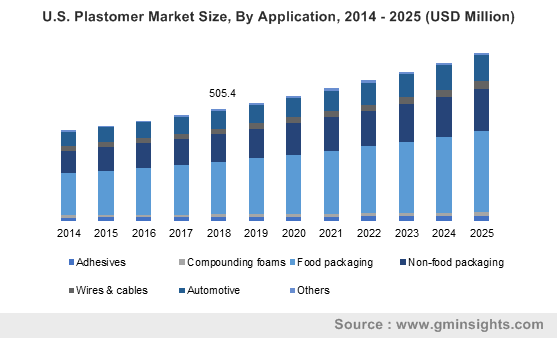 Taking an example from the adhesive industry, the Dow Chemical Company's Affinity™ GA Polyolefin Plastomers, a highly versatile range of polyolefin polymers, offers a host of cost, performance, and processing advantages such as no char, odor, or discoloration during application, as well as no clogging, plugging, or other oxidation-related device issues.
Adopting Affinity™ GA Polyolefin Plastomers result in reduced maintenance, amplified versatility, and increased coverage & more adhesive per pound of resin. Hence, the wide spectrum of advantages offered by plastomers across a range of applications will endorse product demand over the coming years.
Plastomer market size, however, is slated to be affected by the slow growth of the packaged food industry in several geographies, along with tough competition from other polymers. According to credible estimates, the share of groceries in packaged food sales in 2015 was 45 percent, which is expected to plunge to 37 percent in the year 2025. The decline in the consumption of packaged food will certainly influence plastomer market trends in the future and restrain market growth to some extent.
Enumerating the top three recent developments of the plastomer market which are projected to influence the growth graph of this business sphere
Healthcare industry gets its first controlled plastomer solution
Borouge and Borealis have recently introduced ethylene-based, octene-1 plastomer solution called the Bormed™ PL8830-PH, at CPhI in Madrid, the world's biggest pharmaceutical exhibition.  Bormed™ PL8830-PH is claimed to be the first-ever controlled plastomer solution for the health industry, and has been developed as a part of the expansion of the Borealis Bormed™ brand portfolio.
Get a Sample Copy of this Report:@ https://www.gminsights.com/request-sample/detail/3369
Being a controlled plastomer, Bormed PL8830-PH amplifies the performance paradigms of polyolefins for healthcare applications. It has been explicitly designed to be used as a versatile blend with other polyolefins in extrusion, film, and moulding applications. Indeed, such innovations will define plastomer market trends in the future and open new growth avenues for market players.
CHINAPLAS 2019 witnesses a range of innovative solutions by SABIC
SABIC, a world leader in diversified chemicals, has reportedly introduced a range of innovative solutions at the recently held Chinaplas 2019, to cater to industry challenges arising from prime global megatrends.
The event witnessed SABIC's new comprehensive solution for the food sector, named as COHERETM S POP (polyolefin plastomer), designed to offer strong support in handling the future food supply issues. It is claimed that COHERETM S POP supports superior performance with twenty percent decrease in sealing temperature. Food manufacturers can rely on the new polyolefin plastomer to enhance the efficiency of their production, augment the shelf life of food products, and decrease the damage during transit.
Holland adds Borealis' polyolefins to its product range
M.Holland Co., a resin distribution company, has recently added offerings from the world's leading polyolefins brand Borealis to its distribution product portfolio. Henceforth, M. Holland will look after the distribution of polypropylene and polyethylene resins, filled PP compounds, elastomers, and polyolefin plastomers for Borealis AG.
The filled PP materials which are a part of the new distribution channel will be produced at Borealis' new manufacturing site in N.C. This strategic alliance is slated to support the growth of both the companies in target markets, thereby positively impacting plastomer market size over the future.
In the coming years, it will be interesting to see how these market developments impact the revenue graph and competitive ambit of the global plastomer industry. Some of the top companies to watch out for in the plastomer market are Royal Dutch Shell, ExxonMobil, Borealis, Dow Chemical Company, Saudi Basic Industries Corporation (SABIC), Chevron Phillips Chemical Company, Westlake Chemical Corporation, and LyondellBasell. According to a research report by Global Market Insights, Inc., plastomer market is projected to exceed a valuation of USD 3.1 billion by 2025.
Author Name : Nikita Chaurasia